I OFTEN FIND myself going to the same places for lunch on days when I feel strained from work. I visit fast food joints, not for the taste and quality, but just to get lunch "over with." It certainly doesn't improve my mood as I push through the rest of the day. Feeling tired of this lunch tradition, I invited my coworkers out to try something new. We've all heard about a place called Beano's, but never went searching. Today felt like a great day for a lunch adventure.
As we entered the restaurant, I felt nothing but good vibes. We were greeted by the hostess with a smile and encouraged to sit where we please. The restaurant was clean and well lit. I could already feel the tension on my shoulders lifting.
The lunch menu offered a variety of Southern comfort food, like wings, burgers, loaded baked potatoes, and fried fish baskets. One item on the menu stuck out to me; the 4th Quarter Pressure. The name in itself was relatable to how my week was going. It seemed fit for me to order it on a day like today.
When I ordered the 4th Quarter Pressure, I wasn't sure what to expect. The menu described the food well: "Grilled chicken and shrimp with mushrooms and onions, topped with American cheese and tomatoes," but it failed to describe the. incredible experience of eating such an exceptional meal.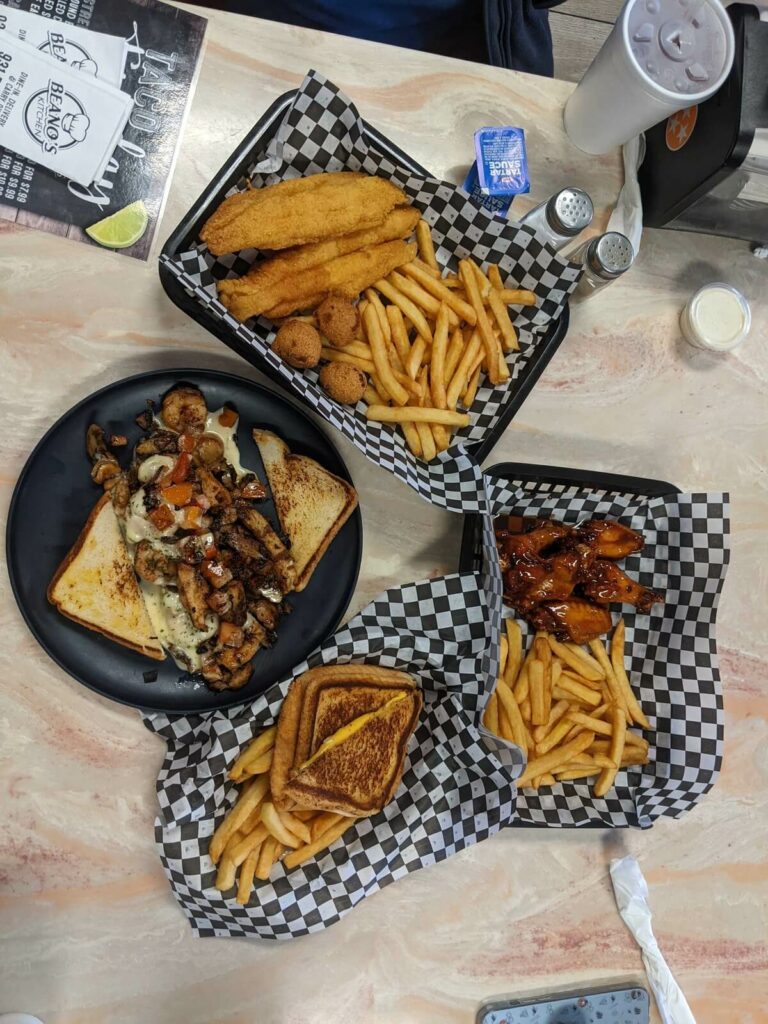 A savory scent reached my nose, and my mouth instantly watered in anticipation of a bite of this aromatic meal. Laid before me was a beautifully plated dish. The grilled chicken, shrimp, and mushroom and onion saute was arranged along the center of a classic black plate. On top, was creamy melted cheese and pops of red diced tomatoes. On the sides, were two sliced pieces of buttery toast.
Have you ever taken a bite out of something and just sighed with relief? I thought only my mama's cooking could do that to me, until I ate at Beano's. Every bite was like a hug to my taste buds. The tender shrimp, perfectly seasoned; melt in your mouth chicken; and savory cheese brought me so much bliss. The buttery toast was a nice compliment to the salty, gooey cheese. I finished it off with a sip of sweet iced tea. The fourth quarter is when games are won, and this dish was victorious. I felt comforted from my morning and was left ready to tackle the rest of my day. I've found my new lunchtime tradition.
If you've never been to Beano's, I highly recommend that you stop in, take a load off, and enjoy delicious and affordable Southern comfort food. The kind staff and quality food will brighten your day. GN