FIRST RESPONDERS aren't your average Joe. They want to help and are flexible and adaptable. They are eager to learn and most importantly, self sacrificing. A life as a first responder isn't an easy one. It's filled with uncertainty, stress, and strenuous situations. Most of the time they are running head-on into situations that most are running from. They wake each day to serve and save, no matter the conditions or circumstances.
Each day for the past 27 years, Robin Hood started his day ready to take on whatever the day throws at him and serve his community in the most efficient way possible.
For those 27 years, he has served as a firefighter for the Winchester Fire Department.
He got his start just out of school when the small community he grew up in started a volunteer fire department.
"The little community where I lived wanted to start up a volunteer fire department," he said. "So I helped get it started, and I liked it. I was fresh out of high school and saw that I liked it, and I liked what we were doing. So I started going to school."
Hood said that he and fellow friend and firefighter, Terry DerryBerry, decided to apply in Winchester where they heard the city was starting a volunteer fire department. "Back then, the state fire school was in Murfreesboro. So I took classes and ended up, me and the assistant chief [Derryberry] here, decided that we were going to try and get on the volunteer fire department in Winchester. We came in to fill out an application and wound up getting a fire that night. So we actually rode with them and helped where we could. We didn't have gear, so we stayed outside and pulled hose and things like that."
According to Hood, the fire chief saw what they were doing and needless to say, they were hired. That was 1991, and in '95 Hood accepted a full-time position. The rest has been a career of doing what Hood loves and feels he is the best at, helping people.
"I like helping people and helping the community," he said. "I love to see their faces when we are able to help them. Kids come by, and they are just so excited to see us. I remember how I was when I was young, so it is great to know we have that kind of effect."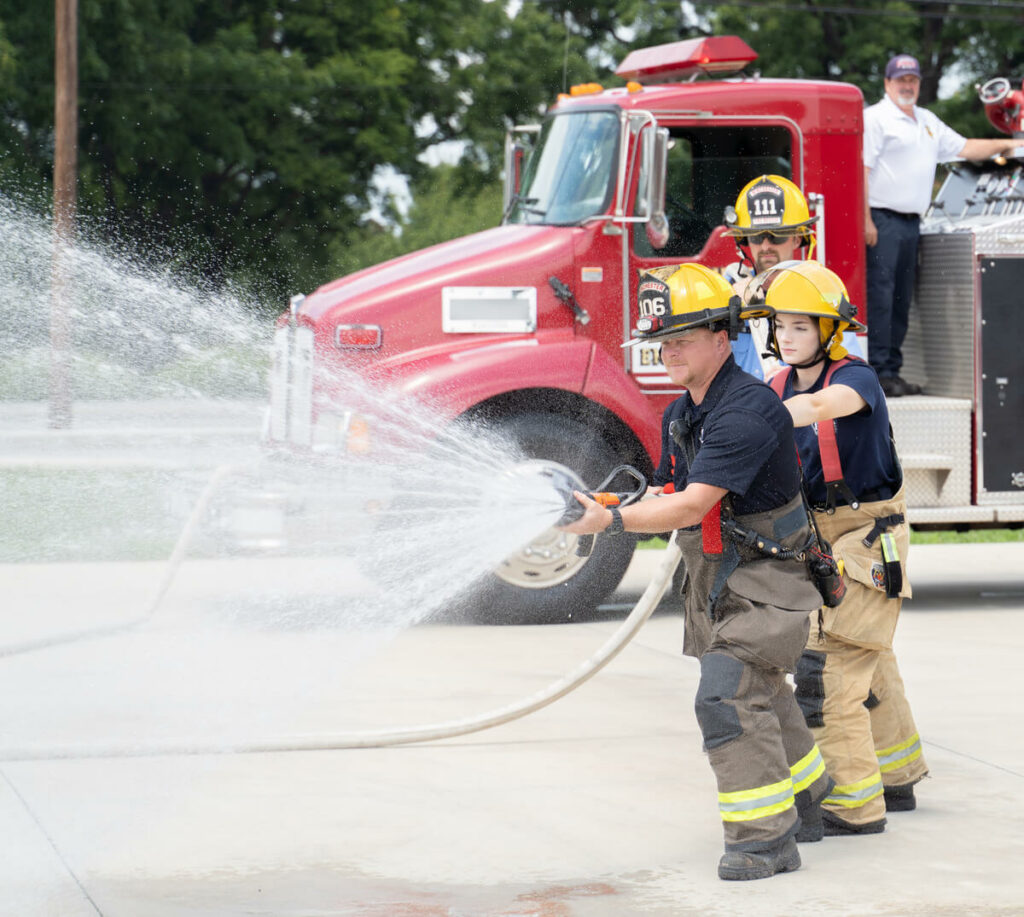 While the times have changed, and the technology of fighting fires has improved greatly with better equipment and improved technology, Hood said the core of what they do is help people however they can and as fast as they can.
"As first responders, we are trying to help the person get to the care they need as quickly as possible," he explained. "In vehicle extraction, they call it the golden hour. You want to get them as quickly as you can and get them to the hospital or trauma center as fast as you can."
This even means the first responders fighting against their own fears of sorts. Hood is also not fond of heights but battles through his discomfort in order to be able to help.
"I do it, but it still makes me nervous at times," he said. "I just go by my training. Even if it's my family or something you got a job to do, and you got to get them the help they need and go from there."
At the end of the day he said he hopes the community
knows that he and his crew are there for them, and they
continue to serve their community in the best way possible.
"I hope they [the community] back us in a way that they see that we are trying to help everybody we can in any way we can," said Hood. "It may not necessarily be a fire or anything like that, but we are always helping the community. There are always people stopping by. We kind of do a little bit of everything. We try to help people the best we can." GN