AMAZON WISH lists can go on and on forever. Search, search again, and search again… yet still, the question keeps ringing: What do I get them for Christmas? When your family comes home for Christmas this year, follow Riverviews Artspace's lead.
Riverviews Artspace has been a cornerstone of the Lynchburg community for over two decades. It has played a key role in its downtown renaissance, spearheading revitalization through the power of art. With its diverse exhibitions, programs, and events, Riverviews has given momentum to community cohesion by creating a beautiful, shared space where individuals from all walks of life can come together to interact with art and one another.
Riverviews has evolved into a cultural institution where people of all ages and backgrounds converge. The gallery's commitment to showcasing diverse artistic styles and mediums enriches the community's exposure to talent and fosters dialogue and cohesion among its residents.
By offering a platform for local artists to shine and inviting the public to engage with art in an inviting and accessible manner, Riverviews Artspace has become a powerful agent of unity, bridging divides, and creating a more beautiful and interconnected Lynchburg for all to enjoy … for free!
Lynchburg has become a vibrant cultural destination through a deliberate effort of collaboration among its area galleries. This transformation hasn't happened by chance; it has required intentional cooperation among local galleries to collectively promote the arts and highlight what makes Lynchburg a unique and special place.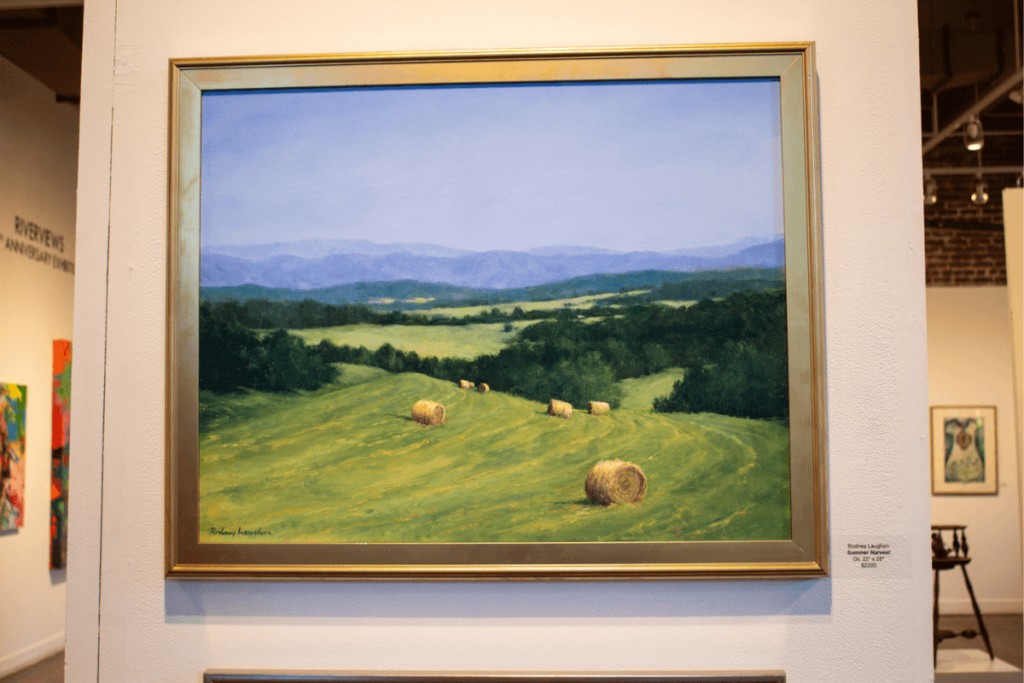 This collaborative spirit has established Lynchburg as a hub of creativity, where the collective efforts of its galleries have led to a thriving and dynamic cultural landscape that welcomes and inspires both residents and visitors alike.
Riverviews Artspace is proud to house permanent artist studios, where the public is invited to explore the diverse talents of its resident painters, photographers, graphic artists, and various other creative individuals. Visitors are encouraged to witness the magic of the artistic process and engage in conversations with the artists. These studios aren't just spaces for creation; they are living laboratories of creative expression whose doors are open to the entire community.
Rodney Laughon, a member of Riverviews Artspace since 2006, embodies the spirit of a local artist deeply connected to his roots in the Lynchburg area. Having grown up in this picturesque region, Laughon's artwork captures the abundant beauty that defines the enchanting rural landscapes of the Blue Ridge. From his Plein Air group, where he and fellow painters "land snorkel" for discoveries to paint, to his dedicated studio space at Riverviews, Laughon serves as an example of an artist whose appreciation for local beauty is not only gently expressed in his work but also generously shared with the community and its visitors.
Laughon believes art has the remarkable power to help us convey insights we might otherwise struggle to express. After closely studying one of Laughon's serene rural Blue Ridge scenes, a little boy visiting Laughon's studio with his mother commented on the profound sense of peace and calm the painting reflected. It's this kind of magic that the Blue Ridge region holds, and Laughon's art captures that and makes it accessible to all.
Laughon and Riverviews Executive Director Tracey Langseth are champions of the arts and the cultivation of opportunities and spaces for established and emerging artists to thrive and showcase their talents. Langseth's passion for bridging the gap between art and the public is evident in her dedication to curating experiences that grant the entire community access to fine art.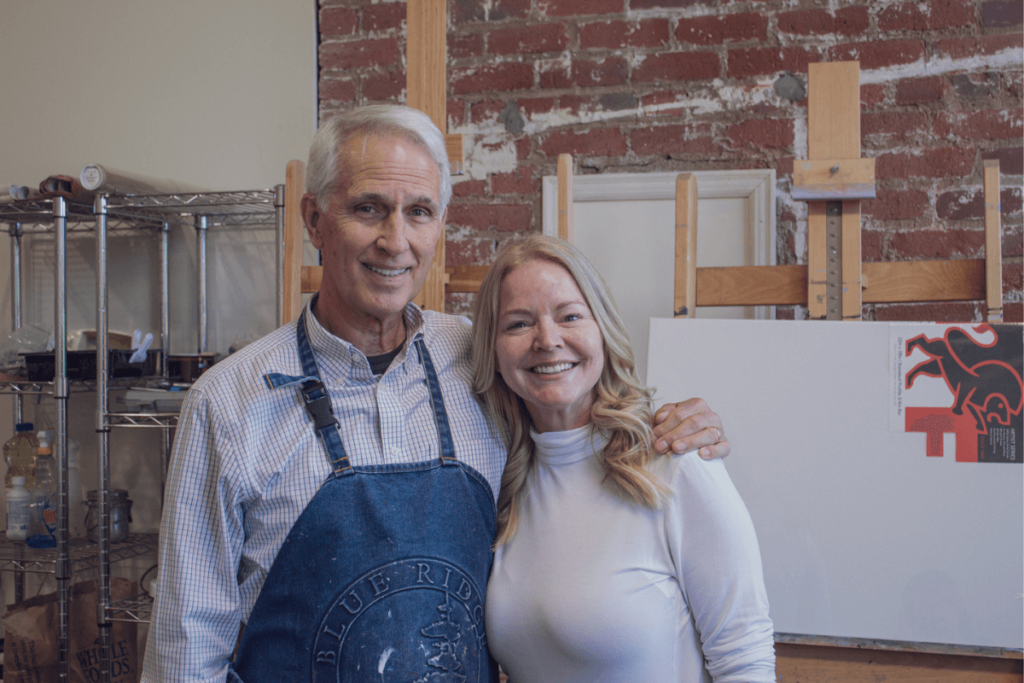 Riverviews is excited to launch an Artist in Residence program, offering subsidized rent and studio space for multiple artists. This opportunity will provide artists with a creative haven and immerse them in a community of peers and established artists. This program exemplifies Riverviews' commitment to empowering and promoting artistic talent.
Riverviews Artspace acts as both a bridge and a convener, allowing gallery guests to interpret artwork through their unique perspectives. It is a welcoming and beautiful gallery that facilitates conversations of our time and brings people together on topics that are difficult to process and, in Langseth's words, "meets the moment." 
First Friday exhibits featuring emerging artists' work remain on display in the gallery throughout the month. Riverviews hosts these free events from 5 p.m.-8 p.m. They offer refreshments and live music, creating an engaging space where the community can come together to appreciate exciting new collections.
Riverviews Artspace is an asset to the Lynchburg community, and it welcomes locals and visitors to attend its events and exhibitions free of charge. Not sure what to get your family and friends this Christmas? Make meaningful art. GN