HE SPENT nearly 10 years on the streets of Los Angeles as a person with an addiction, but now Bobby Hayden Jr.'s Cardboard Box Ministries helps people across the United States find hope again. The faith-based recovery ministry moved to Hendersonville only four years ago, but the program has been working with people experiencing homelessness and people with addictions for over a decade. Hayden said it all started when he first began sharing his story.
At the young age of 8, Hayden was already becoming famous as a singer. He appeared on several national television shows, had a contract with Ed Cummings and the Gerald Purcell Agency, and became a rock and roll star. Hayden said it gave him a desire for fame, but it did not end well.
"My five minutes of fame took me down a road that was just full of despair, drugs, and self — mostly self," Hayden said. "It was a very trying part of my life, but without that, I wouldn't be where I am right now."
Hayden's sister rescued him from the streets, taking him back to Indiana, where he recovered from his addiction in the process of becoming a Christian. Cardboard Box Ministries followed soon after, as Hayden's experiences with addiction and homelessness are the basis of what he does.
"I had a lot of compassion for people who were homeless and battling addiction," Hayden said. "In about 2010 or 2011, after starting to go to church, my faith was being expanded. And when I told this story to people who were suffering from addiction, I noticed that they would lean in, and their lights would go on. They understood what I was trying to tell them."
Hayden's story is powerful, but so is his music. He often plays at graduations for organizations like the Nashville Rescue Mission, as well as in the churches and recovery meetings he visits.
"The ministry's growing through the music because it gives us a different way of communicating with people who are broken," Hayden said. "They hear the music, and they like it, so what that does is it opens a door."
Currently, Hayden is working with producer Mark Fain to produce a new album called "Love You Back to Life," which chronicles Hayden's journey through homelessness and addiction. Hayden said several prominent artists have collaborated on the project.
"There are lots of musicians that live here in Hendersonville [that] have battled with addiction and [saw] what it did to their friends," Hayden said. "They're all for getting a positive message out."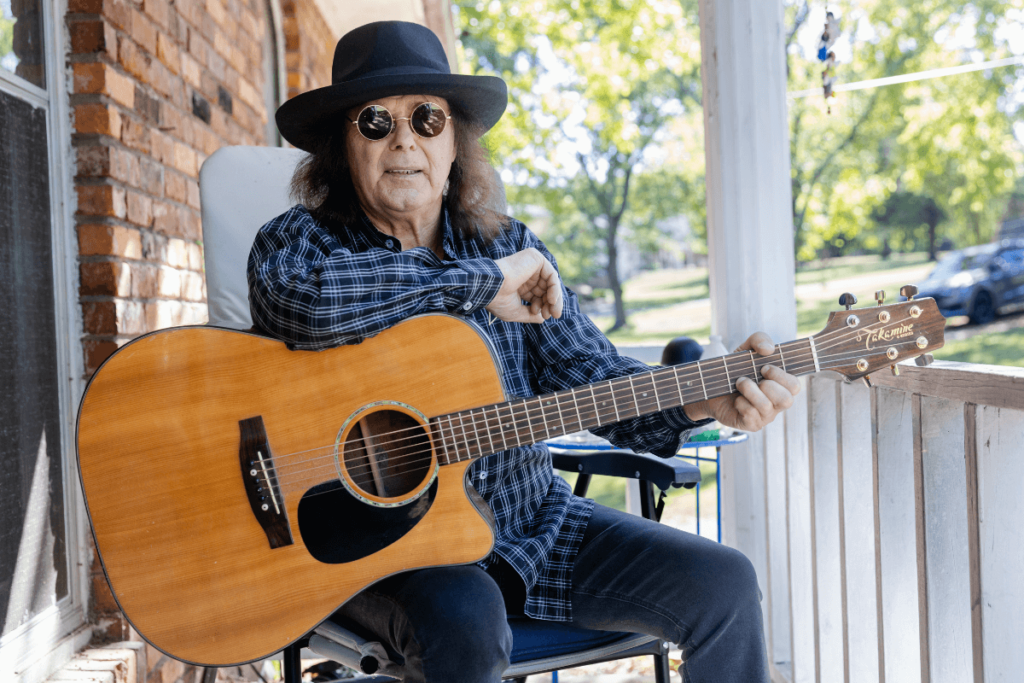 Those aren't the only things Cardboard Box Ministries does — they also help place people in recovery homes and meet one-on-one to help those recovering from addiction move forward. Hayden said the ones who are the most difficult to talk to are often the ones who do the most after their recovery.
"We're finding that the ones with the hard hearts, once they get involved, they are the ones that realize how wrong they were," Hayden said. "It affects them in such a way that they look to start helping other people. And when they become involved in other people's recovery, it strengthens their recovery. So it's a revolving circle of success and victory."
Change comes from making a person feel wanted, listened to, and encouraged because, often, there was a love that was missing. Hayden said when he had an addiction, he had begun to interpret correction as rejection, and it was only love that broke through that.
"They tried to preach the hell out of me, they tried to incarcerate the hell out of me, and they tried to beat the hell out of me. But when this man by the name of Jesus came along, and I was introduced to him, somehow this man loved the hell right out of me," Hayden said. "What God wants to do is love this troubled world through us. So I'm just a vessel with a story." 
While he would like his music to become more known and reach more people, Hayden ultimately just wants to give people a better chance at becoming better. Cardboard Box Ministries will be victorious if even one person is helped.
"It's all about the one person that's standing right in front of you," Hayden said. "I mean, sure, I would like the ministry to grow, but this is about that one broken person who, if I can just get them to a point where they'll listen a little bit and receive love, consideration, and compassion from our ministry, it could be the difference of them overcoming what they're battling."
Without charge, the ministry would love to attend any church or recovery meeting in Hendersonville. Contact Bobby Hayden at bobbyhayden55@yahoo.com or call (931) 374-5124. GN