THE AIR is charged with chatter, a unique language of melody and scales. As the scoreboard clock counts down, they run through the Star-Spangled Banner and pep tunes, more tradition than technique. Soon, they fall naturally into position to begin their march to the field. Cadence begins at the drums' signal, followed by each instrument's flash. The stands are nearly full. Midway into the stadium, there is silence again as the Franklin County High School band members take their seats. It's time!
For Jacey Roden, Class of 2024, the school band is more than a soundtrack for games; it's a connection that creates community, a plugged-in power that forever bonds its members.
Roden said, "My freshman year, we were going to an away game. The power went out. Everybody around us was kind of going crazy, but we were singing songs from way back in elementary school. We were singing the school spirit songs that we do during pep rallies, and we still played.
We played our pep tunes, and we just went through with everything, and it didn't stop us from doing what we knew we had to do."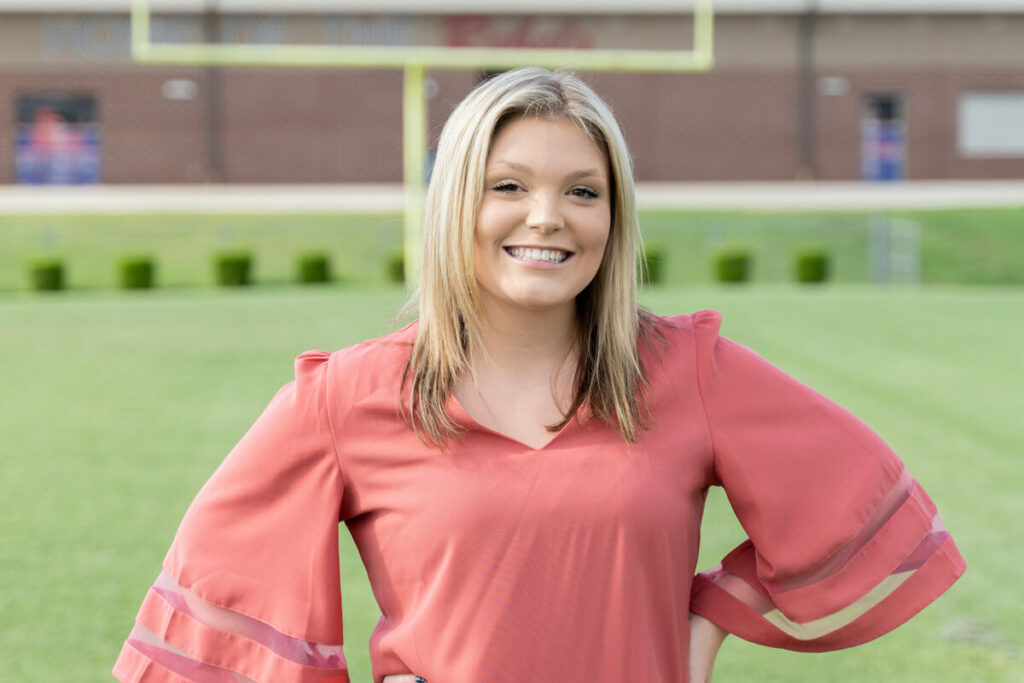 When her fifth-grade class studied the recorder, Roden found a deeper connection to music. It was more than a grade for Roden, who would stay after school learning how to play and read music. The decision to join the middle school band was an easy one. On the other hand, choosing an instrument seemed a bit harder until she picked up the trombone, brought it to her mouth, and began to play. Band teacher Mrs. Watts told her immediately it was the instrument for her. "I didn't really know what I was doing, because I'd never picked up an instrument like that before. I don't think I could see myself playing anything else," Roden said.
Before she discovered the trombone, Roden listened to and sang along with the music; now, she is a part of the music. She said, "I've always loved music. I'm always singing with the radio; whether in my car or at work, I'm singing. Beforehand, I just saw music as one of those things I could always go to, whether I needed help, was down, or even when I was happy. Now, if I need music, I don't just have to listen to it; I can get out my trombone and play it. It's therapy."
While the drums may be the heartbeat of Friday night games, there's more behind it. "Through my eyes, trombones are the backbone. We support everybody, and in a lot of songs, we have the main melody. When we have our parts down, everybody else knows this is where we're at. They can thank us for giving the main melody and supporting the next part of the song," Roden said.
Like someone dear to us that we thought would always be here, we may take the band's contribution to games for granted. A void exists if the band is absent. The rhythms are off, and the energy is weakened.
The band is part of our community, and our community is part of the band. Its most vital assets support performances and life.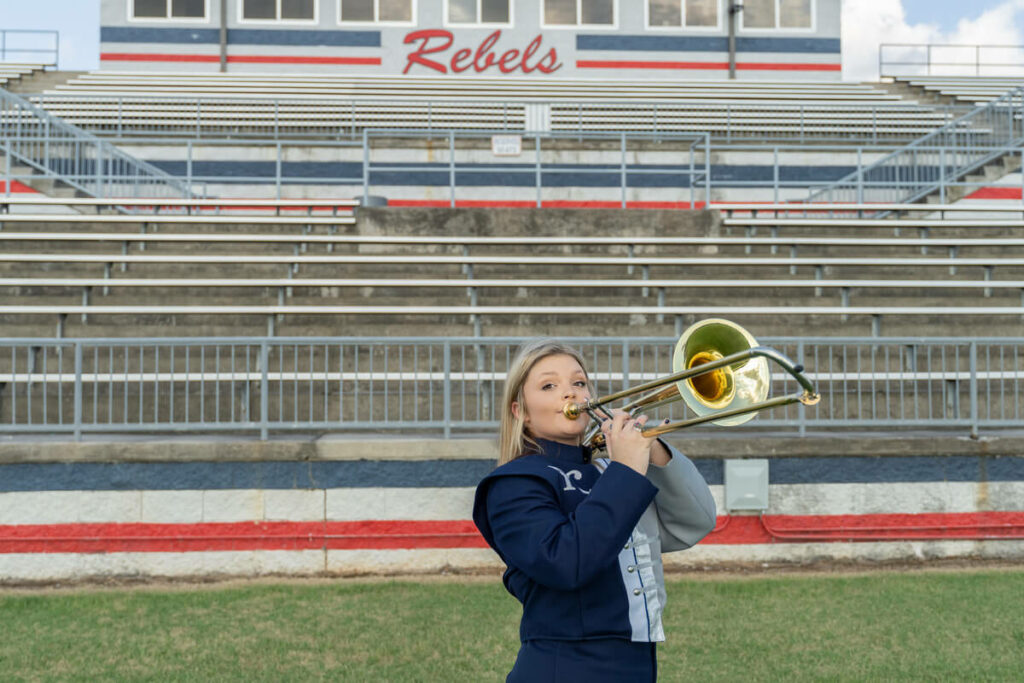 Roden said, "Band is really all about spirit, teamwork, and communication, because without communication we can't really help each other. It doesn't even have to be talking. We don't have to verbally talk to communicate with one another. If we're marching and walking past someone, all you have to do is give a certain look or make a certain movement, and they know, "I have to fix this, or, okay, this is what we're about to do.'"
Within the band community and in everything she does, Roden is the backbone. "I've always been that friend that, no matter what, I'm always here for you, always supporting you. People can literally fall back on me. I'm that backbone, right there supporting everybody and helping everybody else," she said.
Roden is wired for community. She lives to lend her support to everyone around her. On her job at the register at Food City, customers become family and friends who often share their stories with her. She offers a listening ear and focuses on the positives she finds in each of them. Her outlook sings out through her description of her job. "Besides the register, if you stay late at night you get to do chores, and there are times when you have the opportunity to go and do somebody else's job in a different department." Roden shines with a get-to attitude fueled by her love of music.
For Roden, music and band will go with her into college, where she'll join a new community and continue lending her support to university spirit. She already sees band, beyond college, continuing to influence her life. "I've always wanted to keep it with me for the rest of my life.
Whenever I'm older and have kids, that'll be stories I can share with them and possibly influence them to look up to me. Whenever I have old friends over or try to make new friends, it won't really be as awkward because I can always say, 'Hey, I was in [the] band, and I have all these amazing stories I can share," she said.
Perhaps in uniform, Roden carries on the story her aunt, Melanie Walker, began as a band member in middle school. "I'm adding onto her story, doing things she didn't get to complete," Roden said.
"Whenever you're in uniform, it's not only about character; it's pride, because you're with a band that you didn't really expect to become your second family. Being in the same uniform as everyone else, we're all the same. We're doing our job. It's rebel pride, taking pride in what we do. It shows a lot about us and who we are," Roden said. It's the theme song of Roden's life. GN