THE END of a busy school day is winding down for Justin Scott. The band room at Tullahoma High School (THS) still has some students meandering about taking time to practice notes and pack up instruments. Scott grabs a seat on an oversized gray comfy couch in a special area that he and the other instructors created for times when relaxing is most needed. 
He begins to talk about his music career. It started as a child learning to play his grandmother's piano and then inheriting his brother's trumpet. In high school, he performed with one of the most competitive band programs in the state. He also enjoyed a successful collegiate band career at Tennessee Technological University (TTU) and student teaching under well-known band directors Steven and Marion Coleman at THS. 
Scott has been blessed with opportunities and individuals who saw his talent and allowed him to showcase them accordingly. He is thankful for all who have helped him along his way. However, one thing that makes him most proud and even brings him to tears is a story of him and his father discovering a box of videotapes. The tapes were of Scott performing at various band competitions and events. Scott said that as he watched them, he began to notice something profound.
"It weighed so heavily on me because I started watching, and I didn't know they were there for certain events," he explained. "One event was the Contest of Champions during my freshman year. It was a big thing. I put in this video, and my dad's on the sideline, and I don't know how he got there, but he was there, zooming in and out on me as I was marching around. It was his perspective of things I had never seen before, and it was from my parent's side. I guess the reason it weighed so heavily on me is that, at that moment, I didn't realize just how present my parents were. It really puts into perspective the simple power of just "being there." They continue to attend many of our performances, and that means the world to me. Throughout our career, there are so many students here that don't have that support, and Lisa, Atticus, and I are that for them."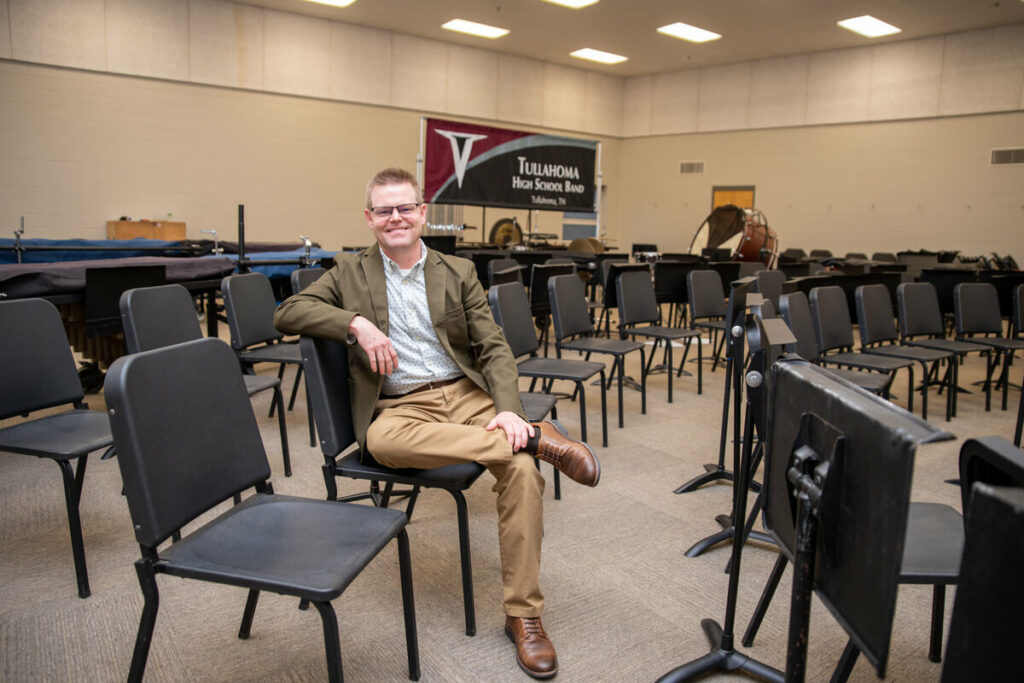 For Scott, learning music is important, but at the end of the day, it's about music being something more for his students. It's about music becoming a support system, an exciting time, and something that will stay with them long after their band days at THS.
Discovering something more 
Growing up playing the piano alongside his grandmother, Scott fell in love with music. Inheriting his brother's trumpet, he would take on middle school band, where he would encounter what would lay the foundation for his path in music.
"One of my first inspirations was my band director, Nola Jones," he explained. "She had this gift of making you feel like a rock star. She would always introduce me as her 'rockstar trumpet player, Justin,' if we were at a competition or a concert. It stuck with me and inspired me. I try to emulate how she made me feel as much as possible with my students. Erich Zimmerman, my trumpet teacher and band director, was another mentor that pushed me toward excellence in everything I do. He instilled not only a love for music but also giving everything my total effort all the time, and not just on trumpet." 
Playing through high school at McGavock High School in Nashville, Scott would reach an impasse with performing. The intense schedule and high demand of a competitive program of that caliber weighed heavily. However, after some soul-searching, he said he realized at the end of the day that there had to be a better way to be a part of music.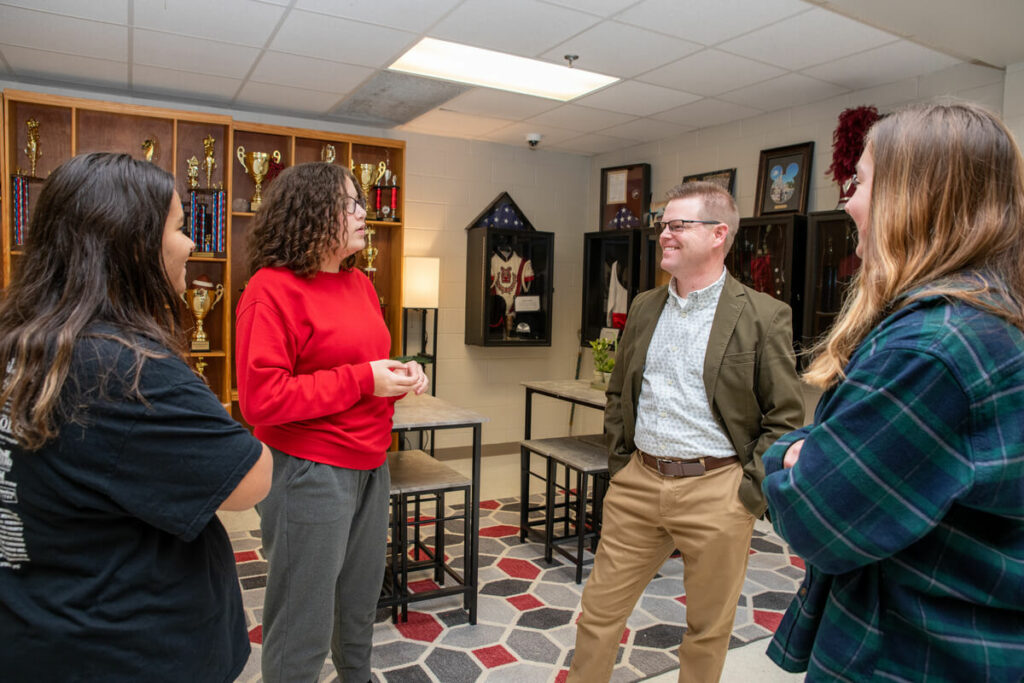 "My senior year was very hard," he said. "There were a lot of things in my senior year that were positive, but also negative, that made me want to go into music because I was bound and determined there was a different way to do it. And so I made the decision early on that I was going to be a teacher." 
An eye-opening experience 
Scott would find himself student teaching at Tullahoma High School with then-directors Steven and Marion Coleman. He stated that his time with well-known and respected music instructors was eye-opening.
"It was an eye-opening experience for me in terms of seeing an entirely different side of what a band can be," he explained. "I watched what Steven and Marion did and these kids' love of music. The big thing they taught me was that it's not about awards or contest results. It's teaching kids to love music and to be great citizens, which we do through music. I knew this is what I wanted a band program to be like." 
While Scott would take his first teaching position in Gallatin, he would find himself back at Tullahoma for a new musical adventure when the Colemans reached out and asked him to take over the program along with Greg English before their retirement. The rest, they say, is history — musical history in Scott's case. His career has continued alongside some of his best friends, Atticus Hensley, Doug Clark, and Lisa Burden.
"We're a team, and I couldn't do any of this without them," added Scott.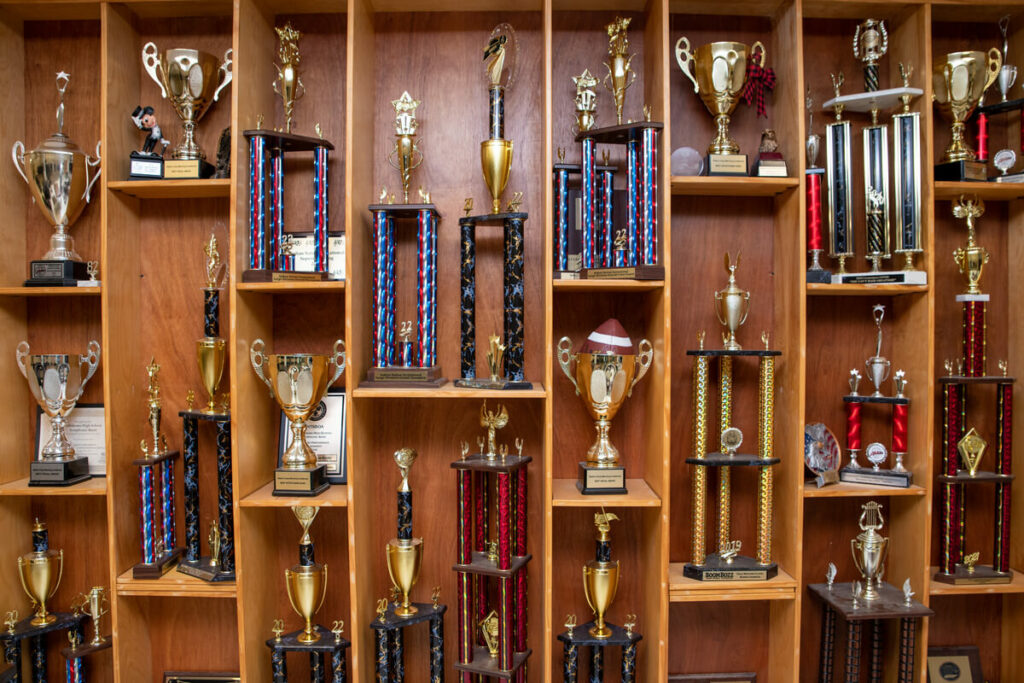 Lifelong learners 
The learning opportunities that music offers are limitless. You can be all-consumed or simply just enjoy the arts. Scott, along with his fellow instructors, is helping students to find their own place in music.
"Band doesn't have to consume your life," he said. "We have a lot of kids that are involved in athletics or involved in things outside of the school. Each of us instructors prides ourselves on that because we want the kids to be well-rounded. We want to show them that this can be and continue to be a part of their lives. This happens through the music we study, practice and perform, the trips we take, and the artists we bring in. A lot of them may not touch their instrument again, but we want them to be lifelong learners in music and the arts. We want them to continue to be a part of the arts, whatever that looks like for them. Whether it's playing in a community band, subscribing to the symphony, or going to the Playhouse here in town, supporting the arts is important."
Scott is a lifelong lover and learner of the arts, and each day for him is about growing in the music he loves so much.
"No day is ever the same," he said. "I love that I start my day teaching beginners and see their excitement, and I end my day with awesome kids that love music and have decided to stick with it and keep it part of their lives. We get to grow up with them from the sixth grade through their senior year and see them develop into these amazing people. They have as much an influence on us as we do on them." GN