BEING THE FIRST line of defense and the initial person to respond to any urgent situation is a weighty responsibility to bear. Willie Young, Tullahoma High School's school resource officer (SRO) shared, "I waited until I felt like I was mature enough here [pointing to his heart] to get into this type of work. I guess it came a little later in life, as I graduated from the academy in 2014." Regardless of how late in life it may feel to Young, he has shouldered the duties associated with the job with profound grace and utmost care since earning his badge.
Young shared that he has always admired law enforcement officers. He recollected, "The officers I knew had such courage. And personally, I decided I wanted to make a difference in people's lives. That is actually something my wife, Diana, and I tell each other every morning. We say, "Go out and make a difference in someone's life today." And in my mind, what better way to do that than to have a job that puts you out with people."
Thus, Young officially began his career in law enforcement at the Tullahoma Police Department in 2014. For years he gained a lot of hands-on training while serving the community. However, when the SRO officer position became available, Young's heart was stirring for change. He shared, "I was a youth pastor at the time when [former] SRO officer Joe Brown left, and the position came open. I had a desire to invest in our young people, so applying for the position just kind of made sense."
Young continued, "I didn't have any skills whatsoever to be an SRO officer, but the only tool I had was prayer. So I said, 'Lord, if it be your will, make a way.' And He made a way for me to get this job as I went to talk to Chief Blackwell. Blackwell said, 'Well, Willie, there's something about you. I will give you a shot. With no tools, no skills, nothing, the door was opened. And here I am still trying to do what God has me to do while I'm here."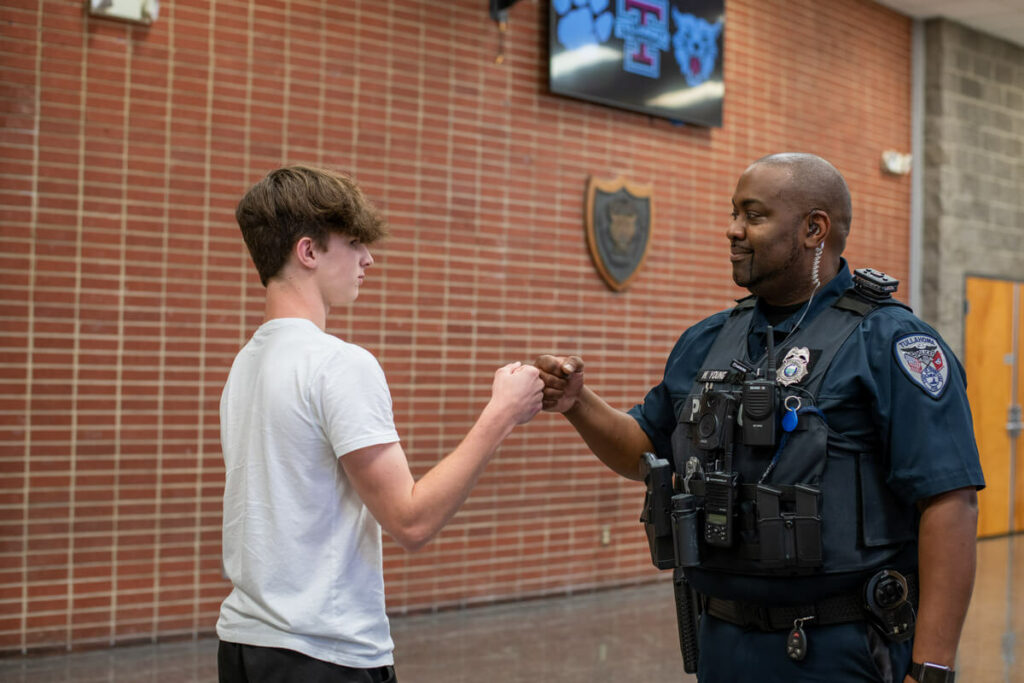 The primary role of an SRO officer is to establish and maintain secure and safe learning environments. A typical day for Young begins as he ensures everybody is accounted for in the building, doors and parking lot are secured, and nobody is in hidden areas. However, anyone who has met or worked alongside Young can attest that he does far more than what is outlined in his job description. Young goes above and beyond the call of duty. He not only maintains a safe environment within the school building, but he himself is a safe haven for countless individuals.
If you step foot into Young's office, one of the first things you will see is a bulletin board hanging on the wall. On the board are countless letters, photographs, and thank you notes from students and faculty members whom Young has impacted over the last four years. Young shared, "A lot of people who are having a bad day come in and sit in my chair. Sometimes I have to be a dad to them, and other times I have to be a minister to them. Whatever hat I need to wear, that's what I'm here to do."
Young concluded, "First and foremost, I'm here to make sure that we all go home at the end of the day. But I am also here to make sure that they [students] see us [police officers] as a help and not what they see on television or what the media and movies have portrayed us to be. I want them to see we are actually people. We are men and women. We are dads and moms and husbands and wives, behind the badge. I want to humanize the badge a bit. I want them to see I do care, and I love them. I am here out of love."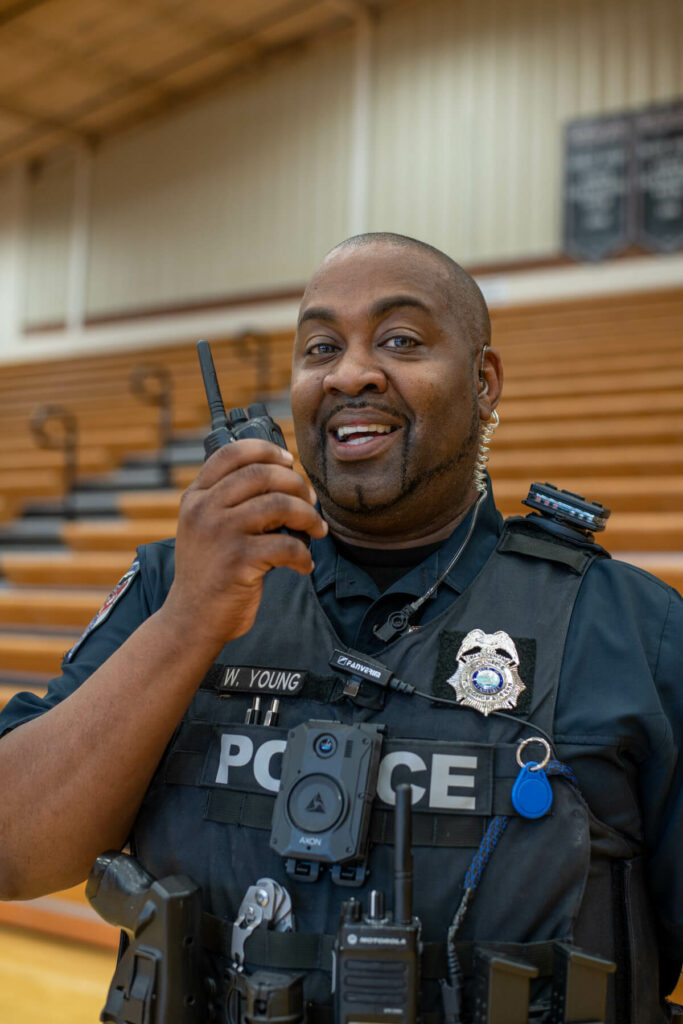 Being the go-to person for hundreds of individuals comes at a high cost. Young disclosed that his faith in Jesus is the glue that holds him together day in and day out and on more emotionally draining days. He said, "There is a lot my faith has done for me. Without it, I don't think I could do the job that
I do and still go home and not feel like I need to self-medicate or anything else like that. Instead, I can go to church or go to my secret place, let it go, and then get up the next day and not be burdened."
Young's sphere of influence extends far beyond safety concerns and traffic violations. His profound impact will ripple throughout generations and eternity. Thank you for your heartfelt service, Officer Willie Young. GN