RACHEL PORTER'S Learning Way Elementary School classroom doesn't look like a construction site, but don't trust your eyes. At first glance, it resembles the average preschool classroom. Cubbies along one wall hold colorful backpacks and personal belongings. Toys and role-playing stations stand ready and waiting. Children gathered around a nearby table are working on dryerase boards with markers chosen from a puddle of every color. Chatter comes and goes as they're gently redirected to the ongoing lesson.
The little learners occupy space and time of transition, one of great importance. They enter classes in the fall as preschoolers and leave equipped to begin kindergarten. It's an environment filled with exploration and transformation. For some, it's their first experience with structured learning. For others, it's new faces and different lessons. For all, it's more than a bit of learning; it's the foundation for their future. What they learn in the pre-K classroom creates the foundation for their primary and secondary education, the footer for the structure in which they learn.
Porter said, "You're helping make their first school experience a positive one and setting the tone so you know they will enjoy school. Especially when they go into kindergarten, they're eager to come to school, and it's not such a scary thing. They already know all the routines."
Through purposeful play, the students experience discovery, questioning, and decision- making processes. Intertwined with the interactive play are periods of talking time, an element that begins to develop their social and emotional skills. Conversations among students and with Porter and her classroom assistant, Beth Clanton, open the doors to understanding the value of the uniqueness of each individual. They establish community within the classroom.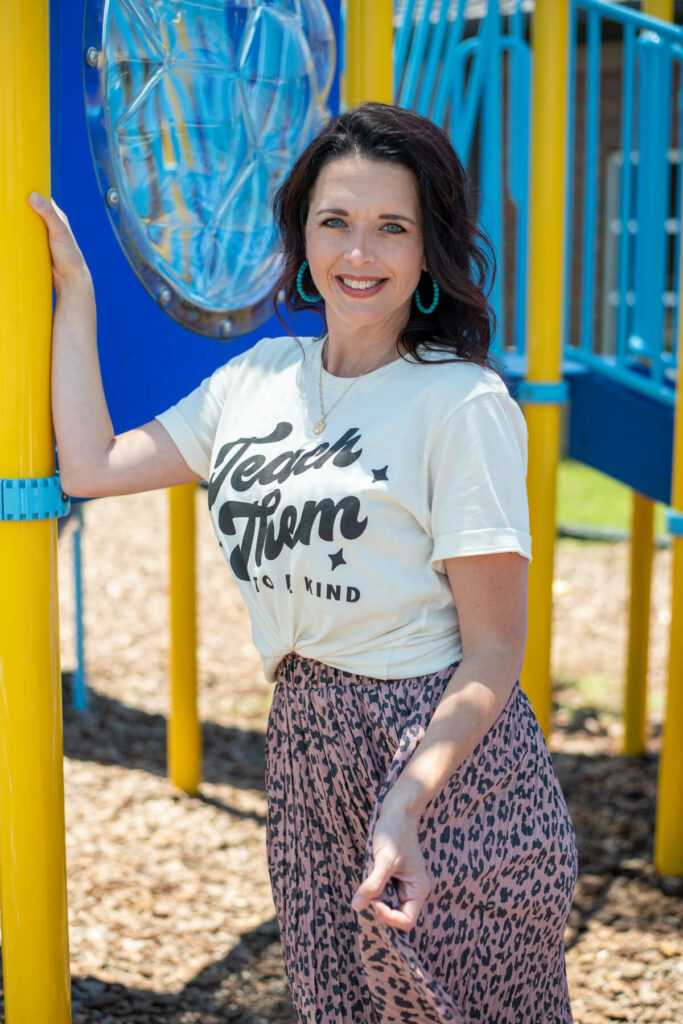 "I think it's important they learn there are all different kinds of people in this world, and we learn to get along as friends," said Porter.
You expect these social and emotional skills are taught in primary education, but Porter believes these would benefit students if continued throughout their educational careers.
Porter said, "We're laying foundations that are so important in early childhood education, but then it kind of slacks off as they get older. I would like to see that continuing all throughout those grade levels. As children age and become middle schoolers and high schoolers, some are not expressing their emotions in the classroom appropriately and are taken out of the classroom because they're disruptive. They're missing valuable instructional time. If we can teach them at 4 and 5 [years old] how to do that appropriately, then hopefully they will know how to express that in those upper grades."
Foundation weaves throughout all that happens during Porter's time with the students. The lessons and interactions build foundations undergirding the children's future learning. Teachers and administration working together further strengthen and support them. Parents working together with Porter set examples within the school building and at home. Community support forms a greater circle around the students, showing them they are cared about and seen. All of these influences are blocks in the pre-K foundation.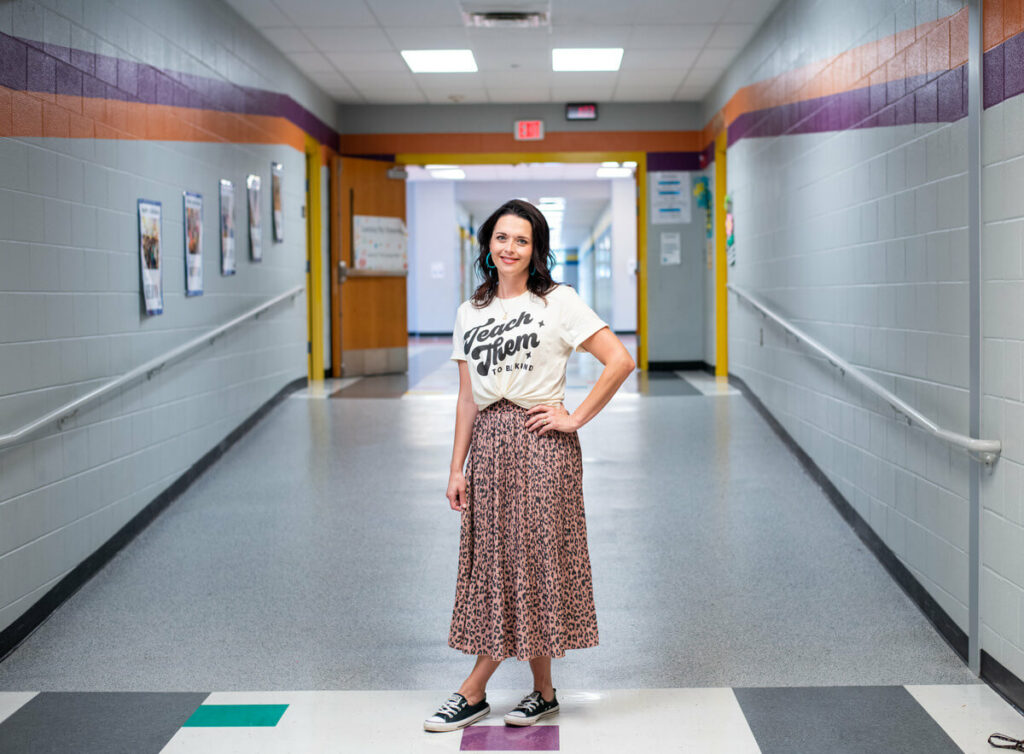 As students move from grade to grade, these experiences become walls around the learners, creating comfortable, encouraging environments. Within the walls of these relationships, students enter the doors of public education to learn and grow. Their interactions frame the windows through which they view the world and themselves. At graduation they exit the doors of their educational experiences ready to change the world.
And it all started with a solid foundation in the pre-K classroom!
Porter said, "If students feel valued and loved, then the curriculum instruction is the easy part. The most important thing is building relationships: student to student, student to teacher, and parents to teachers. It's the foundation for everything. Building positive relationships is foundationally what matters the most."
Porter's passion for her students, and her investment in their futures has not gone unnoticed. She is Learning Way's PreK-4 Teacher of the Year, Bedford County Schools' PreK-4 Teacher of the Year, and a regional semifinalist for Tennessee Teacher of the Year.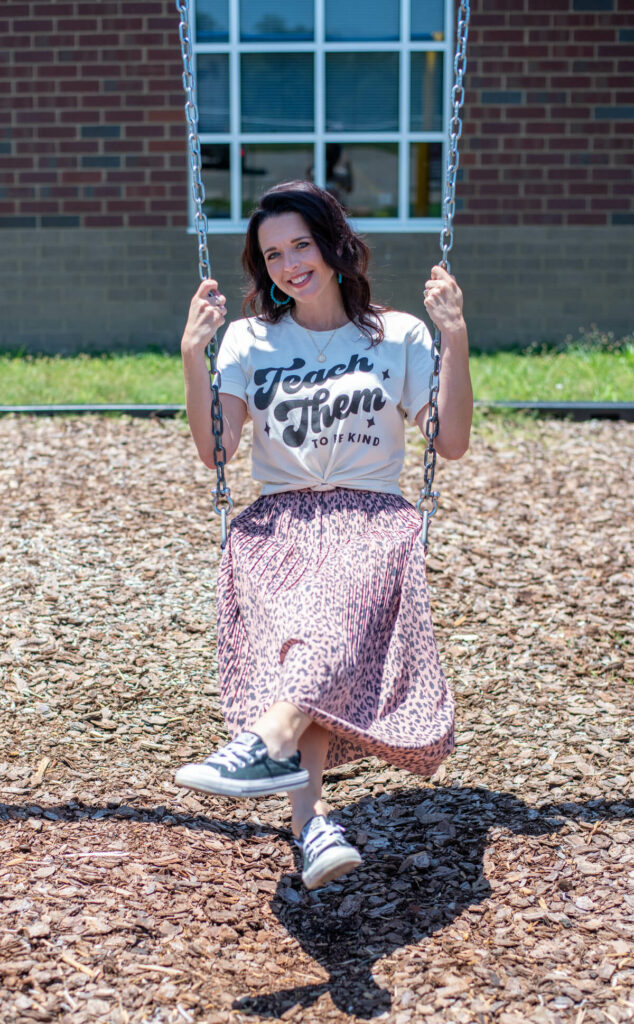 "I was very shocked and humbled by that. I'm thrilled to have gotten this far; it's all an honor. But just where I started from, by being voted Teacher of the Year from Learning Way was such an honor, because those are the people that see me every day interacting with those students. It was a huge honor to be voted by my peers," she said.
Beginning her 11th year of teaching this fall, Porter is at home with her students and the school's staff. In addition to the teamwork with her school's co-workers, she values the experience of teaching within the Bedford County School System.
"The teachers value these students. They want them to succeed. We know we're supported by our administrators and supervisors," she said.
Originally from Franklin, Tennessee, Porter graduated from Middle Tennessee State University in 2003 and has lived in Bedford County for around 23 years. She delayed the start of her teaching career until her daughter began kindergarten. She is married to Brian Porter, and together they have five children: Cason, Carson, and Sara Brook, and the twins, Pax and Liam. A love of children is threaded throughout all layers of her life.
"I always had a passion for working with kids and knew teaching was a way I could make a difference in our world. I also wanted to be a mom, and teaching provided that balance where I could be on the same schedule as my children, allow me to have as much time with them as possible, and still have a career," she said.
A solid foundation for every student, constructed by teachers, administration, parents, and the community is not a dream; it's a possibility when we all work on the building together. GN