FAR FROM home while deployed to Iraq, Dr. Lucas Bowling received a call that changed the trajectory of his life. Not the kind you answer with your cell phone, but a call that doesn't use Verizon's nationwide network. It was there that Bowling felt and answered the call to ministry. 
His initial career path was engineering, but he changed course and began working as a youth minister at Edgemont Baptist Church, where he served for six years. And then came a call asking him to pastor Parkview Baptist Church in Lewisburg. And again, he answered. The small church could hardly afford a full-time pastor, so it was necessary to supplement his income, something he did through substitute teaching at area schools.
Between his first work as a youth pastor and working with students as a substitute teacher, Bowling began to see the intersection of two careers and decided to pursue his teaching license. Add coaching to the mix, and it became more than a career; it became a lifestyle he shares with his wife, Tricia, and sons, James and Blaine.
Physical science and biology teacher; football, baseball, and wrestling coach; Fellowship of Christian Athletes and Fellowship of Christian Students (FCA/FCS) sponsor; pastor; husband; and father — all links in a chain that wraps around Bowling's work and life calling.
Bowling said, "Teaching is a calling for me, but it wasn't something I knew I wanted to do when I started high school. When my wife and I first met, she was already a school teacher, and I used to tell people I could never be a teacher, and that I didn't ever want to be a teacher. I never really intended to be a teacher, but through this confluence of events, God put it all together." 
Young people are a central part of his days, and the classroom brings more opportunities to teach and influence young lives.
"I enjoy the job more than I thought I would have. The biggest thing is knowing that teaching is where God wants me to be," he said.
As a physical science and biology teacher, he encourages students to evaluate scientific claims and reach their own conclusions.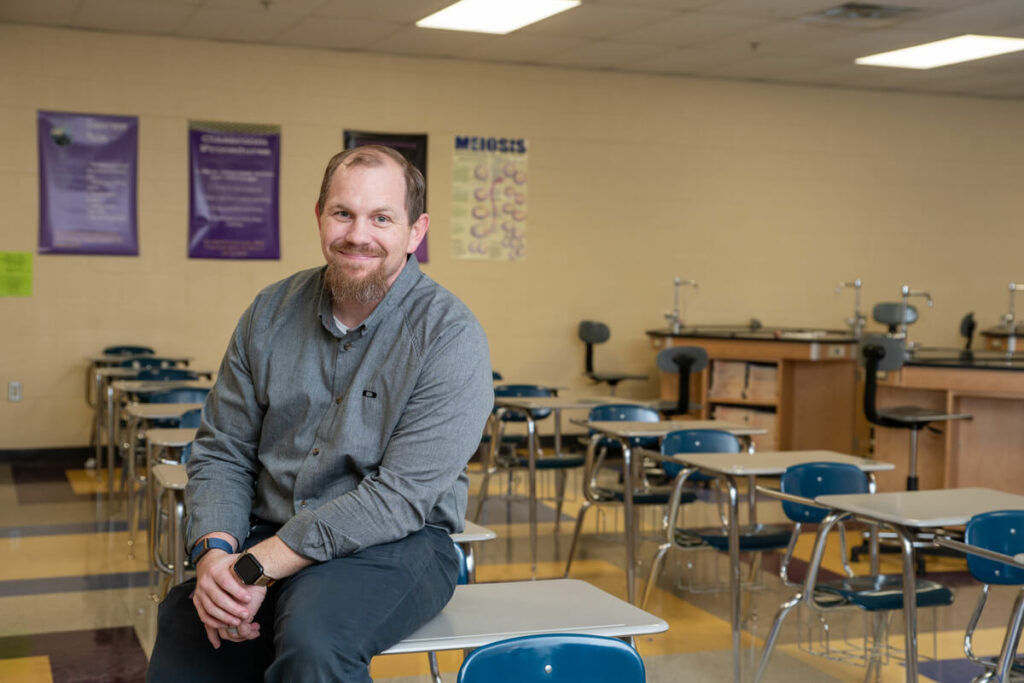 Bowling explained, "The benefit of a science class is that we're naturally skeptical. When you learn to critically evaluate and interact with evidence for yourself, you may or may not come to the same conclusion. You may want to investigate further using primary resources instead of secondary sources. So if the book says something, it might be well supported, but we can be sure if it's well supported, you can go and replicate these experiments and replicate the findings so that we can be very critical in a healthy way."
Community is where his family is, literally and figuratively. His wife teaches first grade at Community Elementary and coaches cheer, and his sons are in classes at the high school and are involved in the sports he coaches, so they spend more time together than an average family. Add his extended family of students, staff, and administrators to it, and you have a perpetual sense of support, even though the days are long and busy.
When asked how he does it all, Bowling said, "In one sentence, it's by the grace of God. While the coaching portion and the FCA/FCS work would normally feel a little bit more like work, it's such a blessing because when I think about the hours that I get to spend not only with other people's teenagers and children but with my own kids… man, it's pretty awesome. I see them more in a week than some parents get to see their children in a month."
As exhausting as it is, he would have it no other way.
"You hear pastors say they're always so tired on Sundays, but it's a good tired because they know they're doing something worthwhile that has value in God's eye and kingdom. I feel the same way. With all of the irons I have in the fire, it leaves me feeling exhausted. At the end of the week, we're pretty wiped out. But for my wife and me, it's a good type of tired because we've invested ourselves into young people, some of whom have become convinced that adults don't like or love them or don't understand or care about them. But I would like to think that every one of my students knows at the end of the day they have at least one person who's happy they're here," he said.
The community's leadership is heartfelt.
Bowling said, "Dr. Williams and Dr. Ralston do such a great job of supporting us like family and allowing us to support one another like family members. I think that starts with the administration and filters to the staff. Then, as we all run our classrooms like that, it trickles down to the students."
Bowling's days are filled following a call from above in a family that supports from the top down.
"It's a pretty awesome place to be," he said. GN