DURING THE FALL seasons of 1945-47, Shelbyville Central High School's football field was the place to be for Elmer "Coke" Crowell and Billie Hayes. He was on the field as Central's star running back, and she was in the grandstands with one eye on him. She knew he was the one for her, whether he knew it yet or not. By the time he completed a tour in the Korean War, he knew it, too. They soon married, and children, Jackie, Nancy, and David were born. With two young sons, it was only a matter of time until football was again a big part of the Crowell family's lives.
Jackie, who graduated in 1974, was Central's quarterback during his high school career. Jackie and his freshman team captured an undefeated season with no points scored against them. The Crowell family felt at home at the high school field on Friday nights. Soon it was David's turn in the traditional blue and gold jersey.
David, a member of Central's Class of 1979, was a defensive linebacker during memorable Shelbyville seasons and the Defensive Player of the Year in the 1976- 77 season.
"We won back-to-back Lion Bowls. And back in those days, bowl games were a big deal in high school. You had to be invited to the state playoffs, so it made the bowl games really big. Back then, we weren't playing in a district. We were in the Central Tennessee Conference and won the conference championship in 1976," David said.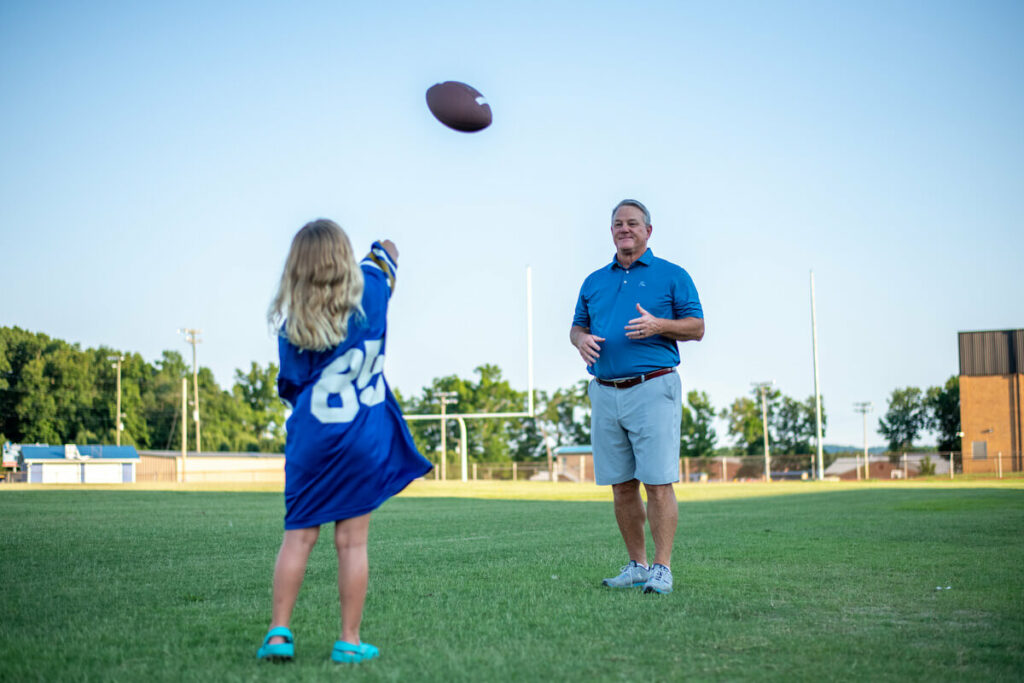 Coach Tom Crawford left indelible impressions upon his players, and Crawford's name is often repeated when the conversation turns to Shelbyville Central football. David said, "Coach Crawford and the assistant coaches were not just really good coaches; they were all great men who were good mentors to all of us back in the day. Coach Crawford still keeps in touch; that shows his character and what kind of man he is."
The days of the calendar during David's high school term were ordered by football: camps, practices, games, bowl games, and banquets. His football career was extended for one season at Middle Tennessee State University, but an injury closed that chapter of his life. The chapter may have closed, but the lessons carried forward and continue to influence his life today.
"Football taught us all self-discipline, how to be part of a team and organization, and how to be a team player. Football was a great teacher. I thought the coaches were coaching me pretty hard at times. All they were trying to do was make me a better player, a better person going into the future, and I think that influenced me [to] always to do my best, to try my best, and always to try to get better each day, to play," David said. "Football is not an individual game; you have to be part of what's going on. You have to work together to be an effective, good defense. Working hard and learning to work hard leads to success. When you practice hard, you practice together, and that can translate into success for your team and you as an individual."
David completed his time at MTSU with an accounting degree and has recently retired as general manager of Shelbyville Power, Water & Sewerage. His work there over the years was shaped by things learned from his coaches and the game.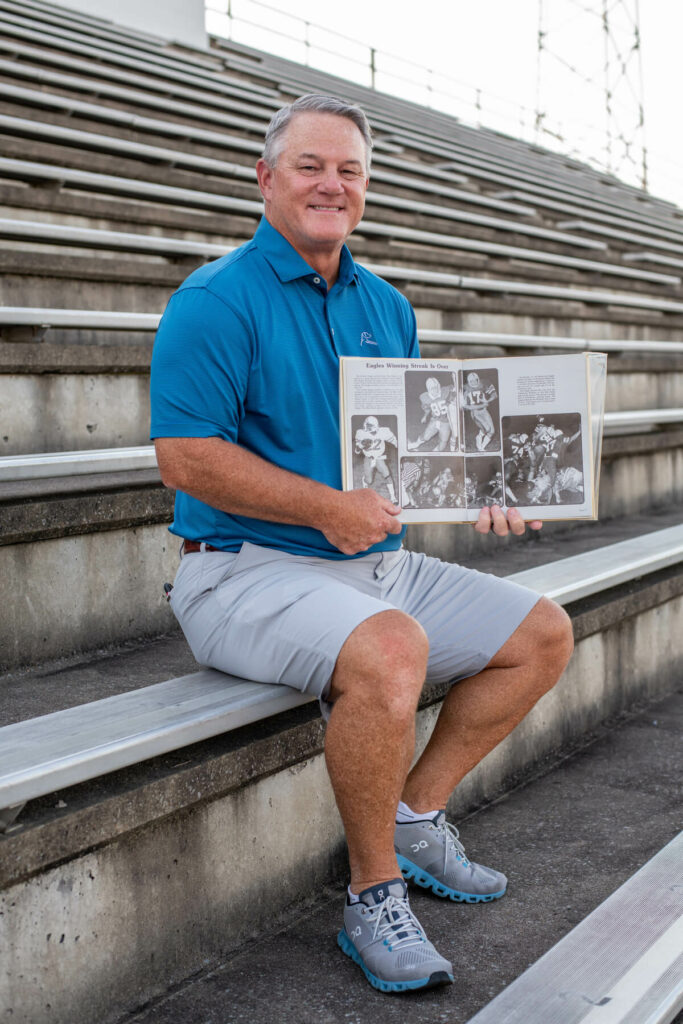 Life comes with its highs and lows, and like the botched play on Friday night, David understands what happens next is up to us.
"Things didn't always go right, that's for sure. You just have to stay in the moment – not drop your head, but keep your head up and look forward to the next play, or to the next practice to get better, or to the next game to improve on where you or your team failed in the previous one," he said.
Competition and community are the hallmarks of Friday night football. As the school spirit builds up heading into the game, what happens on the field will be the conversation for the week that follows. The time working together to make game nights happen builds community among players, parents, students, friends, and neighbors. And the competitiveness spills over into other parts of our lives.
David said, "Participating in high school football left me with a great sense of community pride. It's compelled me to give back to the community through the local utility system where I've worked for 37 years, serving on various committees and the Tennessee Walking Horse National Celebration board. I just felt the need to give back to my local community.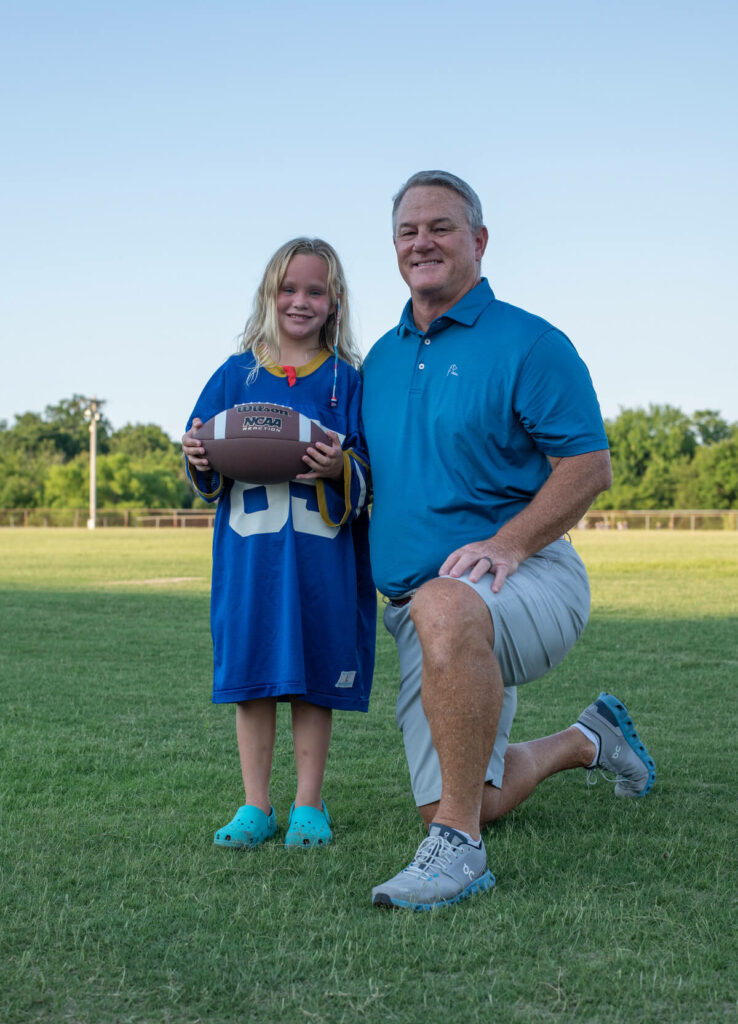 "I think I've been competitive all my life, and I think my kids were very competitive because of my pushing them to be their best at whatever they were doing. I think it definitely still is in my life. My sport of choice now is golfing; although my golf is not as good as it used to be, I still try to be as good as I can," he said.
Retirement offers David the chance to work even harder on his golf game and spend more time with his family. He and his wife, Tammy, have a son, Josh, and a daughter, Chelsey. Josh and his family live in Rockvale, and Chelsey and her family live in Henderson, Kentucky.
David said, "We've got grandkids. We've got the next generation involved, and we're following them and their endeavors, whether it be dancing, soccer, or gymnastics." And his advice to them? "Whatever you do, give it your all. Focus and prepare yourself because hard work translates into success in life, whether it be playing a sport, in academics, dance, or any other activity." GN