PAIN, LONELINESS, house maintenance, and health issues — these are only a few of the problems shouldered by those who are homebound. However, some also face the struggle of obtaining a proper meal.
That's why Reggie and Pat Pugh took on a mission to make a difference in their lives.
"Pat and I lived in this community our whole lives, and we felt the desire to try to help," Reggie said.
The perfect opportunity came to them in a newspaper ad, asking willing hearts to join a mission mobilized by Meals on Wheels of Greater Lynchburg.
Now, once a week, the married couple delivers fresh, hot meals to homebound people in the community.
The program, a concept that initially developed in England after World War II and over time spread into different organizations across the nation and world, helps people who are homebound and need prepared meals due to permanent or temporary disabilities.
Created in 1974, Meals on Wheels of Greater Lynchburg serves any adult who meets their criteria, regardless of age or income, whether for a short period or longer. Reggie and Pat are two of about 650 volunteers who deliver lunches to homes.
"The homebound criteria doesn't mean that they cannot ever leave their house," Communications Director Becky Tweedy said. "It means that they have challenges that prevent them from easily going out and shopping or maybe standing long enough to prepare an appropriate meal for themselves, or they don't have anyone there to help prepare a meal for them."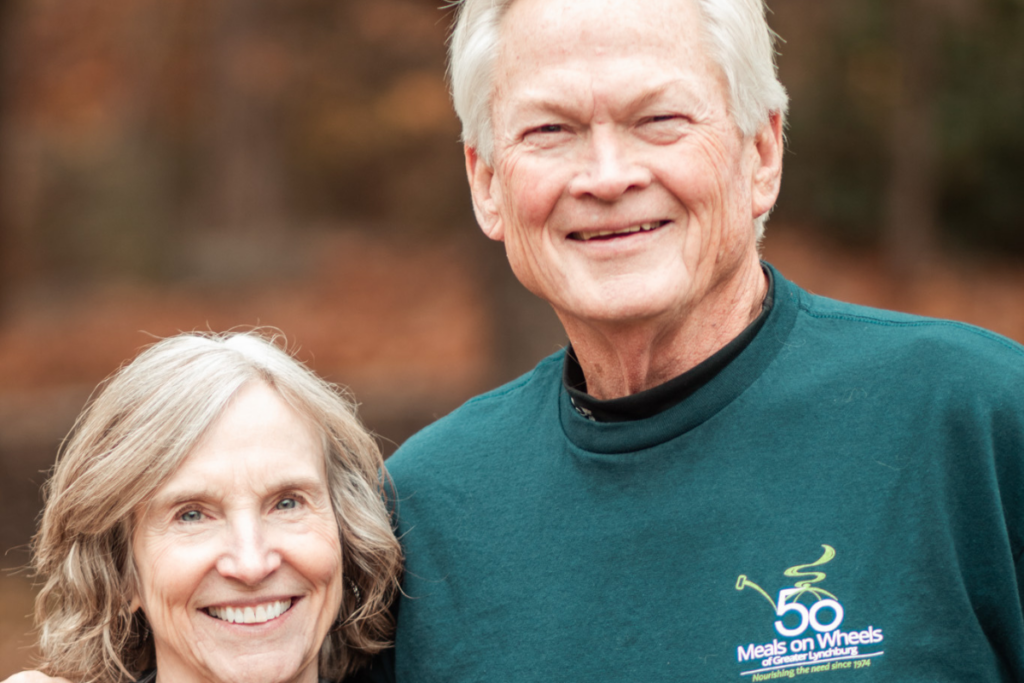 Meals on Wheels of Greater Lynchburg serves the city and the surrounding counties. The Pughs joined the program in 2020, during the COVID-19 pandemic, when the organization had lost about half of its volunteers and was in dire need of help. People like the Pughs answered the call.
Reggie said many recipients do not have family or friends and lack affection and connection. After meeting the program's clients, the Pughs were driven to continue their endeavor to this very day. 
"We try to say something positive to them every time we visit," Pat said.
Each person served has a story.
"Some of it [is] really amazing, and some of it [is] sad," Reggie said. "Some have lost their loved ones. Some have been incarcerated. Some have health issues. And you get to know these people."
The Pughs check on the health of those people. They joke with them like friends and family.
"We're glad to have the opportunity — or continue the opportunity — to meet these people, to learn their stories, and, like I said, be able to give them a regular sense of value," Reggie said.
Because the organization does not accept state or federal funding for meals, Meals on Wheels in Lynchburg can serve people of all ages and incomes. Every day, five days a week, 550-600 meals are served. The oldest recipient is 102 years old, while the youngest is 18.
According to Tweedy, the number of meals served has grown by about 65% over the past three years.
Last October, the organization delivered its three-millionth meal, just in time to celebrate Meals on Wheels' 50th anniversary this March. GN