HOW DOES a man without any lower limbs, no arm on the left side, and a partial arm on the right side, become a Bassmaster professional angler? Many would speculate the fisherman would have to use some sort of adaptive equipment. Others, upon hearing this, have made assumptions, saying, "surely he utilizes prosthetics." Yet those speculations couldn't be any further from the truth for Clay Dyer. 
Since the day he was born, Dyer has had an innate desire to figure things out on his own, exercising his freedom and independence. In fact, when Dyer was a young child he rejected using prosthetics. This choice was foreshadowing in his life as he rarely shies away from a challenge.
Dyer has done exceedingly and abundantly more than many people with four fully-functioning limbs and an average build. His mindset in life is, "Life is a choice. You can either be a champion or not. When I was born and started growing up, I could have looked out in the world and said, "poor pitiful me" or "why me?" 
I could have balled up in a fetal position, whined, and decided to be a vegetable my entire life. Or I could have used what independence and freedom I had and given it my all." The latter is the path Dyer decided to pursue. 
Despite his physical stature, Dyer has chased after and participated in life, without hesitation. He started fishing for catfish at his grandparent's pond at the age of 5. He would cast by tucking his Scooby-Doo rod, given to him by his grandfather, under his jaw. In a quick motion he would whip his body around, with the support of his partial arm, and cast. Dyer would reel in by holding the end of the rod under his chin and use his partial arm to crank. However, it didn't take long for this young man to become bored catching catfish. Dyer, at the age of 10, craved greater challenges and had set in his heart much bigger dreams.
"Thankfully, I had parents who didn't try to wrap me up in bubble wrap, so to say. They let me live life and let me play sports." Up until his freshman year of high school, Dyer was a three-sport athlete. He played baseball, football, and basketball. For the baseball team, he was either occupying first base or was the catcher. On the football team, he played both sides of the line. He was a fullback on offense and a weak side linebacker on defense. "I used my right shoulder and right jaw to hold and swing the bat in baseball. I used my right arm and right side of my face to aim and throw and hold the basketball or football." He shared, "While I always dreamed of and wanted to be a professional athlete, I didn't see the NBA, MLB, or NFL drafting me because of my physical size and stature. However, I wasn't going to let that stop me from making my dream of becoming a professional athlete come true. I chose fishing because it gave me the best opportunity to get to the top." 
With a goal in his mind, Dyer didn't waste much time. He began competing in fishing tournaments as a pre-teen. Then on the weekends when he wasn't on the lake fishing, he would watch bass fishing shows. These shows stirred within him, the desire to go bass fishing. Dyer shared, "When trying to figure out how to catch a bass, there are many more pieces to the puzzle. It's a bit more of a challenge. I love challenges, and I am so driven anyways." That, plus the fact that bass fishing is much more lucrative, became the determining factors that solidified Dyer's decision to pursue a career as a professional bass fisherman.
When Dyer was 18 years old, he had a significant health scare on a night that he claims changed the course of his life forever. "It was a Friday night. A friend and I were going to a youth revival at church. Earlier that morning, I had woken up with symptoms similar to a heart attack victim." Dyer continued, "which was strange because I was 18 years old and in the best physical shape of my life."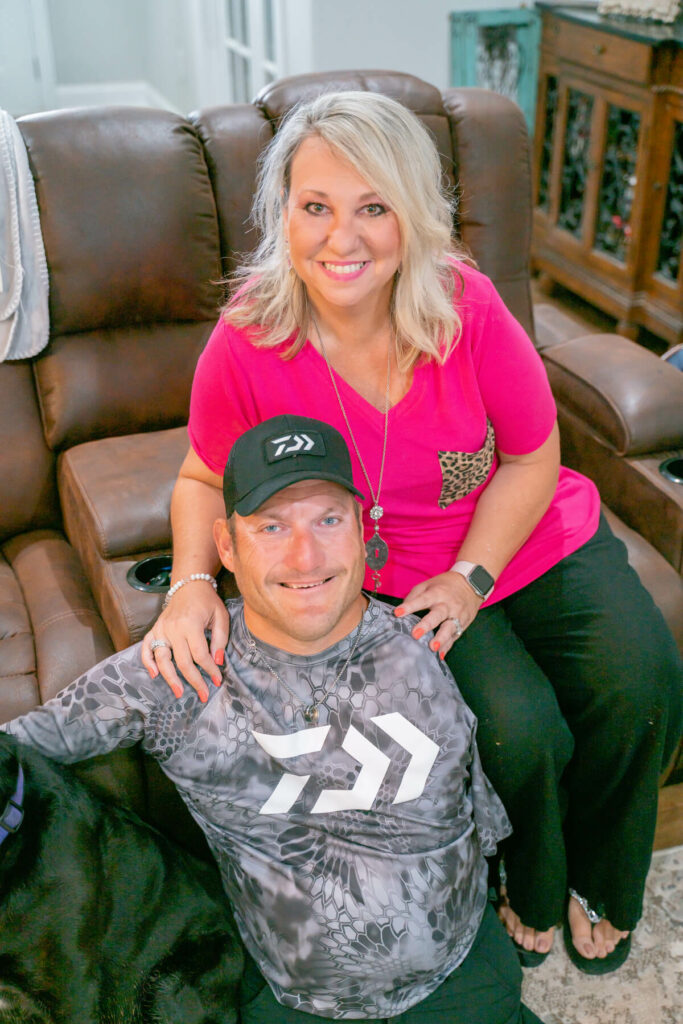 Dyer had been raised in church his entire life. He shared that he was consistently taught the values of reading the bible, studying, and praying. Like many teenagers though, Dyer confirmed he just strayed off and was stubborn and hardheaded. He said, "The way I looked at it, I didn't know what I was missing. I had just always been independent, stubborn, and trying to do it my way. People had lovingly tried to tell me the blessings you receive when you lived for the Lord, but I honestly just didn't see it like that at the time." From the sound of it, Clay did not want to admit his dependence or need for Jesus because that would make one more person he would have to rely on. If you can't tell by now, Dyer is one incredibly driven man, especially when doing things on his own or for his family. He shared, "I've always tried to be the type of person that I don't like to have to depend on anybody, but God really got ahold of me that night."
"I remember laying there. In my right ear I could hear this rough, gruffled voice saying, 'Suck it up, be a man.' In my left ear I could hear the most incredible, strong, loving voice repeating, 'Come to me, son, and I'll make you a man.'" That night at church, Dyer shared that he kept staring at the back of the room, repeating, "I'm tired of this. I am ready to know you. I'm sick of this mess." Dyer recalled, "I got up out of my pew, went to the altar, and started praying. I voiced the sinner's prayer and asked Jesus into my heart. Immediately, the heart attack symptoms were replaced with a peace, love, and a joy that no words could ever adequately describe."
Years later, Dyer confirms, "I didn't realize what I was missing with Jesus. I thought I had it as good as it could get. I never realized how Jesus could work in your life because of a thing called faith. Now, freedom for me comes from our Lord Jesus Christ, and my life is more full than ever."
To date, Dyer has competed in over 300 bass fishing tournaments and has won 32 on the local and regional level. He currently competes on the B.A.S.S. Southern Opens circuit. He has goals to qualify for the Bassmaster Elite Series, like his stepson, Brandon Lester. When he is not fishing the Bassmaster Open Series tour, he and his adored bride, Kim, are home in Fayetteville, TN, enjoying their grandchildren or on the road for ministry and motivational speaking engagements. Clay has been on ESPN, Fox, CNN Headline News, Versus, the Outdoor Channel, Fox Sports South, the 700 Club, and CBS. Published articles about Dyer have appeared in USA Today, Newsweek, Bassmaster, FLW Outdoors Magazine, etc.