FORGET YOUR most potent, most aromatic memories of high school locker rooms. Lincoln County High School's football locker room is saturated with the winning spirit of three state championship seasons and its players. After long practices and hard-fought games, the legacy of the locker room is a reset button for the next play, next game, or next season. Put coach Pittenger in the middle of it and multiply the magic of the moment as a former player connects the past and the present. Although each player's time on the team has its season, their history is added to it and will help further the locker room's meaning as an extraordinary place.
It's also where you'll find senior Aron Jones preparing for his final Falcon season, the fourth quarter of his high school football career. Jones is a fan of the fourth quarter, one who looks forward to the time when the game's on the line.
"There's nothing really like being in the last quarter; when there's a chance to win, there's a chance to lose. And when you're in that situation, it's really exhilarating when you win and not fun when you lose. I would say there's no better feeling in football than scoring a game-winning touchdown or making a game-winning tackle to prevent a team from scoring. That's probably my favorite thing in football," said Jones.
Playing both offense and defense, Jones doesn't stand on the sideline for long, but the time he's there feels like forever. "It's kind of like you're nervous. I'm on the field most of the time for offense and defense. So when I'm not out there, it's not that I don't have confidence in my teammates. I'm just nervous something might go wrong.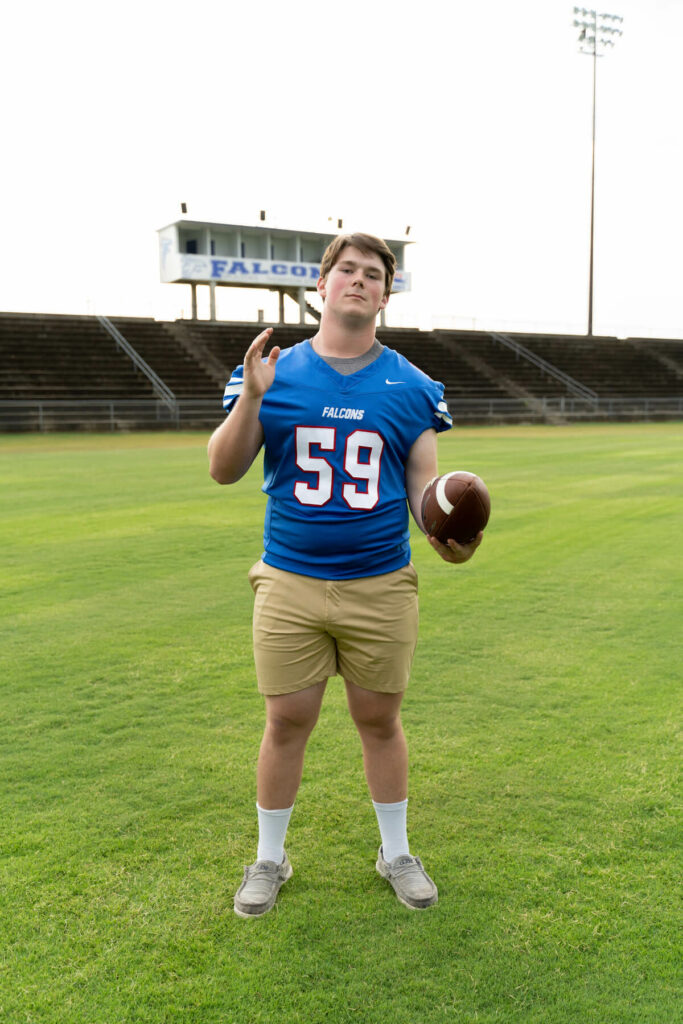 As an offensive and defensive lineman and linebacker, Jones' dedication to his team and the game is his priority, although he tries to balance it with his classwork. Each new school year resets his fall routine. "Whenever football season starts, and we get more film to watch of other teams, I love watching football. It helps me know what the other team might do whenever we play them on Fridays. That's what I think about when I think of school starting back, practicing right after school, going home, doing homework, and watching film," Jones said.
His father, Zach, has always instilled responsibility for leadership in him, and this year it weighs even heavier. "My dad always told me, since I was a little, that I needed to lead by example, always give my best, and never settle for anything less. Because the only person that really knows if I'm trying or not, or if I'm doing everything I can, is me – holding myself accountable. As a senior, I notice it a lot because people ask me what they're supposed to do, ask me about the school, and ask me about my coaches, that sort of thing. When that happens, it just reminds me that I need to be a leader, be someone that they not only can look up to, but someone they know is doing the right thing."
Within that leadership, Jones demonstrates the importance of discipline, physicality, and pride in the game. Jones is the Elk Valley Times 2021 MVP for Lincoln County Falcons Football and a TSSAA All-Regions Class 5-A award winner.
"If you don't have pride in what you do, you won't put in the extra work, you won't watch the extra film and ask questions. It's not necessarily about being physically fit – that helps – but being physical is mainly about not being afraid on the field. Being afraid is probably the worst thing you can do. And when you're physical for the whole game, and the other team knows that you're going to be physical, it's going to be hard to take advantage of that. I see a lot of pride in our guys, because a lot of them worked out during the dead period. They were running, catching balls, and running routes, so I know they have pride in what they do. And I know they have discipline, because I've played with some of them for going on four years. They show that every day when they show up on time, and that shows on the field. I feel like we're a physical team. We have a lot of guys who like to make contact with the other team, and I really enjoy that part of it because it's a big part of it."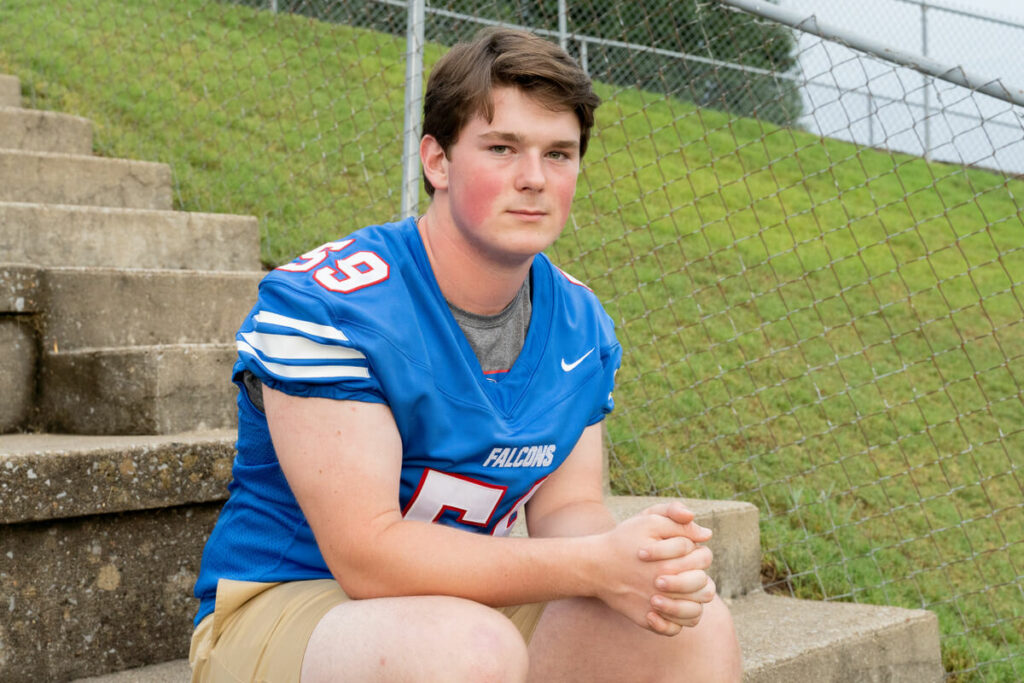 From peewee football forward, the game has always been a part of his life. And always in the stands, along with his dad, is his mom, Beth.
"I love my mom. She's very supportive, and I like that she's involved in everything I do. She loves watching football and asks me about what's going on and why stuff happens, even watching games on the weekend. She doesn't know the most about football, but she's very involved in my football life."
As Jones looks beyond graduation, he sees more of the game he loves.
"I want to go to college. I'm not sure what I want to do after college, but being a coach has always seemed like the best job because I love football. I love talking about it, and I love participating in it. Football is really important to me."
Perhaps Jones will stand in the locker room one day as coach, and once again lend his leadership and love of the game to future Falcons. He might even help add another championship banner to it. GN