AS A small boy, Thomas Hastings learned the letters of the alphabet as he helped his dad change the sign outside Lincoln County High School. He grew up surrounded by a family of educators. It's all he's ever known or wanted to know. 
"I would help my father [with the sign] some afternoons or Saturday mornings, and that's where I learned my letters, spacing them out on the floor of his classroom to spell Falcons or other words. I grew up watching my parents attend school events and participate in school activities," Hastings said.
Hastings is a fourth-generation educator. His paternal great-grandfather, Carl Hastings; maternal great-grandmother, Alice Duggin; paternal grandfather, Ralph Hastings; and maternal grandfather, F.C. Duggin, were educators ahead of his parents, Joel and Debbie Hastings. Thomas Hastings works to continue their legacy in Lincoln County, which is an honor and a calling. 
Hastings said, "Seeing how excited former students were to see them and how they were treated and perceived spoke highly of their impact in the profession. Teaching, like the medical profession, ministry, and military service, is a calling. In some of those professions, teaching included, you're doing God's work daily, and I think most teachers have that mindset."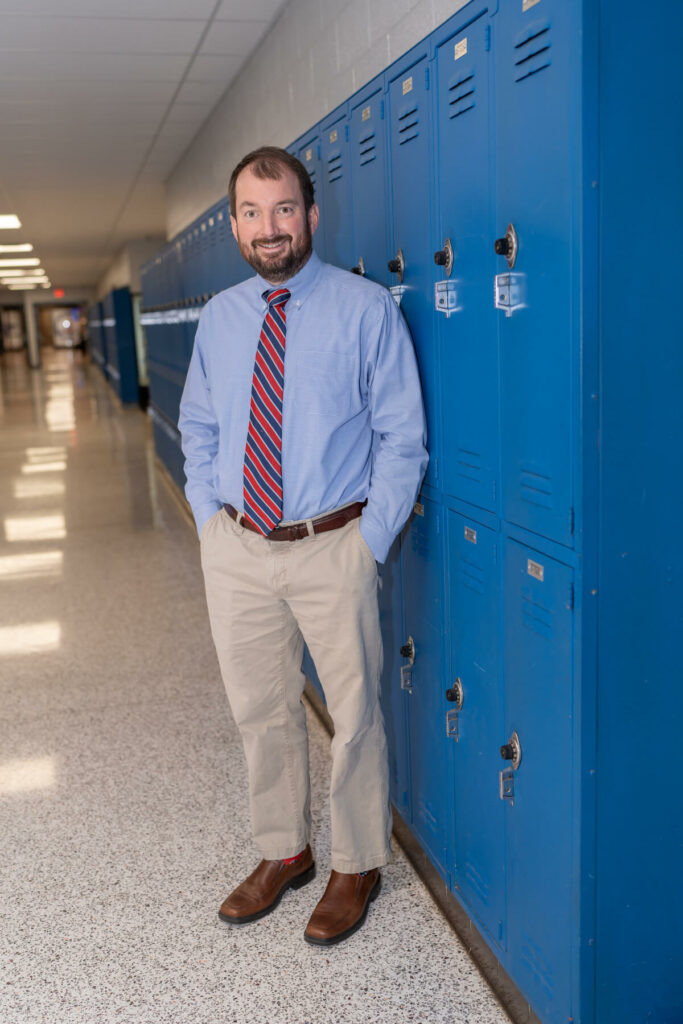 Hastings earned his bachelor's degree in history at the University of Tennessee Knoxville. He then obtained his master's degree while student teaching in Knoxville, but like his own doctor and high school Sunday school teacher, Dr. Bill Jones, he knew he wanted to come home to Lincoln County.
"Dr. Jones told me he wanted to return to his community, the place that brought him up and helped make him who he is and that he wanted to give back to his hometown. I wanted to come home and contribute to my community in a similar manner," said Hastings. 
Hastings taught for two years in Knoxville, followed by six years at Fayetteville Middle School, during which time he earned his Education Specialist degree. He has been at Lincoln County High School (LCHS) since 2011. LCHS feels like home for many reasons.
Hastings is a graduate of LCHS. In his earliest years teaching there, some teachers still on staff had been his teachers. Now, his students are returning to teach at LCHS, creating a full circle.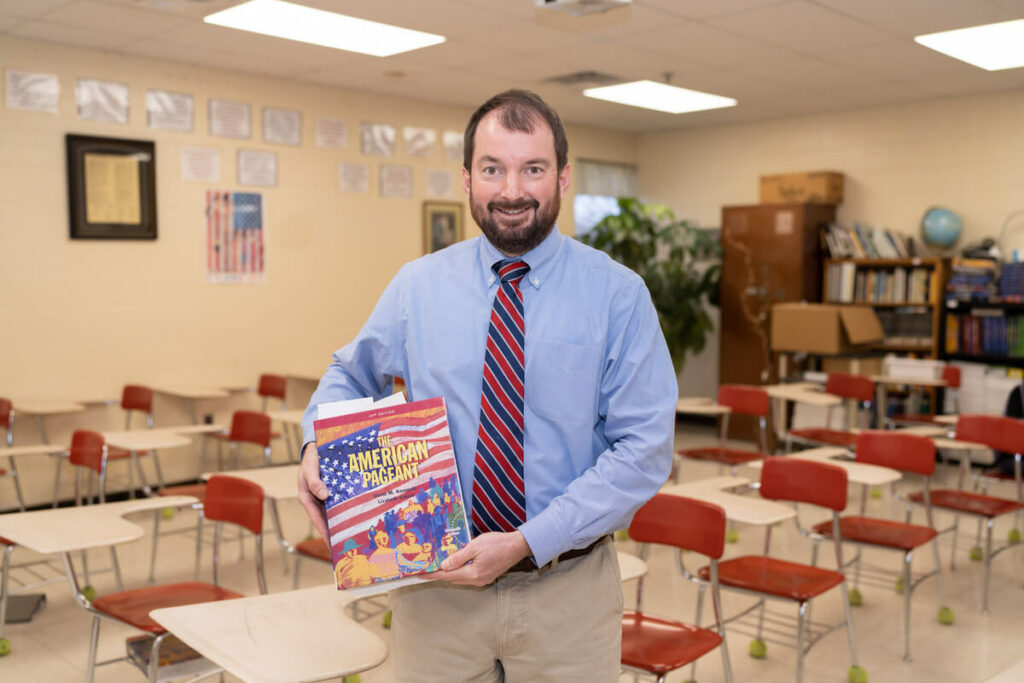 He said, "I think teaching is unique for two reasons: Everybody was a student at one time, and when we have young people not just choosing teaching as a profession but choosing to return here as former Falcons, that adds continuity to the school culture. To think about their experiences and positive relationships and memories an have them want to come and provide that for current students is a big positive."
Hastings knows that a teacher's childhood education influences how they relate to their students.
"Because everyone [who teaches] was a student at some point, they have insight into the profession, both good and bad. Our favorite teachers make positive impact. Whether it's their classroom management techniques, how they presented material, or how they related to the students, imitation is the biggest form of flattery." said Hastings.
Wisdom from an extraordinary coach, principal, or teacher can become the motivation of a lifetime.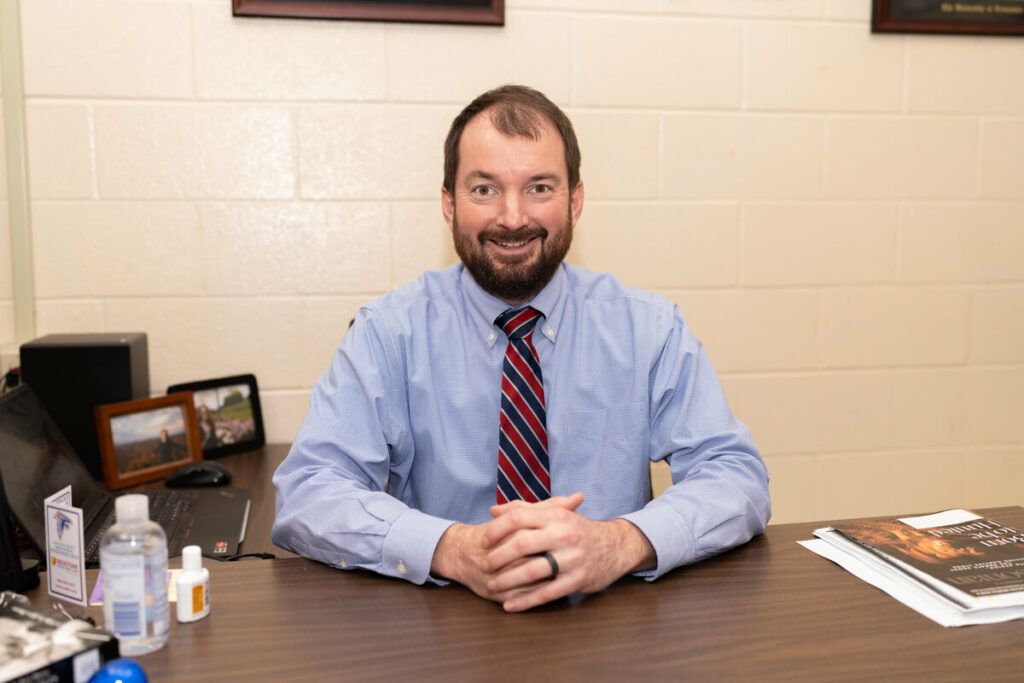 He said, "When I was teaching at City, Mr. Billy Joe Evans, a former coach, would remind us at the beginning of each school year that we either get better or worse than the year before and that the students deserve whatever is the best version of ourselves. And that had always stayed with me. It's a challenge."
He continued, "As a social studies teacher, I try to impact respect for our country, the democratic institutions, and the rule of law. I strive to make them interested in current events, their community, and political participation. Besides presenting the material, I hope to create more civic-minded people when they leave the classroom."
Hastings and his family have roots that grow deep, not just in education but also in agriculture. It's another connection to Lincoln County and LCHS students in particular.
"I love that we're a rural county and that we still have a heritage and traditions in agriculture. My family lives on a century farm, which continues as a working farm. Those traditions and heritage continue with our students. So many of them are good rural kids, and I think it means a lot that they have that common interest and a lot of common backgrounds. They're easy to relate to because you not only know most of the families, but most people have similar, shared interests and backgrounds – common goals and values," said Hastings.
An expression Hastings ran across recently reminds him of the importance of his work.
"The best thing about being a teacher is that it matters. The hardest thing about being a teacher is that it matters every day."
It's a challenge accepted by four generations and counting. GN