LEADERSHIP HAS its advantages, like the authority to make decisions. On the other hand, a leader's decisions are often highly scrutinized. Toss in rampant fear and anxiety from a pandemic, and you can call leadership by a new nickname: a headache.
There's more pressure than ever on leaders in any field. Those making decisions impacting our children's health and wellbeing have felt the pressure much more intensely. Luckily, Tullahoma has a host of people working in the trenches alongside parents to protect, serve, and provide for kids within our community. Coordinated School Health Director (CSHD) Gina Bumbalough is one. Bumbalough has been with the Tullahoma school system for 25 years, 17 of them in the classroom and the last eight as CSHD. In addition to her role within the school system, she has worked as a registered nurse for over 20 years. She steadily, humbly, and selflessly leads amidst the uncertainty of COVID-19.
Bumbalough said, "We follow the Centers for Disease Control and Prevention (CDC) and the Tennessee Department of Health guidance to provide safety for our students. As you can imagine, we have parents and people on all spectrums with differing opinions regarding COVID. So, balancing that while keeping our students and staff safe was a lot of responsibility. However, I think our team of administrators, staff, and nurses helped us get through one of the most challenging times we have ever faced."
At COVID's onset, Bumbalough's first step towards ensuring safety and order within the schools was to place a school nurse at each school. Bumbalough shared that the next steps were a little trickier. "It was difficult when the guidance was constantly changing. What was true one month may not be true the next or had a slight change to the information. That made it difficult to keep up with the latest guidelines. But at the end of the day, it was a team effort to help our district through a challenging few years. I am thankful I had people to help me balance and talk through it all. I am very thankful for Dr. Catherine Stephens," said Bumbalough.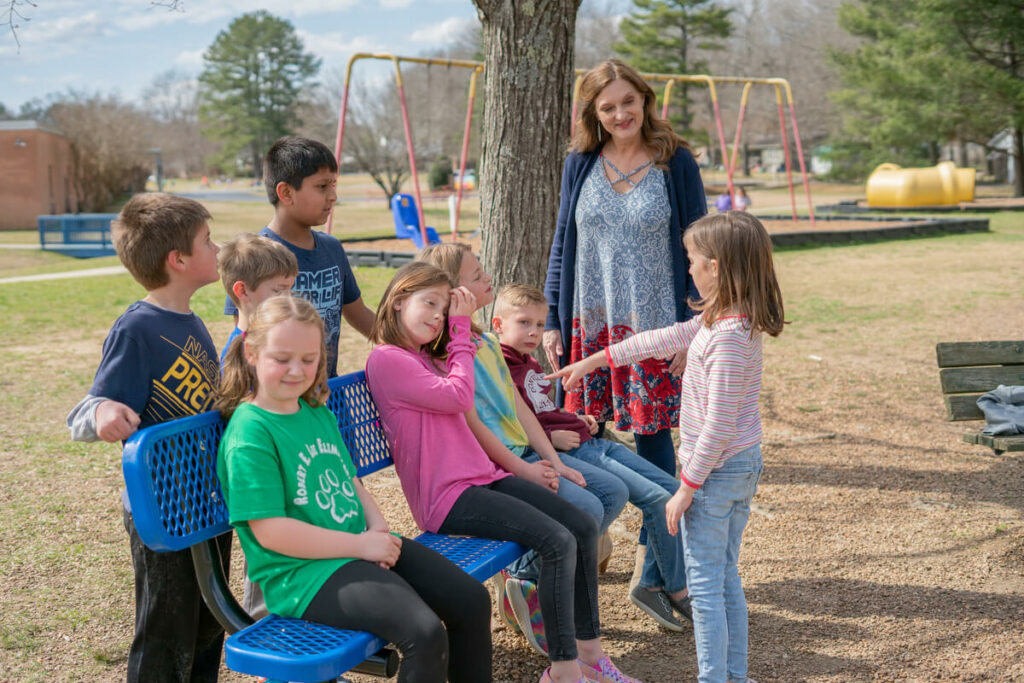 As one of Tennessee's coordinated school health directors, Bumbalough's job is to integrate physical, emotional, and social health within the schools. She and her team focus on eight different components: health education, health services, nutrition, physical education/ physical activity, counseling – psychological and social services, healthy school environment, staff wellness, and community involvement. This dynamic and holistic approach helps improve students' lives, health, and overall capacity to learn. Bumbalough shared, "building healthier students builds a healthier community."
With Bumbalough facilitating, many resources and tools have been made available to our schools by her team at the school district along with countless community partners. West Middle School received a walking trail complete with fitness stations, an outdoor classroom, a tetherball station, and a basketball court. Each school has access to an automated external defibrillator (AED), Narcan kits, Epi-pens, and water refill stations. Schools also have access to flexible seating and fidget boxes for kids who may struggle to focus or remain calm. Bumbalough also plays a significant role in ensuring students have access to free health screenings, immunizations, etc. There have been many cases where a child needed clothes, food, a bed, or a bike to ride to school, and she was able to help respond to those needs with the help of community partners and organizations. "It very much so takes a village when you think about what all it involves when helping all the kids and families in a community." Being thankful to live in this great village of Tullahoma is an understatement. -GN