MOST PEOPLE tend to slow down as they climb upward in age. That is simply not the case for 90-year-old John Hartin. He is just as active, if not more engaged in our community than all of the baby-faced in town.
Throughout his lifetime, Hartin has filled his time with many significant things. As an engineer, he worked with NASA in Huntsville, Alabama. About 250 engineers, including himself, functioned to support NASA efforts. Closer to this community, Hartin also worked for Sverdrup Technology which later made up parts of Jacobs Technology. In addition to excelling in his career, Hartin spent a significant amount of time and effort investing in his family and relationship with his first wife before she passed. When he retired in 1995, he found himself with a lot of time on his hands. It was then that he and his current wife, Maribeth, began a quest to fill their time in meaningful ways.
As many of us do, Hartin circled back to a hobby of his youth, handed down to him by his father. His father, a former school teacher in Knoxville, Tennessee, taught industrial arts. More specifically, his father taught woodworking. Hartin said, "My mother died when I was small. There were no babysitters, so my father took me with him to the school's woodshop. There, he would make furniture, and I'd sweep the floors." By the time Hartin was in grammar school, he had begun woodworking and building with his hands too. As he grew older, the scope of his projects grew as well. When Hartin was in high school, his woodworking advanced to building houses. Then, in his spare time, he would go on mission trips where they would build houses, barns, churches, or whatever the various needs were. Hartin was happy to put his mind and hands to work.
Though Hartin is not framing houses anymore, he has kept up with his craft and found ways he could give back to the community while utilizing woodworking. Hartin shared, "We [Christians] have muscles and brains and we're made to use them. While none of us live perfectly, we find good and appropriate things to fill our time." So in recent years, Hartin has made a habit of donating his woodworking to local charities, aiding in their fundraising efforts. Many of his woodworking pieces have been fought over at silent and live auctions during charity events. A few of his large sofa table bowls have brought in over a thousand dollars! But, utilizing his woodworking skills is just the tip of the iceberg for how Hartin has impacted our community.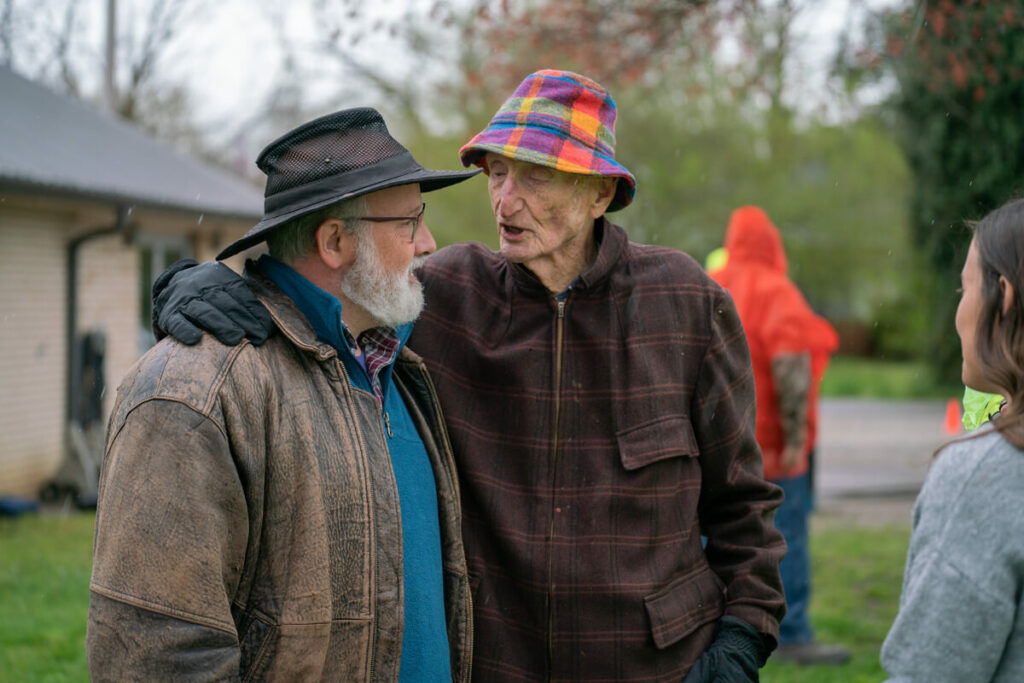 Hartin's most recent addition to his long list of community service efforts is becoming a regular volunteer at Tullahoma's Family Food Ministry. This food distribution ministry operates out of Westside Church of the Nazarene. The food is typically surplus food coming out of warehouses or stores. It is high quality and has been a major blessing to men and women struggling to put food on the table. The current process for distribution is having cars assemble and wait down the road at Highland Baptist Church. Then, at noon, cars are sent over in groups of about 10-15. The vehicles are ushered into two lines at Westside Nazarene Church. Then like a giant assembly line, cars drive through as volunteers from all denominations and walks of life begin loading vehicles full of food.
Each Friday, you can spot Hartin's slender frame towering over that long line of volunteers distributing boxes of food. His kind face is one of the many faces families have come to know and love. Each week, they come through the line feeling hopeless, anxious, and discouraged but get to leave feeling relieved, grateful, and cared for. What a blessing it is to have some reliable help! However, they aren't the only ones who feel blessed to be there. Hartin says, "Finding this ministry was really a blessing for me. I had not found a focus, something to really work with, and this gave me something." For Hartin, he has found when he gives, he undoubtedly receives. May we all learn a thing or two from this difference maker's example. -GN