IT'S ONE thing to find an incredibly passionate and motivated teacher to teach students a particular subject. It's another thing to find a teacher devoted to developing within students, the skill to become lifelong learners. Sandy Klonaris, an English teacher at Tullahoma High School, is refreshingly both. Klonaris shared, "English is important. Certainly, there's no question. And I really love teaching my English classes, but for the most part it's about building relationships with the kids and getting them to find their potential. Because most of them are not going to be English majors, most of them are going to do something else."
With students' potential in mind, Klonaris has begun establishing the learning environment within her classroom in a new way. She uses two specific thoughts as her guideposts. The first thought is from a famous essayist, Ralph Waldo Emerson. The idea is as follows: "The secret of education lies in respecting the pupil. It is not for you to choose what he shall know, what he shall do. It is chosen and foreordained, and he only holds the key to his own secret." Klonaris' interpretation of the idea as it relates to her classroom is, "Respecting the pupil doesn't mean letting them do what they want to do. Rather, it's acknowledging and respecting their individual talents. Each child is unique in nature, and we have to let them tap into their talents and find out who they are. So when he [Emerson] talks about respecting the people, he's really talking about them as individuals and who they are."
The second thought that Klonaris adopted and is now using as a guidepost for her classroom is found in the writings of renowned American engineer and architect R. Buckminster Fuller. In a piece entitled "Everything I Know," Fuller shared that if he ran a school, he would give average grades to kids who just parroted correct answers. However, he would give great grades to kids who failed, learned from their mistakes, and could express what they had learned.
Klonaris shared about her classroom, "We encourage failure, and we try to reach beyond our grasp, a little bit every day. And then when students can explain to me where they have gone wrong, it is then that I know they've learned. For instance, with writing an essay for AP, if the essay scores poorly it's up to them to come to me and tell me where they were off. With their rubric in hand, they can say, 'Oh, I realized that my thesis statement wasn't a convincing opening to an argument,' or whatever it is they were supposed to be doing at the time. It's a guided way for them to learn from their mistakes, not just get a paper back with a whole bunch of red ink on it." So the philosophy that Klonaris runs her classroom by can be summed up like this: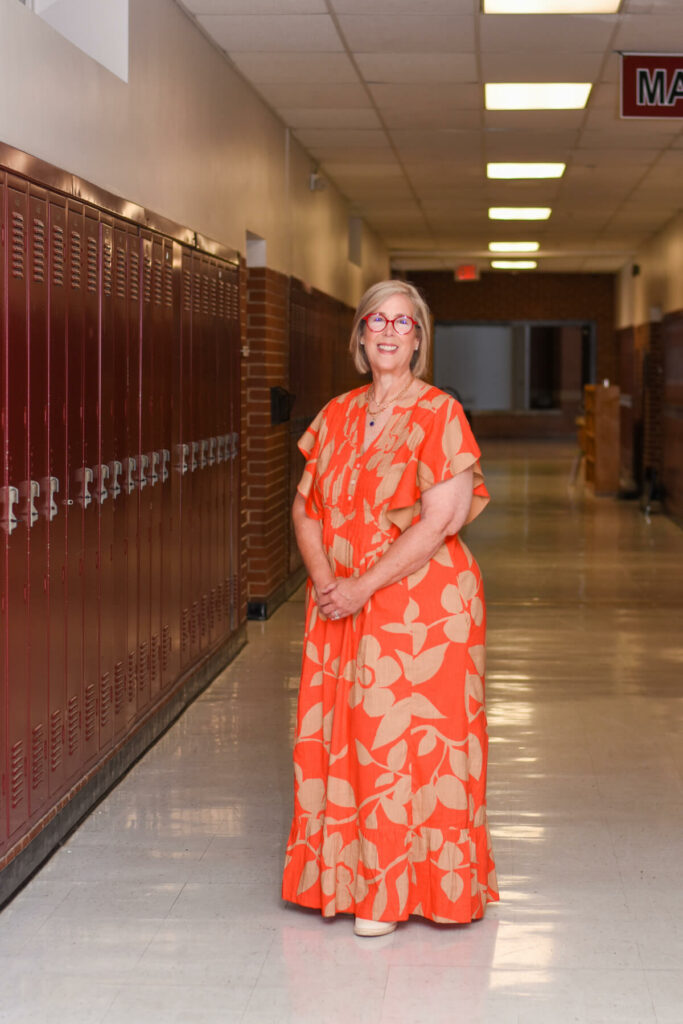 • Each kid is different.
• Each kid has their own individual talents and interests.
• Failure is encouraged because it is a guide for learning.
Klonaris just finished her 17th year of teaching. She is a second-career teacher as she spent about 21 years in a career as a bookkeeper at her family business before becoming a teacher. She received her state teaching license from an alternative license program designed to encourage people to enter the education workforce after having had another career. Klonaris has taught in a few different schools but found her home in 2012 when she began teaching at Tullahoma High School. To date, she primarily teaches Advanced Placement (AP) English Language and Composition as well as 10th-grade English class. While Klonaris is incredibly passionate about literature and has an undergraduate degree in English, she shared, "Most people think you go into education to share your love for a particular subject matter, but what I found out, once I got into teaching, is that I simply loved being around the kids."
Regarding her late-term teaching career, Klonaris shared, "I have a sense of fulfillment. I have a sense of purpose. There's just no question that being around the kids keeps me young, and I have no plans to retire. In fact, right now, just this year, I'm one of four people selected to be in Dr. Stephens' [Tullahoma City Schools Superintendent] administrative leadership program. So not only am I not looking to leave, I'm looking at different avenues to be more relevant. I'm also looking at a larger and a more varied audience to identify with and share best practices on a larger scale." GN