IN 2012, when she joined the family business full-time, Paige Prescott Moore had a vision for their next venture. Her great-grandfather had started Prescott Bottling in Tullahoma in 1930.
"We've been here a long time," she said.
In the 1950s, they became one of the first companies to franchise and bottle the iconic citrus soda, Sun Drop. Now the company solely does distribution for Sun Drop and several other sodas, in their five-county territory.
Paige said that her dad, David Prescott, had always wanted to open a lunch counter or bakery with some tie to Sundrop since the soda was the foundation of their family business. When Paige began working for Prescott Bottling, they began exploring options together but many were prohibitively expensive.
In the summer of 2018, Paige had the bright idea of remodeling a building that the company already owned, right next to Prescott Bottling downtown where they've been for almost 100 years.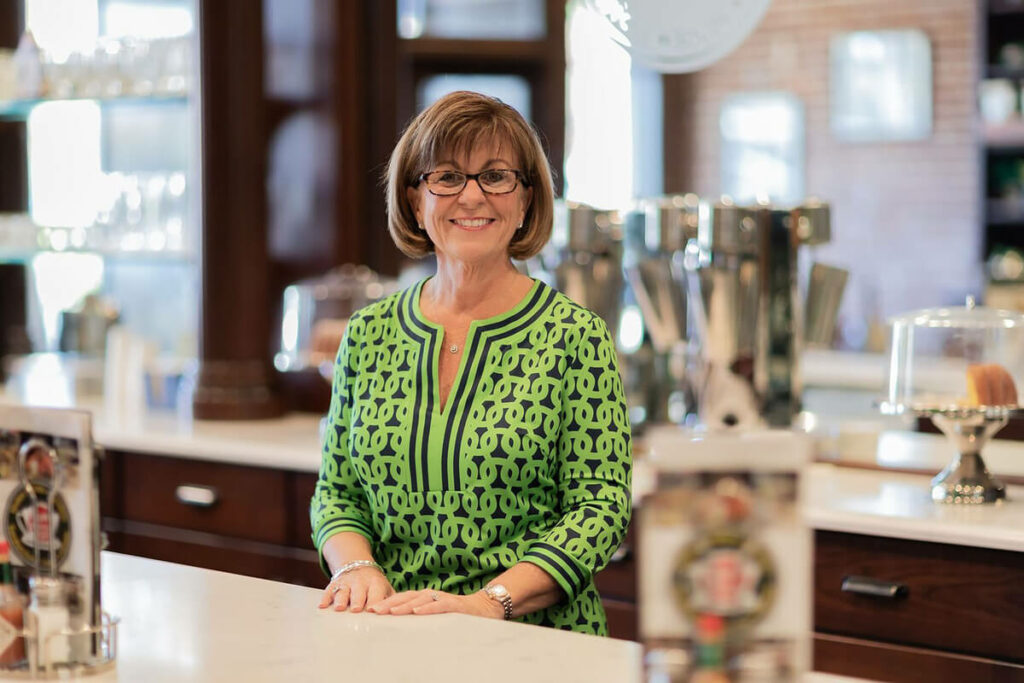 Paige brought in a local contractor who tore down paneling in the outdated building, to expose original red brick walls and beautiful tin ceilings. She wanted their restaurant to look like Gower's Drugstore from "It's a Wonderful Life," she said.
"I wanted to have a place where there were family recipes [and] casual dining, where people could come sit down and enjoy one another."
After a strong pitch to the mayor and city officials, the city of Tullahoma awarded the shop a loan through the Urban Development Action Grant Program (UDAG) to cover half the cost of the renovations. UDAG aims to help physically or economically distressed cities grow and evolve through new businesses and community initiatives.
"We've really been backed by the City of Tullahoma from the very beginning, which is something I'm very proud of," she said.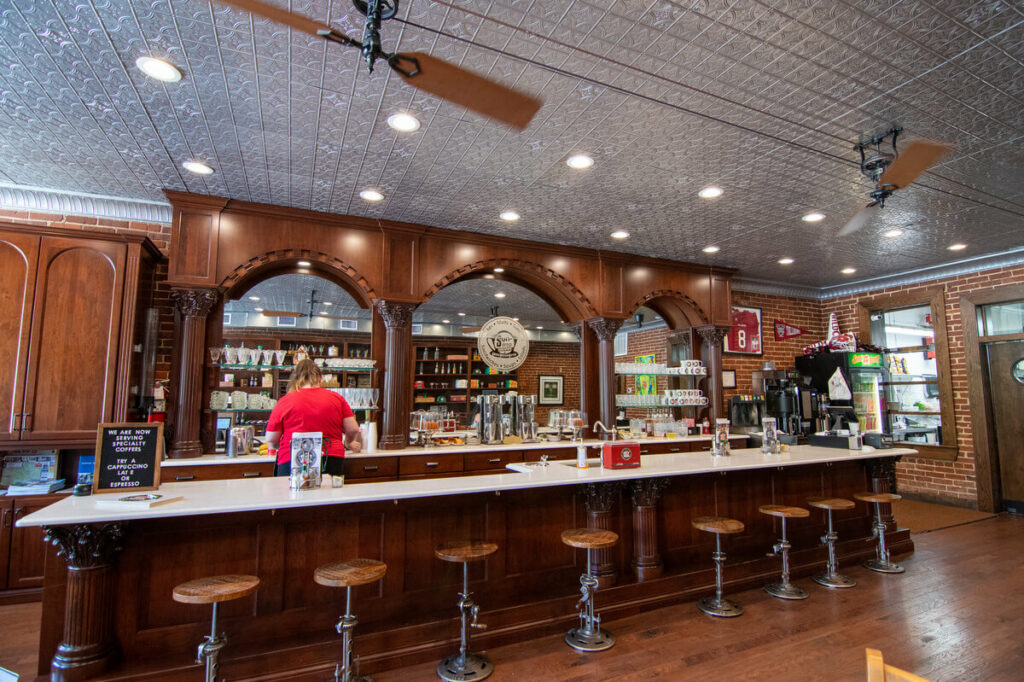 They broke ground on renovations in January 2019 and had their grand opening in May 2019.
Since its inception, it was important to Paige that the Sundrop Shoppe gives back to the Tullahoma community.
"One thing I take a lot of pride in is that we are very involved in community affairs," she said.
At the shop, you can buy granola from Blue Monarch, a local nonprofit that employs, houses, and supports women and children in situations of domestic abuse, addiction and poverty. The restaurant employs people from Skills Development Services, a local nonprofit that helps encourage and employ individuals with intellectual and developmental disabilities. All of their unused food goes to Shepherd's House, a nonprofit that provides food, clothing and housing to local homeless communities. Their gelato comes from Legacy Creamery whose profits go to the Eli Grow Legacy Foundation to help fund the proposed Memorial Athletic Complex at Tullahoma High School. The produce used at the Sundrop Shoppe is locally sourced, and they also serve Tennessee Pride sausage.
"I just think it's important to be involved, and I think a lot of people aren't aware of some of the agencies and programs we have here in Tullahoma," she said. "I think it's nice to be able to plug them a little bit."
The restaurant serves all Prescott family recipes, and if you look at a menu you'll find several family names. The chicken salad is named "Aunt ME's chicken salad," because Paige's Aunt ME always told her she "could make chicken salad out of anything." The pimento cheese sandwich, "Granddaddy's pimento cheese," is named after Paige's father, a "pimento cheese connoisseur and purist."
"One time I tried to put onion in the pimento cheese and you would have sworn I committed a mortal sin," she said.
On the kid's menu, you can order "Clay's PB & jelly," named in honor of Paige's late brother who was a very finicky eater, and "Paige's awardwinning white chicken chili" that has won chili cook-offs in both Indiana and Tennessee.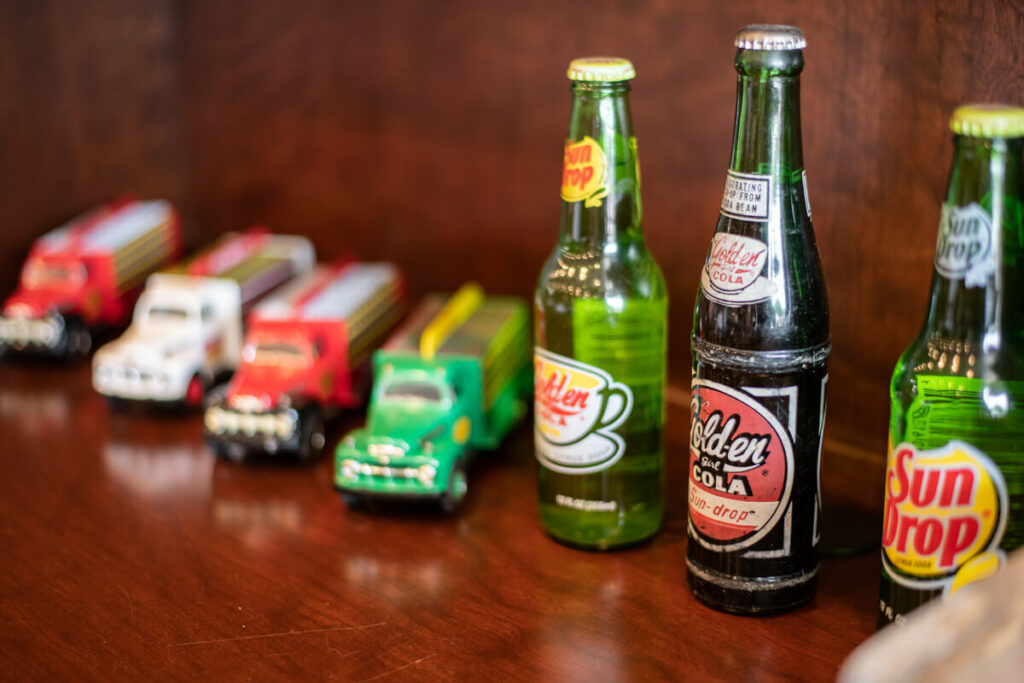 "It's an intercontinental dish," she said, laughing. "It's really popular, and it amazes me that we sell just as much white chicken chili in the summer as in the dead of winter."
When asked what her favorite dish is, Paige chuckled.
"Choosing my favorite dish is kind of like choosing my favorite child, because they're all my recipes," she said.
Their most popular dishes are the slow-cooked french dip, pancakes, and chicken salad. In 2020, the restaurant added scratch-made breakfast menu items available all day, and it's been a huge success, even through the pandemic.
"We made it through the pandemic so I think we'll be ok, but it has been really difficult and continues to be difficult to keep our head above water," she said. "But the reason we're still alive is because of the dedication of our employees and the community support."
During the peak of COVID-19, customers were still ordering carry out. They showed up for the Sundrop Shoppe in a way that Paige didn't always expect.
"We have a lot of repeat business [and] a lot of regulars, but every day I walk into the restaurant and see people I've never seen before," she said. "It's so fun to see."
Paige's children work in the restaurant – her daughter waiting tables and working in the kitchen; her son doing dishes – becoming the 5th generation of Prescotts to contribute to the family legacy.
"It's really fun to have found a way to incorporate my two favorite things in the world: food and people," she said. "And I've found a way to call it 'work'." GN