A STEADY BREEZE graced across the lake and gently rocked the old tattered hammock hanging over the water's edge. The newly married couple swayed together hand in hand dreaming of all that the future might hold. Thoughts like, "What adventures might we go on? What relationships will we nurture? In what ways will our family grow? How will we connect to the world at large?" darted through their minds like the little white lines trailing behind the passenger jet in the blue sky above. The couple was comfortable, sure. But was there more?
Ginny was a radiation therapist; Randy was an accountant. They were each passionate about their career paths, both helping people on a day-to-day basis. However, something inside of them knew their present circumstances and ways of life were only temporary. There was more for them to do, see, and behold, but first, it would take getting a little uncomfortable.
Ironically, Ginny grew uncomfortable first as she became pregnant with their first child in 2014. She was working full time as a radiation therapist. She remembered growing weary each day with all the heavy emotions associated with caring for those fighting the gruesome fight against cancer. She adored her patients and loved connecting with people on a deeper level. However, deep down Ginny felt her time as a radiation therapist was coming to an end. She had already started making chocolate from her home at this time. Now she was ready, more than ever, to jump full time into a more creative and lighthearted role. Her discomfort at the time pulled her mind and attention back to when their family business started a few years prior.
The couple married in 2010. Around that period, there was a short stint of time in which Ginny and Randy were both without jobs. They worked a few odd jobs together as they figured out their next steps. While digging a waterline at Randy's parent's house, Ginny had the word "chocolate" pop into her mind. She had spent most of her college career working at a chocolate shop in Florida. Ginny shared, "I thoroughly enjoyed it [making chocolate] and knew how to do it well." The couple had a conversation that day about making chocolate. Nonetheless, the two ended up going the traditional route and getting jobs where they weren't the business owners.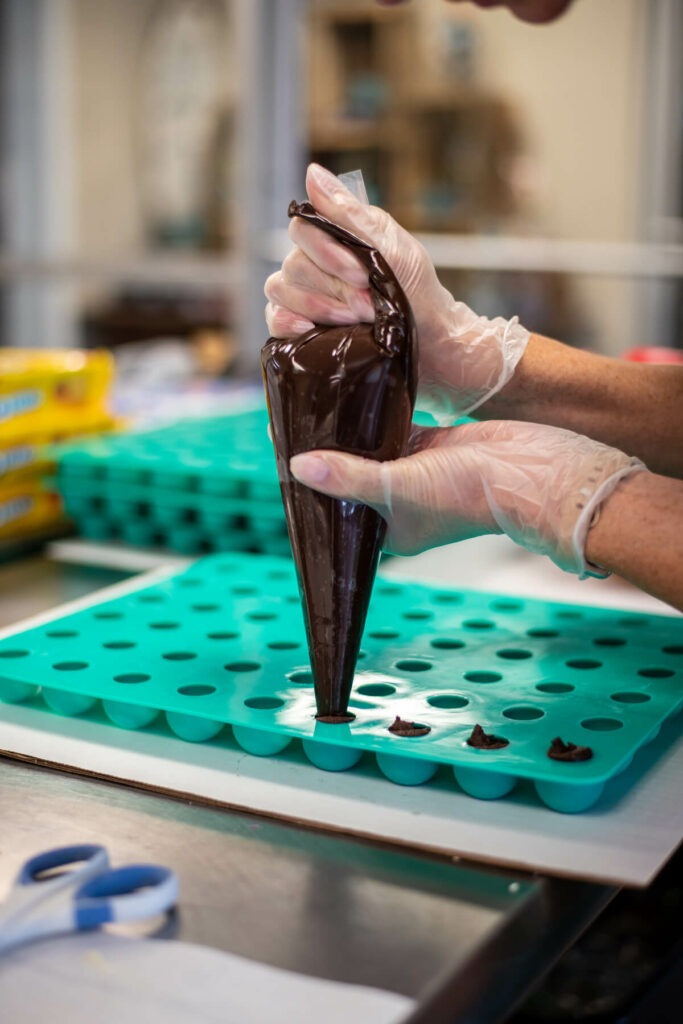 However, Ginny stated, "Chocolate had always been in the back of our minds." In fact, in 2012, the couple revisited the old idea. They talked more seriously about the possibility of making and selling chocolate on a larger scale. After that conversation, they started making and selling chocolate from their lake home on Tims Ford Lake. Naturally, the name Water's Edge seemed to fit.
Over the next three years, a Water's Edge booth was showcased at every farmers market across the region. Occasionally, the couple would set up at the old Northgate Mall as well. Ginny also left her job as a radiation therapist and stayed at home with her first born son. She would make gourmet chocolate as he slept. Randy and Ginny operated on a small scale like this until Randy's father made a timely purchase. In 2014, Crimm's Florist was auctioned. While Randy's father went to the auction to buy a tractor, he ended up buying the whole building, flower shop, and all. Randy and Ginny were at Randy's parent's house when they received news of the purchase. While shocked, they were very excited to have a building to move the chocolate business into, as it had taken over most of their house by this time. After that, things really took off. Though Randy was still working as an accountant, he and Ginny made the most of the newfound provision. In 2015, the two officially opened the Water's Edge storefront. They were one step closer to building the life and business of their dreams.
The next step was getting Randy at the brick-and-mortar store full time. Before he would commit and surrender, he did two things. First, he did his own exhaustive research on the chocolate industry, and second, he did some wrestling and arguing with God. Randy shared, "In 2017, God told me to quit my job. I argued with him for quite some time before I finally took the leap of faith". Ginny commented, "We have always tried to follow what God tells us to do. And this is no exception to that. We didn't know what was going to happen, and all we could do was trust that God would see us through it."
Leaving a job and a reliable paycheck to start your own business is a risk not many will take, but the decision has proved to be the adventure of a lifetime for the couple, making them trust in God the whole way through. Randy shared, "When we started, the initial goal, of course, was we needed income to provide for our family. Then it was about chocolate. But over the last few years, it's really become clearer and clearer that relationships are why we are here." Ginny chimed in, "And chocolate and ice cream are a gateway to relationships."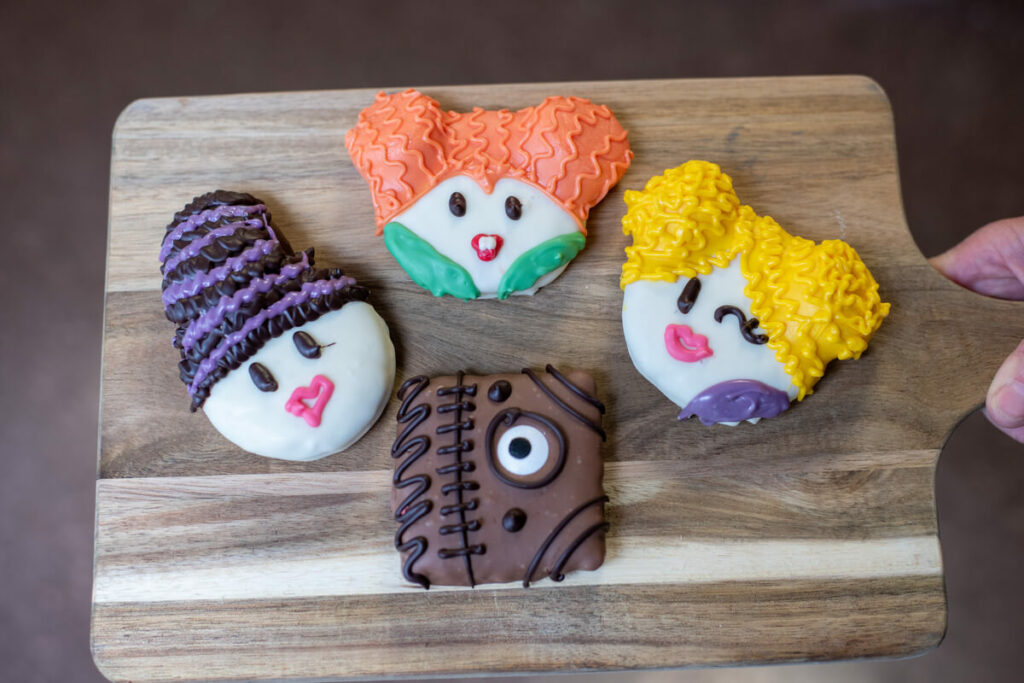 Randy concluded, "As humans, we're built for relationships. And if you don't have relationships your life is lacking. I think that providing opportunities and avenues for people, including ourselves, to build relationships is one of the biggest goals of our business."
The Wilson family and their lovely staff at Water's Edge are celebrating 10 years in business this November. Randy shares, "Chocolate is just the beginning." GN