PROVERBS 24:26 reads, "An honest answer is like a kiss on the lips." But what kind of kiss are we talking about? Because not every kiss is enjoyable, and not every honest word is easily received. Sometimes hearing the truth is incredibly difficult. However, most can agree that when the truth is spoken with gentleness and in love, the truth is almost always beneficial to hear. And eventually, if not immediately, the recipient of the honest answer is usually grateful for the bold words.
Former Tullahoma High School Band member Erin McCullough could attest to this sentiment. In fact, McCullough might even take it a step further and say that an honest and heartfelt conversation can change the course of one's life.
And here's why: McCullough was encouraged early on to join the band, by her mother who had nothing but great experiences to share from her own time in the band. Therefore, McCullough, like most people who participated in the band program at Tullahoma, picked up an instrument and began playing in middle school. McCullough's instrument of choice was the clarinet. She loved creating music, whether playing or singing. Even more so, Mc- Cullough found a deep sense of enjoyment from the community and camaraderie she experienced as she practiced side by side with other musicians. Some of her most fond memories took place while training for competitions or during time spent on those infamous band trips.
Over the years, McCullough stuck with the clarinet. She played clarinet throughout high school and later in college at the University of Tennessee in Knoxville where she played in the Pride of the Southland Marching Band.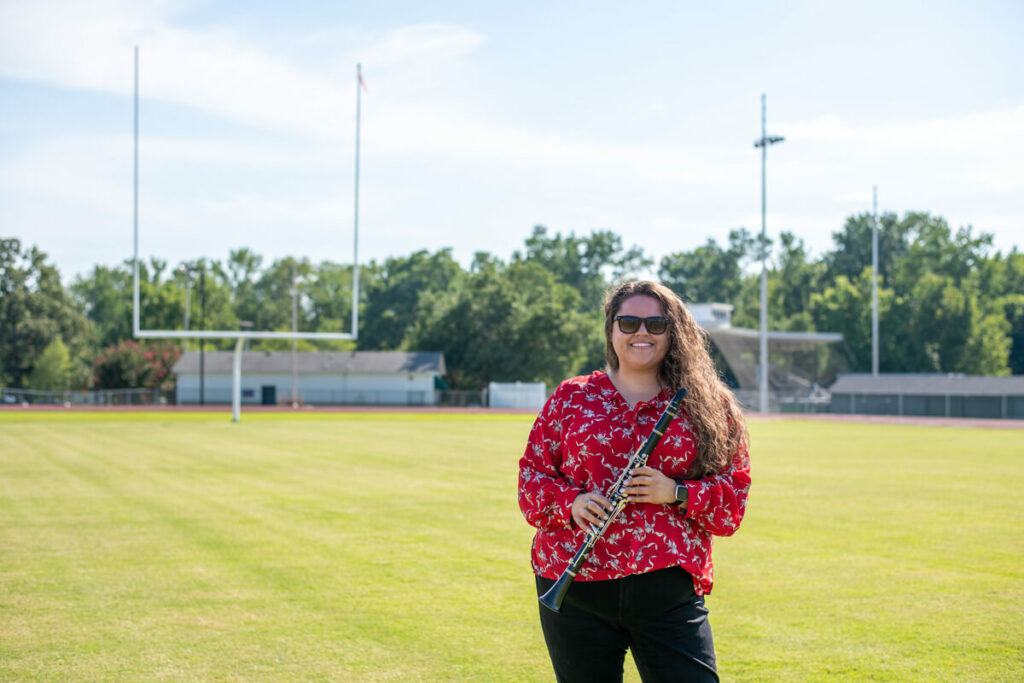 In high school, however, McCullough went through a phase when she seriously considered pursuing a career as a professional clarinetist or a band director. Like any sharp student would do, McCullough sought out wise counsel from her band director, Stephen Coleman. McCullough shared, "Mr. Coleman gave me the best gentle discouragement I've ever received in my life. And I thanked him for it. It was either late in my sophomore year or the beginning of my junior year when I had the wild notion thatI wanted, possibly, to pursue being a clarinetist or even a band director, as a profession. I was an average player at best. I didn't particularly like practicing, but I enjoyed band a whole lot. When I mentioned pursuing music professionally, Mr. Coleman, in the gentlest of terms, nudged me away from that notion. Instead, I pursued a true passion of mine, not just something that I enjoyed."
Mr. Coleman's response to McCullough was what some might consider brutally honest. It was indeed momentarily disappointing for McCullough, but later it became incredibly freeing. Fortunately, McCullough's brief devastation became a launching pad for her bright future. She shared, "After that [conversation with Mr. Coleman], I fully threw myself into Dr. Diane Sawyer's AP English III class my junior year. That is when I rediscovered a real love of books and words, which is to what I indirectly credit my career in journalism. So had it not been for Dr. Sawyer's class, I probably wouldn't have pursued an English degree at the University of Tennessee. Had it not been for Mr. Coleman, I would not have put all of my efforts into Dr. Sawyer's class. So indirectly, I credit both of those people with getting me to where I am now."
Currently, McCullough is a journalist for Nashville's WRKN News 2 news station. Before this role, McCullough was an award-winning journalist and the managing editor for the local Tullahoma News. Though she is operating within her sweet spot, where her passion and skill sets are in alignment, she still holds close to her heart a deep love and appreciation of music. Without music life would feel eerie, lacking, and empty. Therefore, music is woven into her everyday life.
In the same fashion McCullough shared what she believes a band brings to football season. She said, "It's definitely an atmosphere. The sound of a drumline at a football game in the South is something that you can't get away from. It's just as iconic and recognizable as the sound of a whistle or the sound of pads colliding on the gridiron. Like the drum cadence that the band plays when the Tullahoma High School Band marches from the school into the stadium, music is the very thing that gets you in the spirit of football season. I was happy to be a part of that." GN