IN 1995, Susan Binkley was running a high-profile horse hotel and selling her artwork at a gallery in Nashville. Becoming the founder and president of Blue Monarch, a nonprofit for women seeking to escape addiction and heal alongside their children, was not a journey she thought she'd embark on. But one night a dream grabbed the heels of her cowgirl boots, and that dream set her and hundreds of families on a different path. "God has always spoken to me in my dreams," says Binkley. "I guess it's the only time I slow down long enough to listen. In the dream, I was required to sit down at a big table and read a thick book. The book was basically a business plan that described how to run a program like Blue Monarch, and it even described how the women would be employed by producing a product they could sell. After I woke up, I made jokes about how I'd intercepted someone else's dream. It was powerful, but I thought it had nothing to do with me."
In April 2003, following the plan from Binkley's dream, Blue Monarch bought a 50-acre fully furnished farmhouse that had previously operated as a bed-andbreakfast. The book she'd envisioned in her dream has now developed into an intensive self-help program for women. For many this is the first time they've been free to dream about a brighter future for themselves and for their children.
At the insistence of a friend, Binkley began a blog in 2014 called "From My Front Row Seat" where she draws back the curtains allowing readers to peek into the struggles and view the inspiration found among them. "I often say God has given me a front row seat at the greatest show on earth because I get to see miracles happen right before my eyes. Now I also get to share those stories with you." Binkley's inspirational stories bound in book form will be available to the public before their 20th anniversary celebration in April.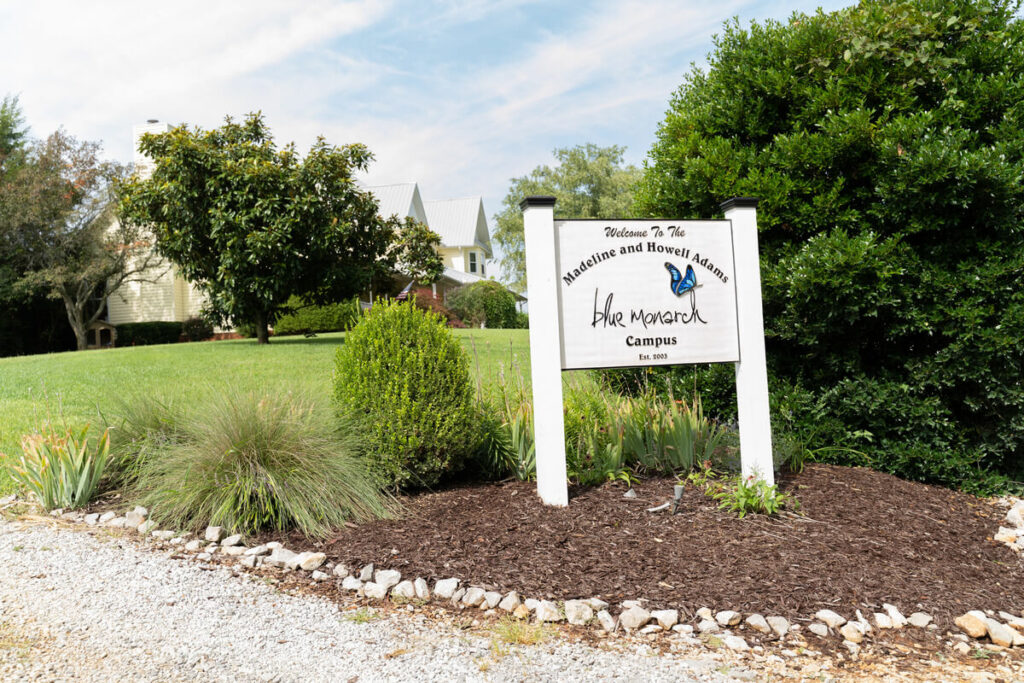 The Blue Monarch program is thriving and now owns 14 houses and 108 acres. And with an extensive waiting list, they need a multipurpose facility, an onsite daycare center, and a more convenient location for the commercial kitchen where the ladies work baking homemade granola. "Every time we have an event, we have to rent tents," said Binkley. "We need classroom space, space to tutor the children, office space… there are so many things we could do better if we could spread out. I also have organizations [that] contact me [and] want to use our program as a pattern. More space would allow us to teach others how to replicate what has worked for us here at Blue Monarch."
Binkley has been featured in multiple magazines. In 2018, she was selected as a Teacher's Insurance and Annuity Association Difference Maker 100 Honoree, and this year the University of the South presented her with an honorary doctorate in Civil Law. GN