MR. HINSHAW'S Manufacturing Practicum class created a portable cart for Mrs. Baldwin's Digital Arts class to hold their digital single-lens reflex (DSLR). Little did they know their senior capstone project, the "Baldwin Cart Project," would turn into a memorable experience the class would never forget. Though it wasn't the first project they worked on for Mrs. Baldwin, it opened the door for the two classes to collaborate on further projects in the future.
Coffee County Central High School teacher Jeff Hinshaw has taught his Manufacturing Practicum class for 12 years. Before teaching, he was an engineer, but he soon realized a career in education would allow him to spend more time with his children, so he brought his skills to the classroom, teaching and coaching basketball, softball, and baseball.
Hinshaw said when he first started working, he had one lathe and one working mill. He now has five working mills and six working lathes. The program has come a long way since he started teaching at the high school. 
He said, "Since then, I've grown the class. We got our own 3D printer with a lot of help. We [received] funding for CNC mills, a CNC lathe, a CNC plasma cutter, and added a lot more machines." The project initially started with Mrs. Baldwin needing a safe spot to keep her cameras and equipment because she found that cameras ended up broken or misplaced without one. It quickly transformed into one of many projects that the class will work on for the digital arts teacher in the future.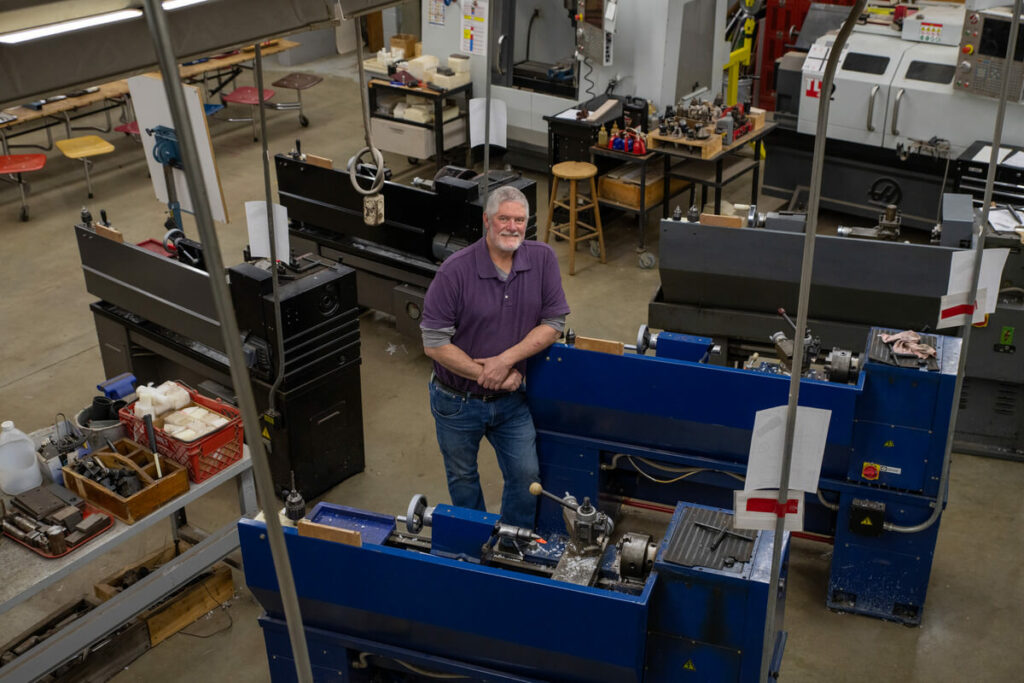 The Manufacturing Practicum class knew just what the digital arts teacher needed and immediately began locating the cameras, lenses, and charging stations and built the cart from scratch. Mrs. Baldwin appreciated the class's efforts in helping her find effective ways to store her equipment.
She said, "Mr. Hinshaw's class did an excellent job creating a cart for the DSLR cameras and lenses for my Digital Arts courses. The cart provided students with an easy storage area for our camera equipment and an area to charge batteries. It even has hooks for storage of camera bags on the sides. The best part about the cart is that I can easily see if a camera is still in use or has not been returned."
The cart is one of several projects Hinshaw's students have completed to help organize the Digital Art program's multimedia room. His students also created a cart to hold their Panasonic video cameras and small wall mounts to organize their equipment cords and cables. Mrs. Baldwin said she is very pleased with his students' work and looks forward to collaborating with them more in the future.
Working on the project allowed the seniors to enjoy each other's company and encouraged them to work together to achieve a common goal. Only seven seniors were working on the project last year, which created a more intimate space for the students and their teacher to collaborate and create something the school would never forget. 
Hinshaw said, "This group that I had was just awesome. They worked well together. Some kids had certain skills and some other skills. So that's the thing they did. And I knew that and then let everybody do a little bit of something. So yeah, it was a full-team project."
Hinshaw described the project as "a critical-thinking job."
"Find a problem — solve it. It's the basis of being an engineer, but you'll have these problems all your life, at your house, home, or work. You have [these problems], and you need to fix them. To know that instead of standing back with your hands crossed and saying, 'I don't know what to do,' come up with solutions, test them, and try them. And that's some of the stuff that they did."
Hinshaw said he enjoyed working with his students last year and is now enjoying a new group of seniors. This year, the class will work on their own projects and are waiting for the school's softball field bleachers to arrive. Mr. Hinshaw's class always makes the holders for the sports banners for each player. Incoming seniors never know what project to expect in Mr. Hinshaw's class, but they're always prepared to do their best work and learn critical skills in the process.
He said, "Capstone projects are good because they get a chance to use all of their skills together, not just training specifically on one machine. And they also get to think critically about how to solve these problems." GN