IT'S HOT. The humidity is as thick as honey on a fluffy buttermilk biscuit that has just come out of the oven. People sit in their camp chairs and fan themselves with whatever is in arm's reach as they sip on a cold brew, both of which help to calm the heat.
Taking the stage, he looks over the crowd taking in the sights and sounds of a lazy summer evening. This is a sight he's seen many times but never gets tired of. It's one that is filled with memories. Memories that span from his childhood in Woodbury where he would watch family members play the guitar to countless performances he's made across the world.
He's playing for his hometown crowd on this night along with an audience that will have the pleasure of taking in the music of Stephen Simmons.
Simmons took the stage on Saturday, July 16, at the Common John Brewing Company in Manchester. Opening to the public in 2020, the brewery offers craft beer, brewed in-house, along with a tasty menu. Along with their popular homebrew, the brewery hosts musicians from in and around the area to perform on their 20-ft outdoor stage.
A long-time friend of Common John owners, Lebron and Angela Haggard, Simmons said he had been planning a performance at the brewery for some time.
"LeBron and Angela graduated with me," he said. "Last summer we were talking about doing something, and that was about the time everything kind of went sideways here [with Covid]. Then at some point, it was too cold to do shows outside there, so we just moved it to this summer."
Simmons said he enjoys playing locally and getting to catch up with old friends.
"I think it's fun. I mean, I'm still in touch with a lot of people I went to school with. And I come from a big family so I'm closer to them too. But I have played [in Manchester] often, over the years," he said.
A songwriter and performer, when asked if preferred one over the other, Simmons said he enjoys both.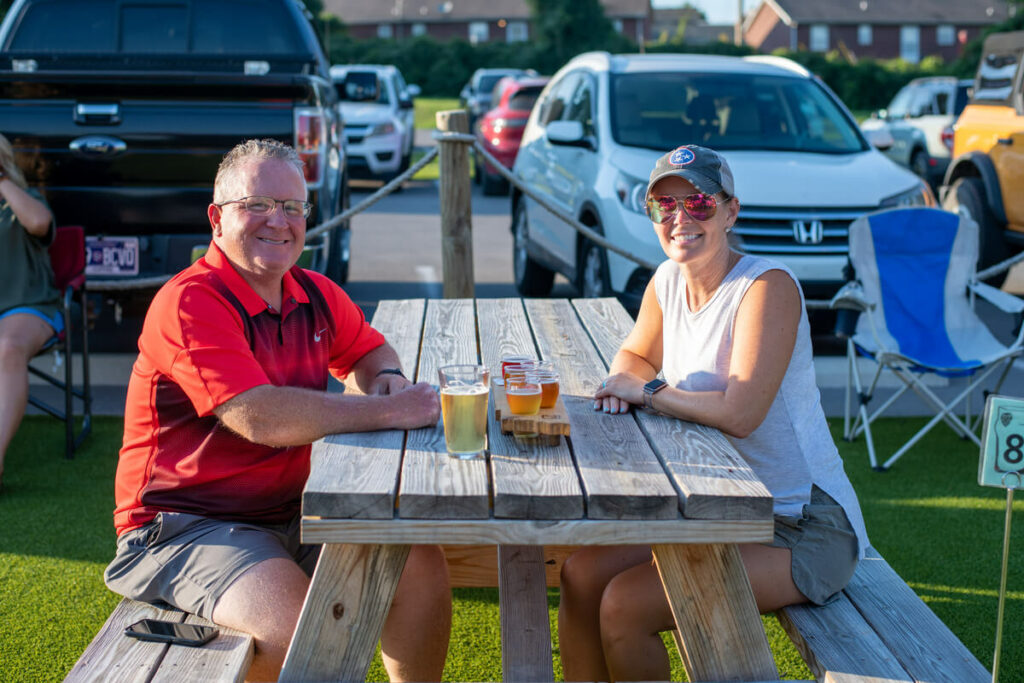 "There's no preference," he said. "That's why I think "singer-songwriter" is a really appropriate term for people like me, because songwriting is by and large, a very lonely process. You have to have an introverted side of your personality. But to really enjoy playing gigs, and performing and singing for people, you also must have an extra extroverted side."
Simmons is now in his 20th year of being a musician in what he would call the "official capacity." He has 15 records to his credit with a plethora of music that he has created or helped to create. He said it is still surreal to him that he has come this far.
"Writing is just something I always did even before I knew that I ever wanted to perform," he explained. "On my dad's side of the family, there were a lot of musicians. My grandmother played guitar and wrote songs and so did my uncle. My dad also played guitar. And so that was a family thing that we always did, and I kind of grew up just wanting to join in. I was out of college before I realized I could get paid for it. I knew you could write songs, but I was older before I realized there was a thing called singer-songwriter. It's been around forever, but I didn't think about it as a career you go into or something you did."
He has enjoyed success, both at home and abroad, and as he looks over his career, the one thing he seems to be the proudest of, is the process of it all.
"[Proud] is a tough word to use," he explained. "I guess because I don't really use it. You've always got the song that you've started [but] you haven't finished, or the other album you want to make next. It sounds so cliche, but the process is what's fun and engaging. So you don't really spend that much time patting yourself on the back because by the time you've done it, the satisfaction, bliss, and the joy you get is from the process, and then you're wanting to do something else because you're chasing that same feeling."
To check out the music and work of Stephen Simmons, visit online at stephensimmonsmusic. com. To keep up with the latest musical happenings at Common John Brewing Company, visit them online at commonjohnbc.com. GN.