IF YOU stop and listen, you might hear computer keys clacking. Local author Janice Lynn has been busy crafting her latest manuscripts, "Celebrating all things Christmas," "Sweet Romance," and "Quilts of Valor" (QOV) for Hallmark Publishing. "For me, Christmas is the ultimate holiday; everything is just magical. I love and advocate for QOV because their foundation wraps our active and inactive military with patriotic quilts of healing, comfort, and a big welcome home. My son is in the Army National Guard, so this proud blue star military mama wants to wrap as many of our military veterans and servicemen in these quilts as I can."
QOV founder Catherine Roberts believes "quilts equal healing." Since 2003, over 300,000 quality, hand-sewn quilts have been awarded to veterans. In between writing deadlines and working full-time as a nurse practitioner, Lynn has crafted and donated three quilts for the program and is currently working on two more.
"Quilts and a good Hallmark book (or movie) can also be healing," Lynn said. "In my novel 'Wrapped Up in Christmas,' Sarah had donated a quilt to the QOV. That quilt made its way to a wounded warrior named Bodie Lewis. All Bodie had ever wanted was to be an Army ranger, but he was injured in an explosion. In the hospital, he receives a handmade quilt. Later, he sets out on his final mission: to find and thank the maker. Bodie expected Sarah to be an elderly lady, not a lovely young woman. Sarah's presence and the small-town spirit bring Brodie something he thought he'd left far behind on the battlefield: hope."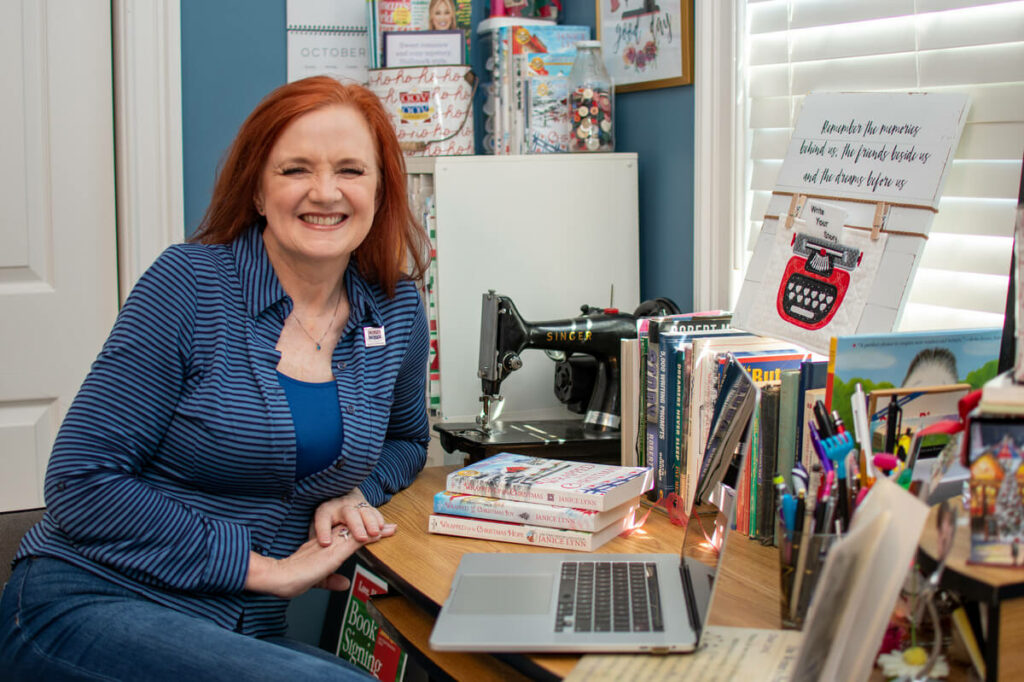 "Being a nurse practitioner has molded my writing in many ways. I often wish I had a magic wand so I could heal the ailments of my patients and remove mental and emotional barriers to happiness. In writing for Hallmark, I take my wounded warrior on a journey of finding peace and help him look at the world differently. Love, and not just romantic love, is the greatest healer, and in my stories I'm able to sprinkle it everywhere and hope my readers go on that journey with them and feel wrapped in love as well."
Lynn has also published "Wrapped Up in Christmas Joy" and "Wrapped Up in Christmas Hope" which also include the QOV theme. Lynn is the winner of multiple awards including the National Readers Choice Award, The Golden Quill, and the Holt Medallion Award of Merit. She is a Wall Street Journal, USA Today, and Publishers Weekly best-selling author. Lynn has earned numerous awards, taken first place in contests, and was honored as the Grand Marshall of the Old Timer's Parade on October 1.
"Everything about writing for Hallmark has been exciting," Lynn said. "My hometown sharing in the joy of my books warms my heart in so many ways. I think the people of Manchester embody the very meaning of living in the Volunteer State." GN