IT'S QUIET. Which is very uncommon for a Friday night football game. The score is close, and one right or wrong play could decide the whole game. It's almost as if the whole crowd knows this, and they're holding their breath in anticipation of what will happen next. The players look up at the play clock noting the time and the score and then look to their coaches for what to do next.
Standing at attention on the bleachers, he notices the quiet of the crowd and nervousness of the players. And looking over his group of bandmates, he knows what needs to be done. He calls their attention and almost instantly they respond in unison to the call to not only bring life back to the game but to offer a sense of hope for both the fans and players.
Hearing the upbeat tempo of the brass, woodwinds, and percussion, the crowd begins to clap their hands and feet in response. This sparks a chain reaction through the stands with cheers of encouragement from fans, cheerleaders, and coaches on the field. Win or lose, he knows that he helped give the support that his team needed, to get back in the game.
For Coffee County Band alum Alex Baldwin, he knows all too well the importance of the band playing at game time.
"There was always a ton of pressure," he said. "Especially being a drum major. You have to pay attention to the game. When you're on offense or defense, and the score, because you have to know to play the right song that will motivate everyone; not just the football players, not just the cheerleaders, but everyone. If the band wasn't a part of that environment, I don't think it would be the same. It would be much harder to fulfill that fun that you enjoy while you're at a game."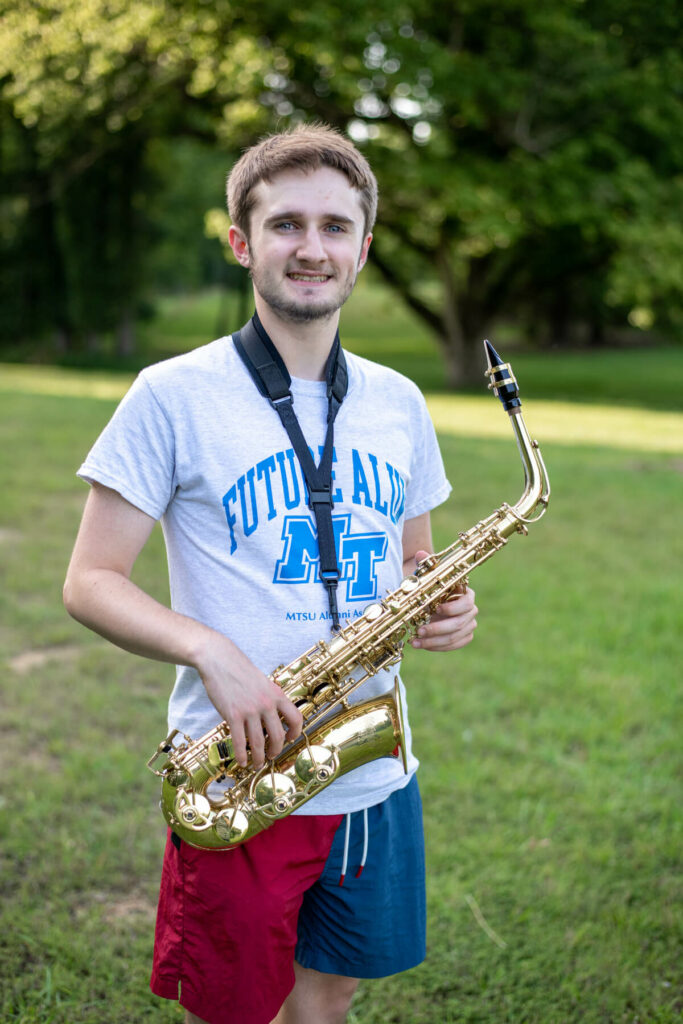 Being a member of the band encompasses some of the happiest moments of Baldwin's time in school.
"One of my favorite memories was always going to competitions," he explained. "We would have such fun rides on the bus, and we'd always sing songs. It was always so much fun."
Baldwin gives credit to his brother, private instructors, and fellow band leaders for helping to show him just how much fun being in band could be.
"My brother was who I initially looked up to," he said. "I started playing in band in the fifth grade, mostly because he was also in band, and I actually hated it. I remember crying to my mom in the car after the first day. It was hard. Which, of course it's going to be hard picking up an instrument for the first time. But I ended up loving it, and I had some private lesson instructors who showed me how I should be playing my instrument. And also past leaders, like past drum majors and quartermasters, and just other things of that nature. We've always had really good leadership within the band."
One of his most memorable moments came as a senior during his time as drum major.
"When we went to COC, which is [the] Contest of Champions, at MTSU (Middle Tennessee State University)," said Baldwin. "It was just something about stepping on the field. And the way that the field feels with the rubber astroturf. Going onto that field and walking on there and leading the band on that huge and amazing field. It's just such a powerful feeling. It just felt like you could do anything."
Currently, Baldwin is pursuing a vocal education and vocal performance double major at MTSU. While he didn't continue performing as a musician, he has taken what he learned from his time in band and is applying it to what he plans to pursue for the future.
"The principles within vocal music and instrumental music are basically the same," he explained. "You're trying to create the same thing, which is beautiful music. I'm really thankful, because there's a lot of things that I learned that I would not have known if I had not been in band." GN