MARTHA CAROL Luttrell, more commonly referred to as MC Luttrell, has played a foundational role in organizing a community outreach event in Franklin County over the last several years. Her tireless efforts and laborious prayers have been the backbone and birthing place for the One Day Community Outreach event.
Close to 10 years ago, Luttrell stumbled across Pulaski's Dental Day, a free event focusing on dental hygiene for the community of Pulaski. Since that day, Luttrell began praying for God to make way for something like that in Franklin County. After a few initial meetings and collaborations between community members, local officials, business owners, and Southern Tennessee Christian Medical and Dental Association members, the One Day Community Outreach event had its first ever event day in 2014. The day itself was an answered prayer for Luttrell, and the memory of that day will stand tall like a monument, in her mind.
May 14th, 2022, marked the Eighth Annual One Day Community Outreach event. Luttrell, still one of the main organizers, shared, "We felt like this year was a rebuilding year since it was our first year back without any COVID restrictions. And to be honest, after the struggle of the last two years, I was almost ready to throw in the towel."
Luttrell was not the only one feeling weary after a challenging few years. The majority of committee members had reservations and hesitations leading up to this year's event. Collectively, the committee members decided that if they were going to go full steam ahead, they would have to release some expectations and control. Luttrell shared that her personal thought process going into the big day needed to change significantly. She landed on and went into the event, saying, "Okay, this I syours, God. I am stepping back. We are not going to force it this year. I am stepping back. If it happens, the event is of You. If it doesn't, it's not."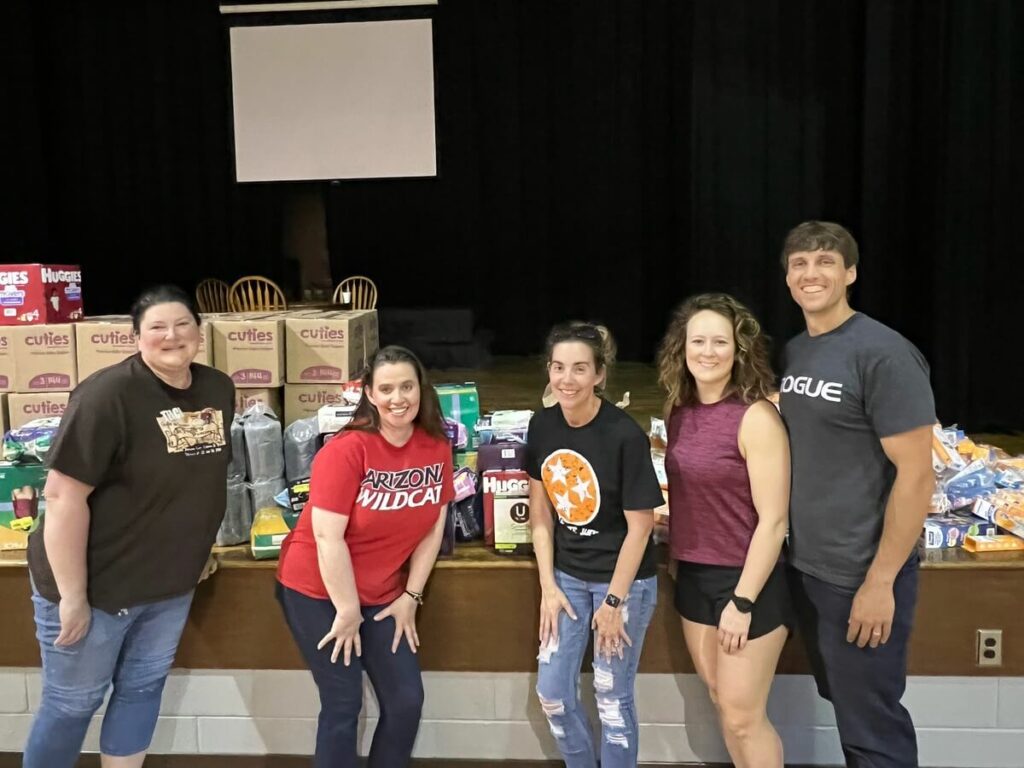 Subsequently, Luttrell shared, "Taking the pressure and responsibility off of ourselves was amazing because prayers that I had been praying for eight and a half years came to fruition, one after another." One specific prayer that came full circle this year, related to volunteers. Over the last several years, Luttrell has been praying and asking for someone to handle all things pertaining to registration. Filling that role would help free her to tend to all the other odd jobs that inevitably occur, leading up to the event day each year.
Before the event was over, a woman who helped with registration approached Luttrell and said, "I loved this. I have been praying to find a place where I need to be serving. Where do you keep all of this registration stuff during the year? Do you mind if I just pack it up and put it in my basement? I'll come set it up next year on a Friday night before. I'll call, make arrangements, and set up the registration. I'll just take it all and handle it if that's okay. I'll do the registration from now on."
Luttrell almost laughed at the preciseness of her answered prayer. She didn't just have someone show up and handle it for the day or a few hours. The generous woman was going to completely manage all aspects of registration! Luttrell shared, "This is what it feels like for us to step aside and let God do His job."
Regarding wild provisions and answered prayers, Luttrell shared, "It's not that things haven't happened like this in the past, but it has just been overwhelming this year." Luttrell went on to tell a short story she heard from a Christian author and speaker, Chrystal Evans Hurst. Hurst opened the story by revealing that her children love hot cereal. She said it takes 15 minutes of her sitting directly over the stove, stirring and waiting. Therefore, she only makes it about once a week. Each time she makes it though, her kids run down from upstairs and call it the good stuff. The point of Hurst's story, which later found new meaning by Luttrell, is that "the good stuff takes time." So whatever good you are doing, keep waiting, keep stirring. Prayers don't have expiration dates. GN