THEY SERVED our country and protected our freedom. They sacrificed their time and put their lives on the line while we carried on dayto- day life, safely and comfortably. Today, many of them are confined to skilled care facilities. Their days can be long and lonely, especially since the pandemic. Holidays have been isolating. While it's always good to appreciate our veterans, Christmas ushers in a season of giving, with countless opportunities to say 'thank you.' Wanda Boyd of Wanda's Creations & Long-arm Quilting and her sewing ladies have seized that opportunity.
Boyd, whose husband is a veteran of the United States Air Force, jumped into action when someone mentioned veterans for Christmas. And when she puts out the call for a service project, her ladies respond immediately, always ready to lend their time and talents to blessing others.
"I have a great passion for our military. I started thinking about our veterans in the nursing homes for Christmas. I know there are veterans in Donalson Care Center and Elk River Health & Rehabilitation in Fayetteville, but also that many Lincoln County residents are in facilities outside the county. I wanted to include them as well. I reached out to the Lynchburg Nursing Center and Elk River in Ardmore, and there are 34 veteran residents in their care," Boyd said. "I'm preparing some extras because the numbers can change. If we're over-prepared, that's okay. But if we're under-prepared, I wouldn't be happy with that because I don't want anyone left out."
Wanda's Creations donated all of the supplies for the quilts, and Boyd and the sewing ladies gathered in the sewing room over multiple sessions to stitch them together. Family, friends, and freedom panels were bordered and backed in patriotic fabrics, quilted by Boyd, then hand-hemmed by the sewing ladies in another session. The homes will add the veteran's name to the label included on each lap quilt. If restrictions don't prohibit it, the group will personally deliver and present the quilts to the homes.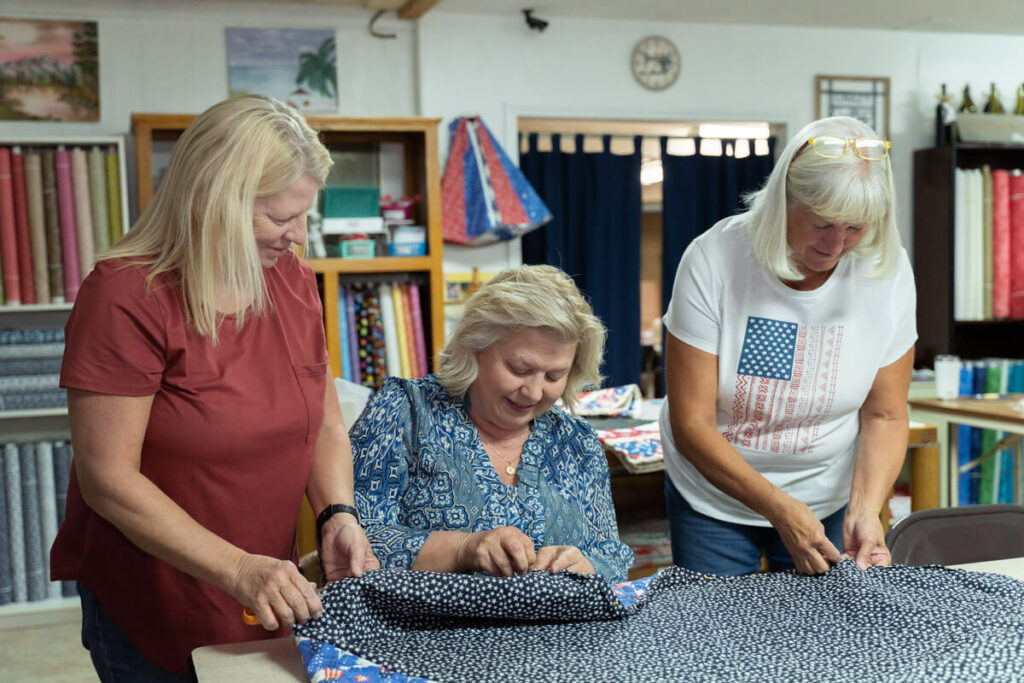 The group contributed to another Christmas project this season. Tammy Hone, one of the sewing ladies and area coordinator for Operation Christmas Child (OCC), mentioned to Boyd, the idea of a fundraising quilt raffle. Her wheels were instantly turning.
According to the website, OCC is a Samaritan's Purse project—a hands-on way to bless children in need across the world by filling shoeboxes with toys, hygiene items, school supplies, and fun gifts.
Boyd said, "I told Tammy I'd donate all the supplies, quilt it, and bind it, but would leave it to her to get the ladies together to sew the top. She did, and the top was made in one night and hemmed another. We made a Christmas quilt to be raffled and given away at my open house on November 5."
Although the calendar said August, inside the sewing room it was December, and Santa's workshop was humming. The ladies from Stewart's Chapel Baptist Church may not look like elves, but they work like them. A happy patchwork of stockings, candy canes, snowflakes, bells, and packages in festive holiday colors materialized from amid snipped threads, rotary cutters, and humming sewing machines.
One lucky person or family will be a bit cozier this holiday season under the covering, and children around the globe will be blessed through the project. Boyd's shop is busy year-round with service projects.
"I'm very blessed to be able to do what I do every day. I'm so blessed. I give because I want to, and that's the way I was raised. I was raised to be a giver, not a taker in life. And I love Christmas," said Boyd. "You know, we've made a lot of quilts for various things, and we're all about raising money with the quilts – whatever we can do to make someone else's day better." GN