MENTION YOUTH sports and organized athletic teams naturally come to mind – football, basketball, baseball, softball, soccer – well, you see the common thread, don't you? It's a ball, but there are many other athletic adventures to challenge your growing child right here in Fayetteville. And they also encourage physical activity and hard work, build teamwork, and teach sportsmanship. Magic Athletics (MA) is your one-stop destination for youth sports.
The competitive cheerleading program was foundational to the formation of MA. It began in 2014 as a small cheer team practicing in the Fayetteville High School gym and quickly grew. The interest sparked by the initial season confirmed Fayetteville needed a tumbling and gymnastics facility. Tiffany Calvert opened MA to offer the cheer program and other athletic options for Lincoln County's youth.
There are floor gymnastics and tumbling classes for all ages. MA offers Mommy and Me and Tumble Tot classes for 2 and 3-year-olds. Ages 4-18 will find mainstream tumbling classes to build and strengthen skills utilized in competitive cheer or personal development.
MA is home base to Fayetteville's All Star Cheer team squads, part of the U.S. All Star Federation (USASF) Club Cheer and Dance Teams national organization. USASF describes All Star Cheer as "a high-energy, team-based, performance sport that is athletic, artistic, and acrobatic. It involves athletes competing with a 2 1/2 minute routine composed of tumbling, stunting, pyramids, dance, and cheer segments" (U.S. All Star Federation. usasf. net, 2022).
Don't let the length of the routines fool you. More than a routine develops from the time spent training and preparing for their competitive moment.
April Schettler, who works with Calvert at MA, explains, "They're learning hand-eye coordination, taking direction, and how to be in front of a crowd. We always set a goal to hit; we call it 'hit zero.'" "Hitting zero" doesn't only mean there are no bobbles or miscounts. It means everyone gave 100% to the routine and each other.
The teams' commitment and hard work have taken them to national competitions. In the 2021-2022 season, the teams won their place at the national championships in Orlando, Florida.
"Our teams did phenomenal jobs. We walked away with several national top ten finishes," said Schettler.
It's not just national championship awards coming out of their gym; it's college scholarships, too. All Star Cheer students received scholarships from Austin Peay, UT Southern, Wallace State Community College, and other colleges – some fully paid.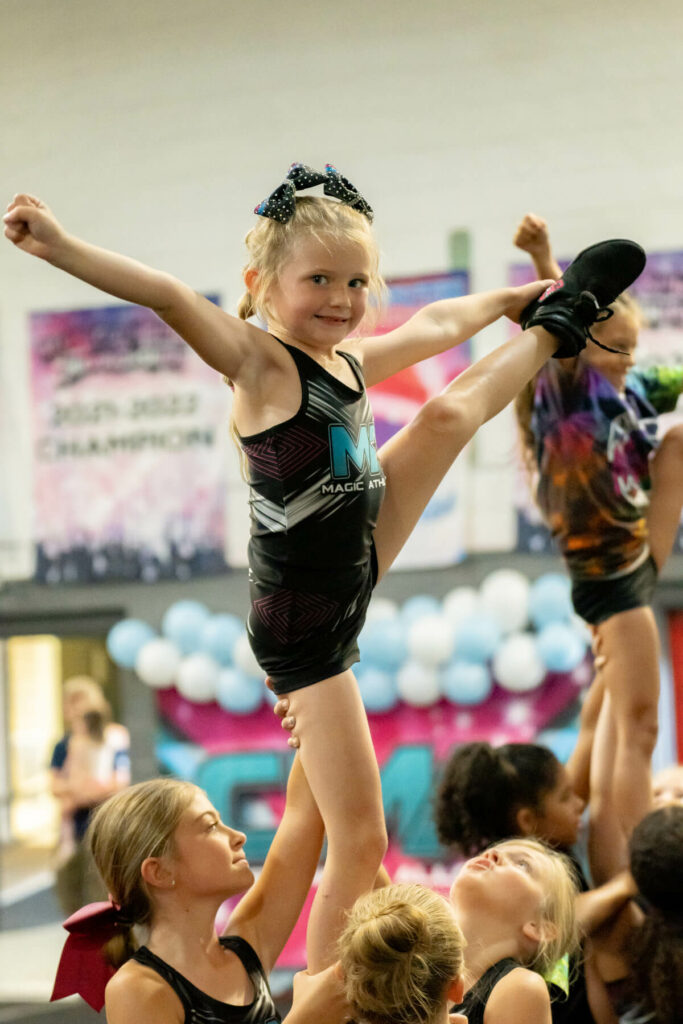 There's more than tumbling and cheer going on at Magic Athletics.
What kid doesn't like the sound of ninja athletics? Warriors from ages 4 to 14 train at the facility, spurred on by visions of climbing that last wall and ringing the bell on national television. Activities like tire runs, warped wall runs, and rock wall climbs focus on agility, speed, strength, and hand-eye coordination to develop participants into all-around athletes.
This spring, MA managed Fayetteville's six-week youth soccer program played on the new city fields across from Don Davidson Park. It was a successful venture and is likely to be repeated.
Calvert said, "Our purchase of the previous Stone Bridge Academy School has opened up new opportunities, including summer camps, space rentals, and tutoring. Also, it allows us to expand into other ventures benefitting our community such as after-school care, painting classes, and other educational activities unrelated to sports."
MA already hosts birthday parties and offers bounce houses and expects to add more equipment, activities, and events like batting cages and motivational speakers. Schletter said, "There's just a lot of things we want to bring to the community to help these parents out."
When considering athletic adventures for your child, look at all that MA has to offer. MA adds new programs regularly. You'll be cheering with excitement alongside and for your young athlete. You might say it's magic! GN