IT COULD have been a quilt they were gathered around. Beneath could have been small children playing and watching as needles passed through the layers of calico fabric. With snacks nearby and warm conversation dotted with laughter filling the room, they might have been friends stitching a special coverlet for a friend or family member.
But the year is 2022, not 1935.
At Wanda's Creations & Longarm Quilting, around one table, five quiltmakers, kindred spirits connected by thread and fabric to the past, the present, and the future, gathered to reflect on more than patterns, notions, and the latest designs. They reflected on why they quilt, the memories associated with quilts and quiltmaking, and how they continue to share the legacy.
Quilts, like quiltmakers, are memory keepers, vintage souls that connect us to our loved ones and each other. They stir the childhood memories of their makers. They create new memories as they are used and handed down from generation to generation. The creative process is an antidepressant and reduces stress and anxiety, even while ripping out stitches to ensure the final pieces properly intersect. And like pieces of our lives, they always intersect.
Like a family heirloom handed down from one family to the next, sharing knowledge and skills while creating new memories passes the tradition on to the next generation.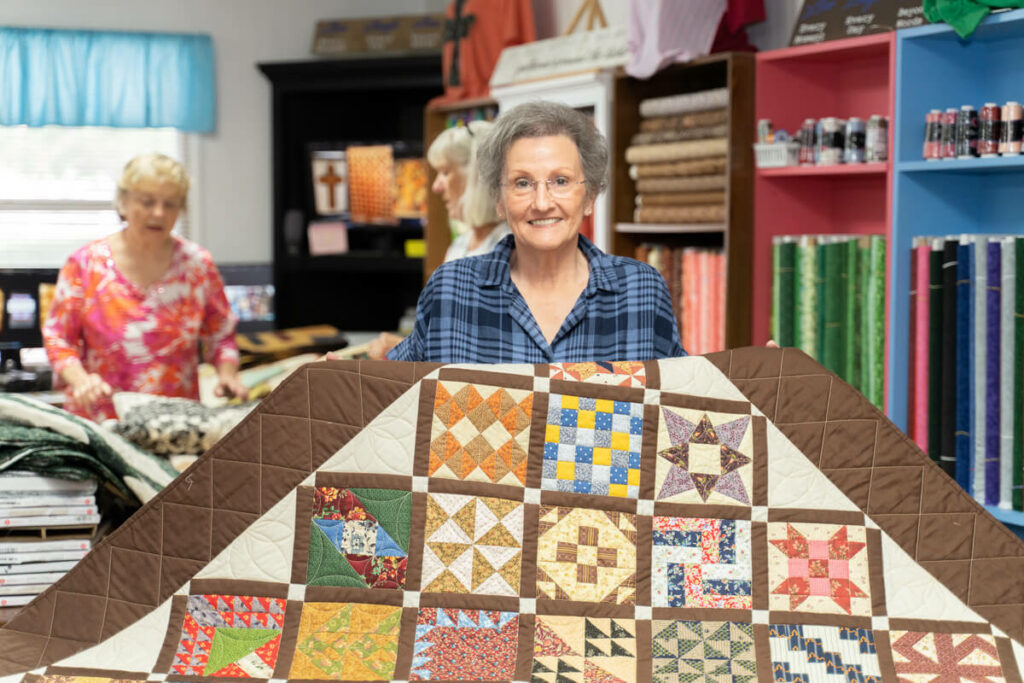 Dori Troutman, originally from New Mexico, lives in Kelso, Tennessee, and learned to sew by watching her mother. She is passionate about teaching her grand-girls, their friends, and homeschool students to sew and quilt. As a blogger for Mary Jane's Farm, she shares life snippets, including quilting projects, and blogs for Clover, sharing tutorials featuring their products.
"I branched out into making quilts before I ever had a clue. And I can even remember thinking, I don't know what I'm doing. Now I've taught lots of kids, but anybody can do it. Kids will teach you that it's okay. They don't obsess over fabrics. They like what they like and don't let you change their minds. They're very passionate, and it's amazing," said Troutman.
Wanda Boyd is self-taught and loves teaching others in her Park City shop. She began teaching in quilt shops in Chattanooga before moving back home to Lincoln County. Classes in her shop began with six students four years ago and have continued to grow, with something happening at Wanda's year round. In addition to the classes, she's sharing her love of quilting with her family.
Boyd said, "Recently, my niece has acquired the taste of sewing. She's been in the sewing room twice and picked out a pattern. That will be our first quilt class next year, and I'm excited about it. She's 25, and she just loves it."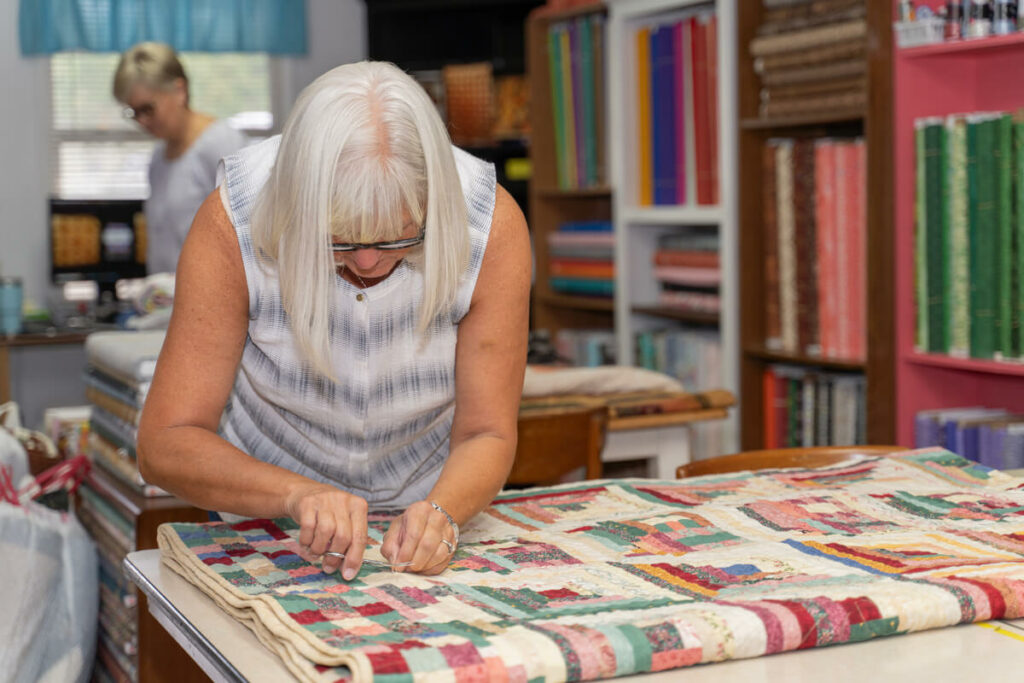 Fayetteville resident Anita Johnson began with a Quilt in a Day class at Motlow, where she sewed, and her mother pressed the log cabin blocks that became her first quilt. A student more often than a teacher, she's passing it on too.
"I have a little neighbor (we always call them little), she's probably 40, and she wanted to learn. I bought her a sewing machine and supplies, and she's made her first quilt. My grandson's fiance wants to learn too, so maybe soon we can do that," Johnson said.
Janice Harwell has had a needle in her hand since childhood and was hooked after her first quilt, laughingly recalling her husband saying it kept her off the streets. She taught at The Flower House for years and now lends her expertise and endearing sense of humor to fellow quilters at retreats and the local quilt guild.
Harwell said, "Miss Annie Beth Pickett was an old-timey quilter, and she'd come every Saturday morning to my house.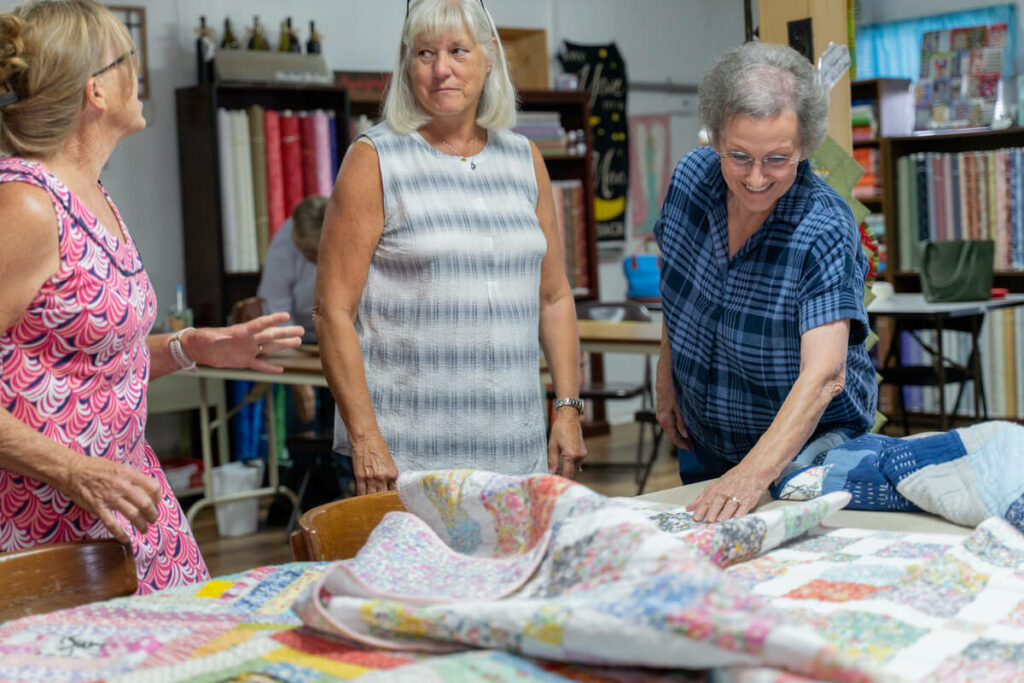 We'd have a quilt in the frame, and she'd sit on one side, and I'd sit on the other like a quilting bee. We talked the whole time, and I learned so much from her. It means a lot to you when you share things with your friends."
Evelyn Smith, whose mother sewed socially, first learned through a class and is drawn to designing and creating. She was, in her words, the instigator of the local guild, the Lincoln County Piecemakers.
"I've always been a helper, I guess. And people have expected me to be able to help, and I'm glad I can. I've made lots of good friends. And quilters are so sharing, too. They will share their information and help you in any way. I've been very fortunate. I've made lots of good friends and gotten to do many things through quilting," Smith said.
Johnson, Smith, and Harwell join other ladies on most second Thursdays at Prospect Baptist Church for Sew Day. Everyone's invited to bring whatever sewing projects they have underway, not just quilting. Who doesn't love gathering in the fellowship hall for time with kindred spirits?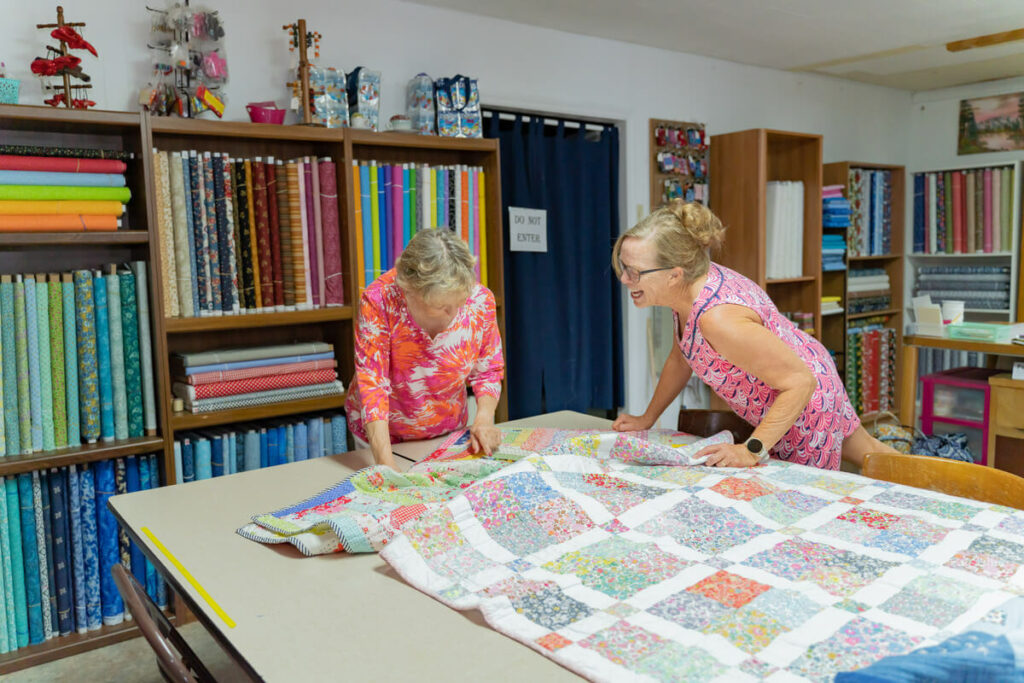 The future of quilting is secure thanks to these local quilters and others, many of whom can be found on Instagram and Facebook.
Troutman said, "We're in this new generation of quilters. The young generation of quilters is passionate about it. It's amazing to see. One of my favorite things about quilting these days, is this new generation of quilters. They think outside the box and are amazing with fabric, colors, and designs. Many of them are very passionate about the old quilts, and they'll restore them. They're into special old fabrics and things like that."
Passionate about the old and optimistic about the future is quilting at its finest. GN