204 COLLEGE Street East, in Fayetteville, is a place where a special woman can make your favorite espresso drink any way you like it. Her name is Sheila Archer, and she can produce drinks fast.
Java Road Espresso Bar & Cafe is the place to taste your favorite coffee beverages. With a variety of mochas, cappuccinos, lattes, the options are endless. Specials include the Zebra, an exquisite blend of espresso and steamed milk that mixes white and dark chocolate sauce. Customers can be dazzled by Mike's Razzle Dazzle, an espresso mixed with creamy white chocolate sauce and raspberry syrup.
And no one can forget the most requested drink in the cafe: the Witches Brew, an espresso blended with caramel syrup, vanilla, and chocolate sauce for "wicked good flavor." This, or any drink, can be topped with Java Road's house-made whipped cream. Smoothies and teas are options as well.
Breakfast sandwiches or bowls are on the menu, offering eggs, meat, and cheese. For lunch, Java Road serves sandwiches with a customer's choice of meat, cheese, and other toppings. The restaurant's most popular salad is called the Envy. Made with an organic spring mix, the Envy comes with turkey, ham, bacon, tomatoes, cucumbers, sunflower seeds, cranberries, almonds, and feta cheese. The salad is accompanied by Java Road's own cranberry vinaigrette. Pastries are served as well.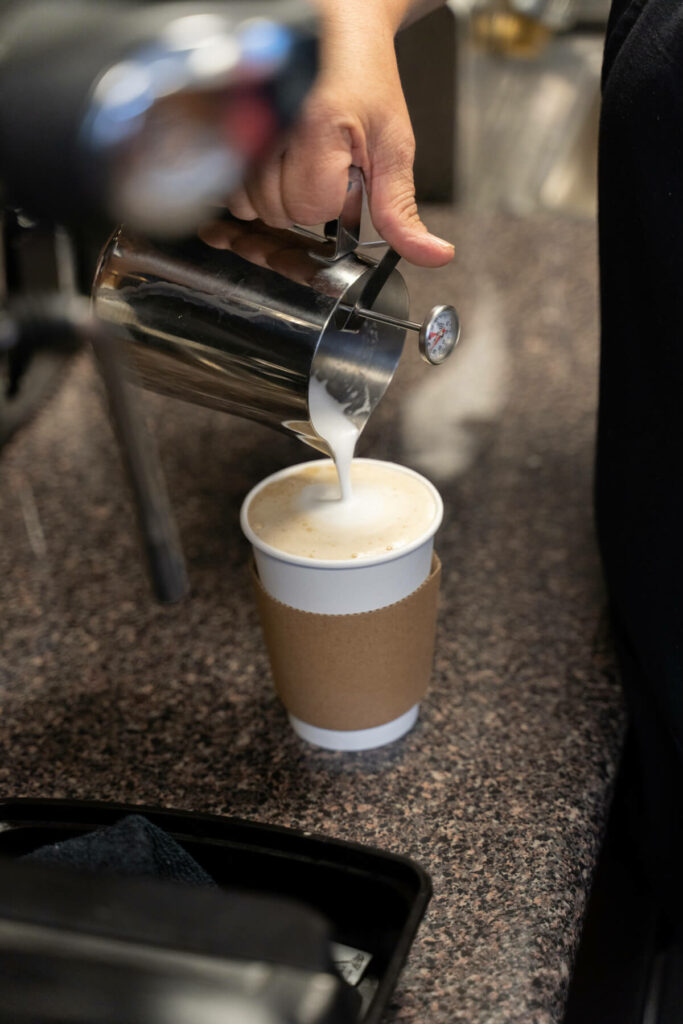 "Wandered into this place," one customer said on an online Google review. "It was such a nice surprise. The decor is cozy and warm. Clean and inviting. The counter attendant was pleasant and helpful. I enjoyed the drink that I ordered. I highly recommend this place for breakfast or a coffee. You'll be glad you went."
"Staff was super nice," another customer said online. "Espresso was amazing. I ordered a chicken salad sandwich, and it was the best I've ever had. They even have Italian sodas for my littles. We will be back."
Archer, the owner of the praised espresso bar and cafe, came a long way to make this place a reality. After all, the business started as a mobile espresso bar in Houston.
Born and raised in Fayetteville, she began her career working at Domino's Pizza, Inc. after college, and before returning to school to obtain her master's degree in education. She then served as an instructional designer for several global companies and community colleges.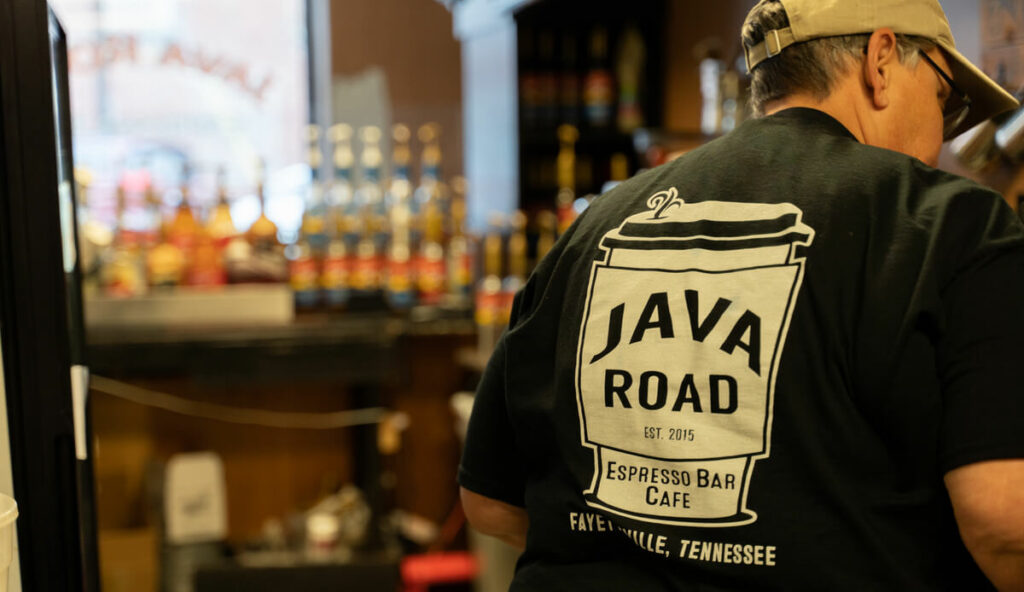 "And then I decided that I wanted to do my own thing," Archer said. "So that's when we opened the mobile espresso bar in Houston. The espresso bar truck was started in 2015. And then Java Road, our brickand- mortar, started in 2017 when I moved back to Fayetteville."
When she first arrived in Fayetteville, Archer had a full-time job and operated her mobile espresso bar part time until she discovered a location just on the East side of the city square.
"And I decided, 'Wouldn't it be wonderful to have an espresso bar that had heating, air conditioning, and a bathroom?'" Archer recalled. "Because the truck had air conditioning, but it didn't have heat, and it didn't have a bathroom. That was two major selling points right there."
As far as Archer knew, Fayetteville did not possess a coffee shop or an espresso bar at the time, so she felt there was a need. Thus, Java Road Espresso Bar & Cafe was born. A heart attack five days before opening tried to prevent her from proceeding, but she persevered and celebrated the cafe's fifth-year anniversary on July 5.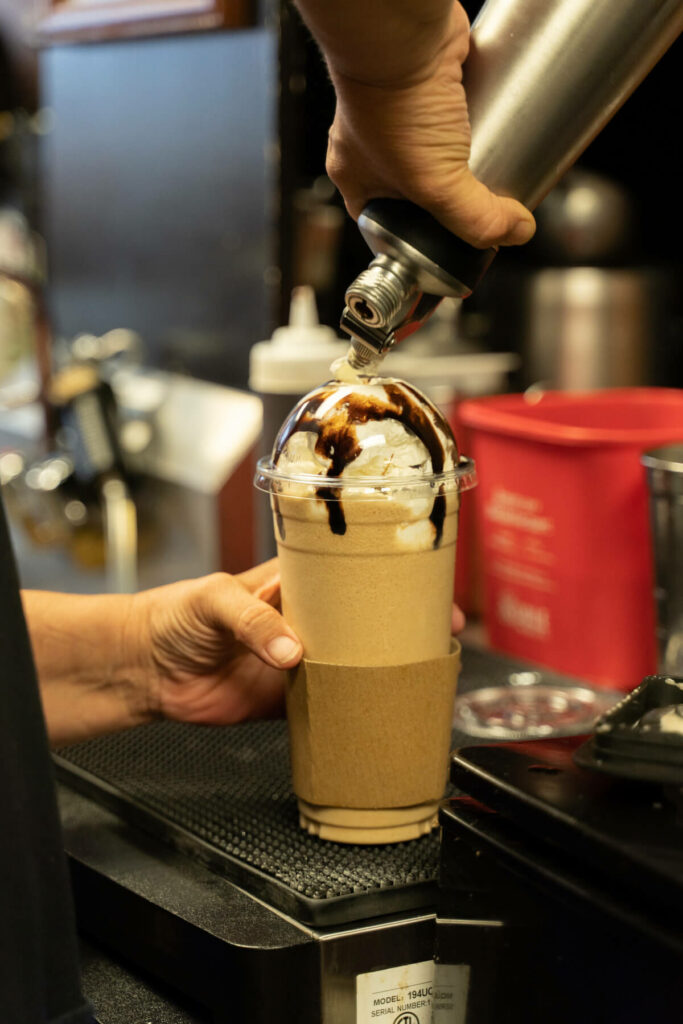 Although Archer is the owner and primary employee of Java Road, she has a hard time saying "I" when referring to her business. She had a mother — Linda Sharp Neely — who encouraged her, nephews who lifted heavy items, and friends who assisted her when the business began. Archer gives credit to her Java Road team and special thanks Katelynn, who has been with her for three years. Archer said their effort and skills made Java Road what it is today. They helped build a brand that is centered around great customer service and excellent products, which plays a role in lessons that she has learned in life.
"I've learned quite a few," Archer said. "But I guess the main thing that sticks out is when you do the best that you can, you do it honestly and openly, and you care about the people you deal with every day — customers, coworkers, whoever — and your goal is to truly help them have a better day, to help them in a positive way on their life's journey."
Java Road is open Monday-Friday from 6:30 a.m. to 3:30 p.m. and Saturday from 8 a.m. to 3 p.m. Archer welcomes everyone to visit and see what this restaurant is all about. GN