WHILE THE years have flown by too quickly, and Amanda Shelton has begged for time to pause and let her catch her breath, she's never stopped being in awe of her daughters, Alyvia and Alyssa Smith. At one year and six months apart, Shelton lost count of how often complete strangers stopped her to ask if the girls were twins. At 5, she enrolled Alyvia in T-ball, and every other year, Alyvia and Alyssa would be on the same team depending on Alyssa's birthdate. By age 8, the "dynamic duo," as the sisters are now called, began playing on the same team. Even though Alyssa was the youngest player, she easily kept up.
Today, the girls are a force to be reckoned with at Shelbyville Central High School (SCHS), which has led to their success on and off the softball field. "These two have been the best kids growing up, from their academic achievements to their amazing softball careers. I only wish the best for these two," said Shelton. "I pray they always keep their faith in God. He's got a big plan for my babies, and I'm so happy and proud to call them both mine!"
Shelton said they enjoy a bond while playing on the same team. "It's kept them close throughout the years and through high school. They couldn't be any closer. I love to see them shine on the field together. They are a team within themselves. I think they know when the other is off her game. They feel the vibe because they are so close. They know how to communicate with each other when nobody else does. Going through all the sweat, the injuries, the wins, and the losses together has brought them even closer."
Coach Whitaker from SCHS described them as "different flowers from the same garden." Whitaker said he nicknamed the girls "Smith" and "Two," which he says lovingly evokes a side-eyed smile from Alyssa. He describes the girls as some of the most down-to-earth and says they are special sisters. He predicts a bright future for them both and reminds them frequently that it starts with the small things, which in the scheme of things, become the big things. "I'm so glad I coached them both at the same time. With them, it was more than coaching. It was more like seeing two kids grow into wonderful and strong young ladies on and off the field. These two can be upset with each other and not talk for a moment, but later I can look up to see them smiling."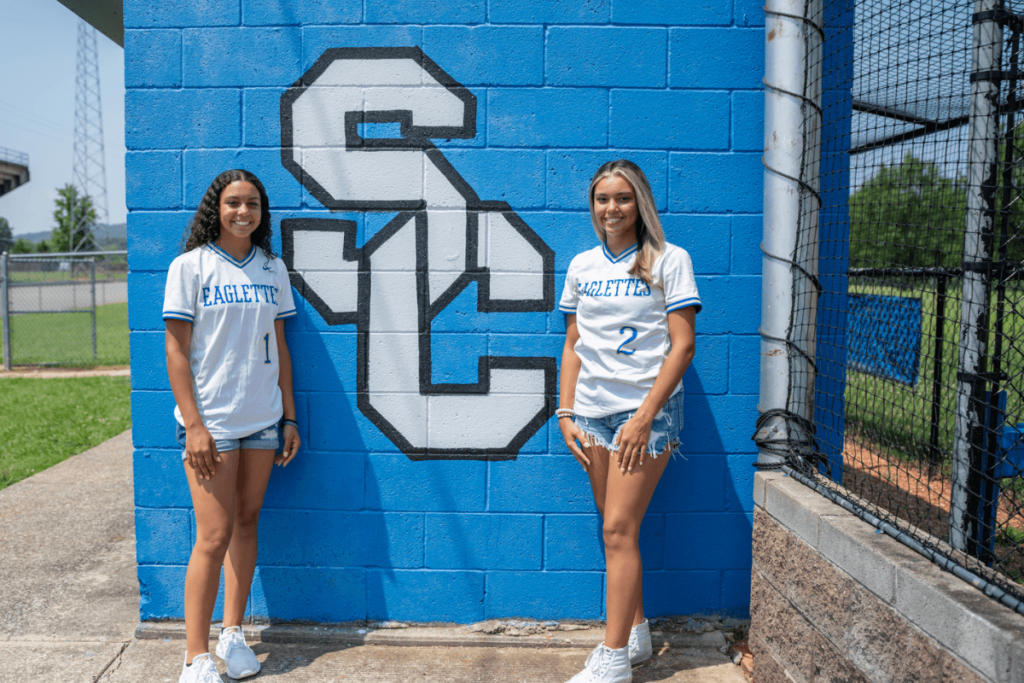 The girls are also playing for the Tennessee Illusions and Motlow, but in the past have played for Harris Middle School, the Dirt Divas, Hawks, 2:3, Flamethrowers, Twisters, Fury Platinum, and the Shelbyville Chompers. Alyssa and Alyvia have both earned the title of MVP, and Alyvia was chosen as the Offensive Player of the Year and won All-District. When asked what motivates the girls to work hard on the softball field, Alyssa answered that she wants to make her family proud, and Alyvia gives her best because she doesn't want to fail.
"Playing sports definitely keeps you on track school-wise and with other things," said Alyvia. "Play every game like it's your last and don't care about what others say. Alyssa and I are around each other literally everywhere we go, which has made us grow really close. We are best friends."
Alyssa said, "Always try your hardest and give it all you've got. You only live once. So do what you love. Don't be afraid to take risks, and don't listen to what people think of you. My biggest dream is to be successful in life, and I will work hard to get there. I always pushed myself to be on my sister's level. Having Alyvia as my sister means I've always had someone to make memories with. We always help each other."
After graduation in May 2025, Alyssa wants to coach younger children and plans to attend college, but she is undecided about where she will go. Alyvia plans to play softball for Motlow State Community College and wants to earn an associate degree before transferring to Middle Tennessee State University. "You win some, you lose some," quotes Alyvia. "It ain't always home runs, and that's just the way life plays."
I'm sure these softball sisters have faced defeat over the years, but these two will definitely hit it out of the ballpark for future success. GN