ONE LOOK at bewildered faces in the grocery store as we shop reflects the struggle to afford groceries and life's necessities. The roller coaster of unprecedented events of the past few years derailed more families than ever before. Sometimes we'd like to help, but the sheer number of needs paralyzes us. Our own bewildered budgets smother our desire to give.
However, one Shelbyville family sees the needs and actively pursues meeting them, undeterred by the volume.
Tyrell Johnson's grandmother, Mamie Johnson, through Johnson Residential Group, partnered with Frieda Lusk in 2007 and applied to participate in the United States Department of Agriculture's Summer Food Service Program. The program offers healthy meals and snacks to school-age children and teens during the summer to ensure they don't go hungry when school is not in session. The program, now in its 15th year, is presently operated in partnership with the Center for Family Development.
In addition to the meals, their annual Back to School Bash and Backpack Giveaway on the last Friday before school starts each year offers free backpacks filled with essential school supplies, giving students a fun and practical way to kick off the new school year. The giveaway now includes bicycles, and local first responder departments teach children about safety.
The Johnson family boosts donations to the backpack program through its annual Friends and Family Day at Shelbyville's Never Rest Park.
Tyrell said, "Our Friends and Family Day is the first weekend in August. We had about 2,000 people this year. The event began with free food for the community, backpack giveaways, face painting, and bounce houses. We partnered with Billy Brown, who came up with the idea. Tyson donates the chicken and the grill, and the community basically feeds itself by everybody bringing a dish. Although we've held the event at Never Rest Park in past years, we've grown so much that we'll need to move to a larger location next year, possibly H.V. Griffin Park."
Backpacks filled with school supplies are given away on Friends and Family Day, and any remaining backpacks are added to those given away at the Summer Bash.
The Johnson family loves on the community by feeding it.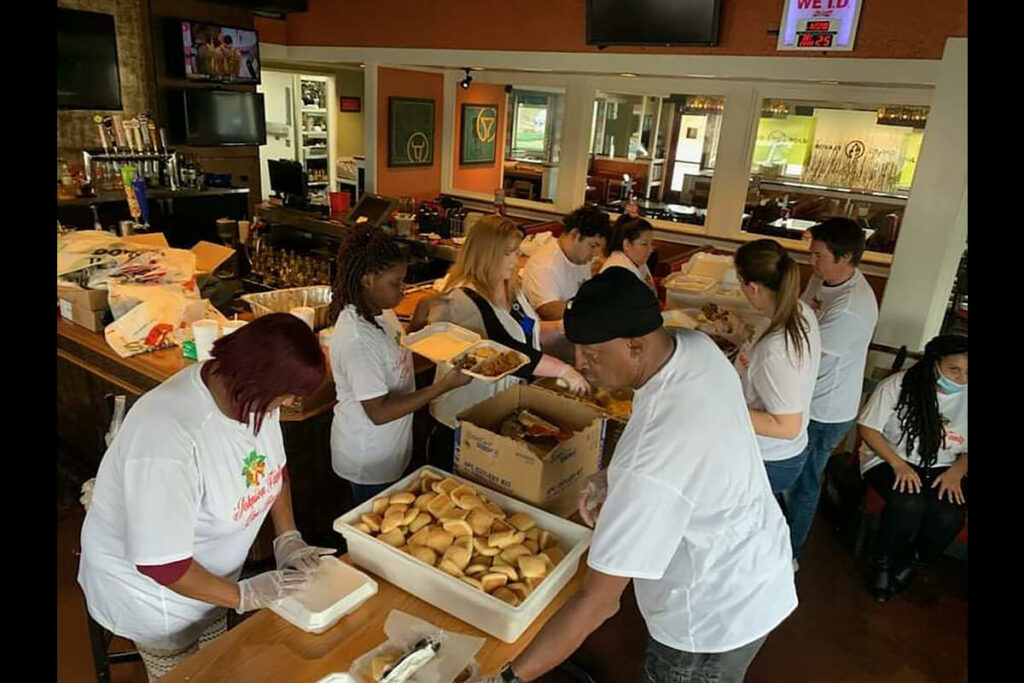 Dinner on Christmas Day has become an annual Johnson family tradition. Tyrell, who works for a Nashville- area Chili's, coordinates the dinner and is assisted by his family, including his parents, Tyrone and Karen Johnson, and his sister, Ashley Johnson. Orders are taken ahead of time for the meals and delivered by volunteers on Christmas Day.
"I started it out of pocket because I wanted to set up a system before we jumped into donations, but this year we'll definitely need donations. This is our fourth year. We fed about 500 families last year, including the fire, police, and first responders," Tyrell said.
"I prepare most of the food. It's precooked, so we're able to package it the night before. It takes about three hours on Christmas morning to get everything ready, and everybody's in there hustling. I use some managers from other Chili's [restaurants], and some of the Jaycees helped us the first year. Most of my family helps, and we set up teams to box up the food for deliveries.
"We take our sign-up sheet to the Community Soup Kitchen. From there, we can start getting a count for delivery and pick-up. We have people to deliver the meals all over the county," Tyrell explained. They also share the sign-up sheet online and in areas that have been supported in the past.
"Everybody needs help at some point and time in their life. We call these events 'no judgment zones' because everyone is welcome, and we want them to feel comfortable," Tyrell said.
Although some area churches assist with the dinner or Friends and Family Day, the events are not affiliated with a particular church or denomination. They are works of heart from the Johnsons, their friends, and supporters of their community.
For Christmas dinner, they always need drivers and volunteers to help serve.
Tyrell said, "We'll need more hands on deck this year. It's gotten bigger each year by 200 to 300 people. I'm also working to obtain nonprofit status, so tax-free donations can be made."
The next time you feel helpless while looking into your neighbors' faces, would you consider volunteering for events that multiply the number of lives touched? When we come together to share our time and resources, no matter how small, we are all blessed. GN