IT'S THE flavor of hospitality — a meal you hate to end because the food transcends words and fellowship found more in family gatherings than with new friends. A meal catered by Kadillac Que is not just meat and side dishes; it's an invitation to Santa Maria-style barbecue.
Makani ("wind" in Hawaiian) Sarellano is happy to describe his barbecue to you, but he's even more delighted to show you.
"It's a very different taste, and it really surprises people. You have to taste it for yourself," he said.
Before the first bite, the conversation around the open-fire barbecue pit pushes the day's worries to the far recesses of your mind. Sarellano is happy to share the history of the Coastal Way and the little things that make this style unique.
"We do it over an open fire. Nothing is smoked, and everything is cooked in front of you on our barbecue pit. All our sides are made fresh on site," Sarellano said. "That's how it was done back home."
Back home in Santa Maria is where the third-generation pitmaster and his family closed the gates and spent hours laughing and dancing under a canopy of coastal oak and sycamore trees. As the meat dripped onto oak slabs, the seasonings melded into the rising smoke, carrying the promise of a dinner that complements, not competes with, the gathering's mood.
He said, "I remember loving going to family barbecues because, for that moment, nothing else mattered. It was like it was the only place in the world. You didn't even know another world existed outside those gates."
And it's that atmosphere Kadillac Que brings to its catering.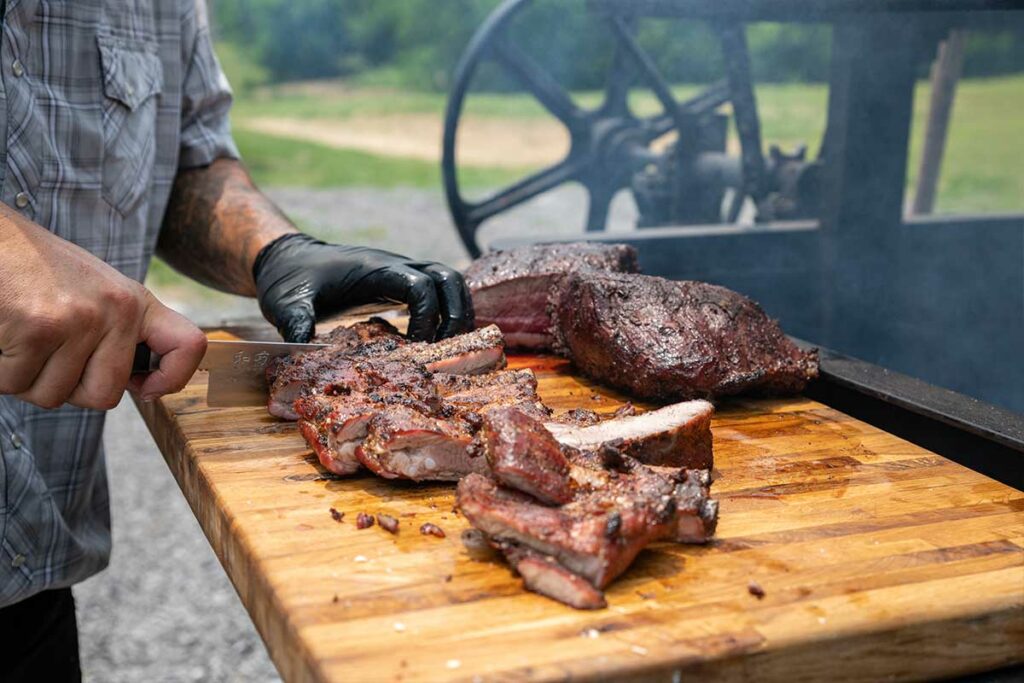 "When we come to your event, we'll pull up, start the fire, and put the food on the grill. The barbecue pit is a very high talking point. The grill goes up, and it goes down, so that controls our heat. Where a smoker is closed in, it takes hours. You go low and slow," he said. "We can go higher heat, so we can cook a lot of things a lot faster. Where it takes someone 10 to 12 hours to do a chicken, I can completely cook a chicken in an hour and 25 minutes."
Kadillac Que has a menu perfect for your next event. Meat choices include top sirloin, beef ribs, pork ribs, tri-tips, and chicken. If it can be barbecued, it's an option. Sides are also prepared over the open fire and paired with a salad and garlic bread. And there's a Hawaiian menu that highlights Sarellano's island heritage.
Food this good is usually center stage, but Sarellano's cuisine is more like another guest at the party.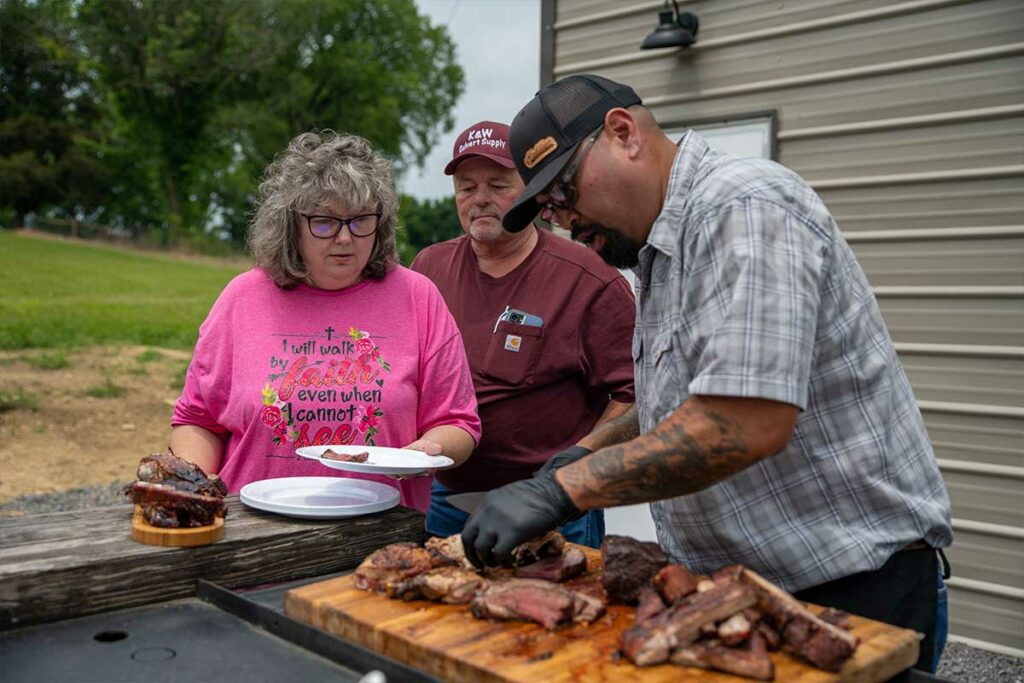 He said, "I like to tell people we bring something a little different to the South. It's a very unique way of cooking that I think more and more people are going to really enjoy. It was very important to me to bring that style of cooking to the South," said Sarellano. "Wherever I was growing up — at a wedding, a party, or wherever — it was always family. Everything was going on around the barbecue pit. That's what we want to bring to the South. When we're cooking at your event, we want you to come up and ask questions about it. We want you to share stories about your family, and we'll share stories about the history of the food, how and what we learned, and how we pass it down from generation to generation because I think that's being lost right now. We want to bring that talking centerpiece."
Kadillac Que took The People's Choice Award at the 2022 Shining Light Barbecue Competition, a Southern welcome for the Santa Maria flavor. It reflects Sarellano's hospitality as he invites everyone to come around and interact through the barbecue, offering bite-sized samples that tease your tastebuds before the dinner bell rings. It's more than a meal.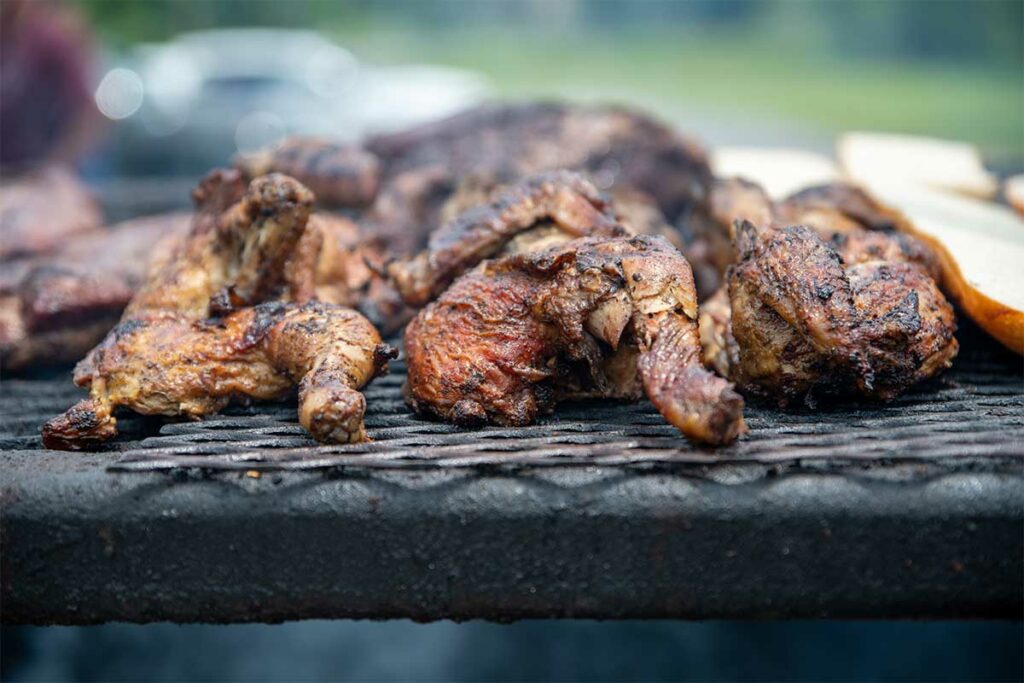 He said, "We want them to feel that they're not just a paying customer to us. We want them to feel like family stepping into our home — our lifestyle. That's what we want."
He said his wife, Crystal, is central to everything he does. The Sarellanos partner with Joe and Mary Andrade of California, who often assist with more significant events. A concrete manager by day, Makani is happy to put in the work to bring his barbecue style to you and your event.
"My wife and I are very strong together. We divide and conquer if we need to. She's my backbone and takes care of a lot when I'm gone to caterings. It's a lot to handle, but it's all worth it to me," he said. "It's just something good that I think the world needs. When you're eating my food, if you can sit around and forget all the nonsense that's going on for that moment, that makes me happy," he said.
Like a happy breeze whispering gently through the air, Kadillac Que will be a welcomed guest at your next event. GN