Like our lives, stories travel. Walk with Kyle Thomas on the worn path of a writer, but don't dilly dally around, or he'll run off and leave you.

Envision the classic scene of a writer at an old typewriter, a wastebasket nearby filled with crumpled pages, as he taps out the words coming faster than he can transcribe. Now replace the typewriter with a legal pad and pen, and you're getting closer.
The first step toward the destination began with a 4-year-old who had a love for his father's "Phantom of the Opera soundtrack."
"I didn't understand it, obviously, but he loved it. And I loved it because he loved it, and as a little boy, he was my hero. He's not really a theater guy, but it set me off on this course," Thomas said.
The course Thomas speaks of began with the soundtrack and has taken the Shelbyville native and his words all the way to New York City's Greenwich Village. But first, the in-betweens.
An eighth grade English assignment for a 2-3 page Halloween story turned into 21 pages written with his longtime friend, Adam Bryant.
As a Middle Tennessee State University journalism major, a slight obsession with Watergate and Camelot prompted Thomas to write "The First Debate." After learning to format and write a screenplay simultaneously, he completed his first official writing in 15 months. Hollywood informed him, though, it wasn't their first on the debate.
Thomas said, "It wasn't a great story. It was compelling, but there was really no drama there. That was a learning experience. With every subsequent script I've written, I've learned something new; I've tried something new. And with that one, it was finding the problem. And once I started, I realized I had more stories to tell."
His next screenplay was a version of "Portrait of a Young Man." There were characters and places he loved within it, but it was easy to see it didn't move fast enough for the screen. It was shelved for seven years, but it was anything but quiet.
"I just kept thinking there's got to be another way to tell the story, so I started writing for the stage. Theater is my first love, so I thought about a monologue from the perspective of the father. As I did, options opened up for a conversation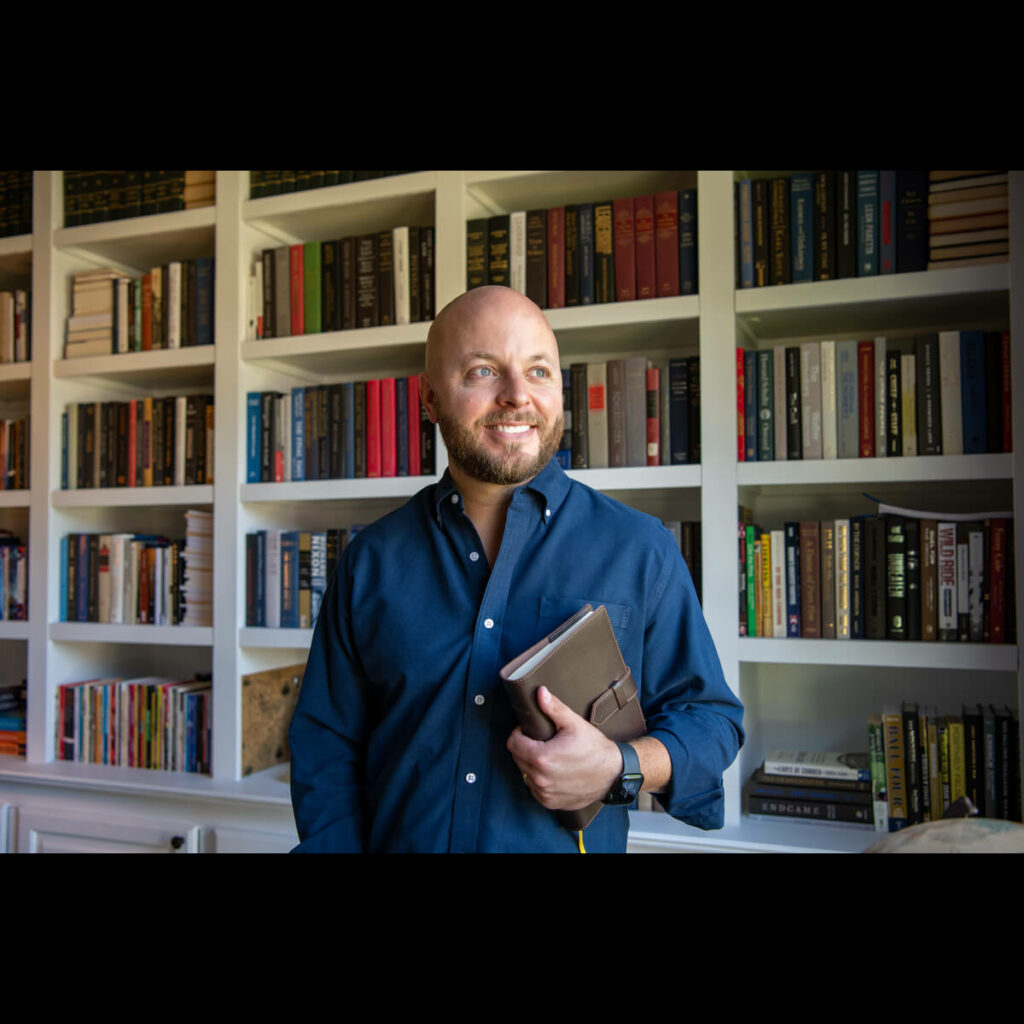 between the actor and the audience. So the opening sequence gets you to lean forward literally, figuratively, and metaphorically," Thomas explained.
Enter stage left, Adam Bryant. Thomas' classmate and his family had lived in New York for 16 years and were coming home, and Thomas made plans to help drive the U-Haul. As Thomas
searched for opportunities to submit "Portrait," he discovered a New York festival that was set to begin the day before the scheduled move.
Thomas said, "I don't have any grand designs to act; playwright is the hat I want to wear. But this
festival required it to be self-produced, so you had to do all the casting, directing, costuming, and props. I felt I could do it. Within 10 days of submitting it, I heard back. I was going to be a part of the Rogue Theater Festival in New York City."
"Being in New York City is rather intoxicating to me, so in the buildup to going to New York, I still couldn't wrap my head around the fact that words I wrote were going to be spoken aloud in that city. The festival was held at The Players Theatre in Greenwich Village. A strong contingent of family and friends made the trip, some of which were a surprise. The night still feels like a blur. I know I got all the words out, but it still feels like a surreal experience, but it was something I'll never forget."
Thomas continues to balance writing with his full-time job at Marellis' and time with his wife, Collette, and children Jacob, Anna Grace, and Jeremiah, but the New York win is opening new doors for him.
"I've had other theaters express interest in it, primarily because it was performed in New York. It's opened doors for some of my other work to get read. I'm in talks with the theater company to perform another one of my plays that I don't think they'd have known about if it wasn't for [the "Portrait"] performance in New York."
Most recently, he performed "Portrait" at The Walnut Housein Murfreesboro.
Like ours, Thomas' life story and scripts weave in and out of the familiar and unexplored territory.
"Our story is never over. It's never too late to change the ending. What can we all do to pivot our own stories?" asks Thomas. GN