OPEN THE door of the Habitat Thrift Store just off Shelbyville's square and expect to leave with a lighter heart and a smile on your face. Drop whatever is wearing on you outside their door; it'll be gone when you come out. You may or may not make a purchase, but you'll leave with a priceless treasure every time. Shontelli (pronounced Shawn-tell) Allen will make sure of it.
A torn rotator cuff took Allen from her job at a Shelbyville manufacturing company. She was placed with the local Habitat store to provide lighter work while she recovered. Allen had never heard of Habitat.
"That's when I met Pam. I called just to figure out where it was. And just talking to her was like… I think I'm gonna like her. So we met up the next day, and I thought, 'Okay, I love her.' As time kept going, I thought she was crazy because she kept saying, 'I appreciate you. Thank you for your hard work.' I never had that before. Working in a factory for 27 years, I never had that. I don't know where Pam came from, but I love her. And I love that person that I am now. I didn't back in the day, but I do now."
Pam Birtcel, director of Bedford Builds Habitat For Humanity, saw more in Allen than what was on the surface. She saw more than Allen saw in herself.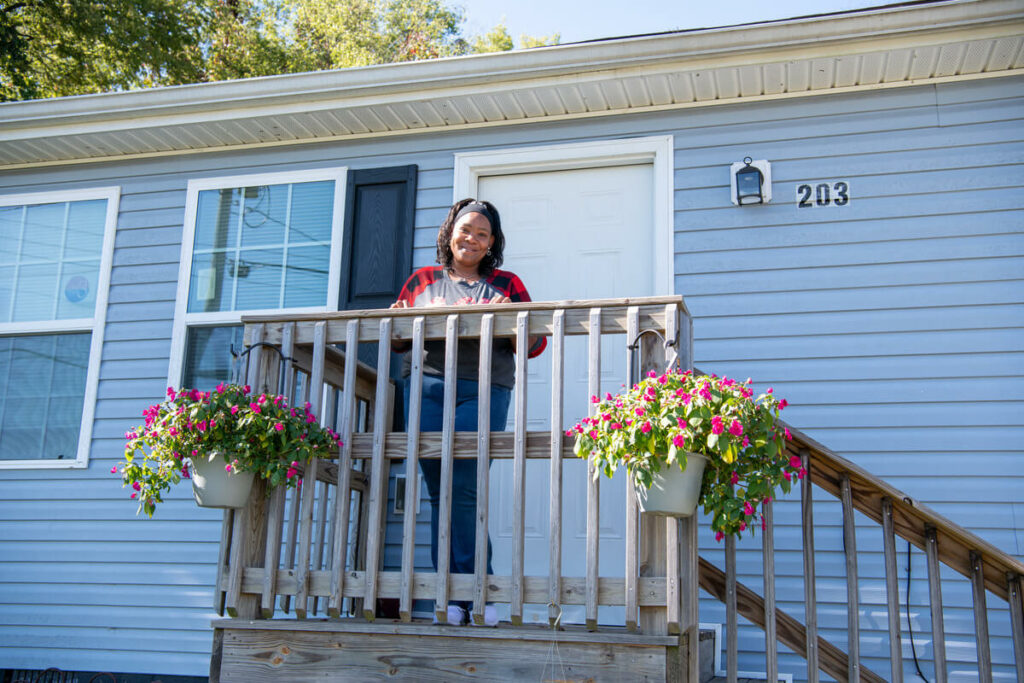 Birtcel said, "After moving to the bigger store location, I was struggling to do my job and run the store. So I remember one day talking to Jesus on my way to work, saying, 'You told me to jump and move the store, and I jumped'. Now I need help, but I don't have any money for it. Two days later, a company called that represented workers' comp patients and needed low-impact volunteer work. I needed someone to do customer service and cashier [work]. Full-time free labor – I say Jesus sent her to me, so I gave her some Jesus love. After her volunteer work ended, she was hired and is now the store manager and does a great job."
Allen said, "I'm not a squeaky-clean person, but I've changed a lot. Pam taught me that you're gonna have bad days, but it's okay. Somebody still cares, and somebody still loves you. At first, I thought it was just me against the world. But when I met Pam – it gives me chills to this day – somebody actually cared, loved me, and saw the good in me. I'm so thankful for her taking that time with me. She took a chance on me."
Allen frequently moved throughout her childhood but longed to have one place to call home and moved to Shelbyville when she was 12 to live with her grandparents. Although she'd finally stopped moving, her life was restless and unsettled. The mother of three worked hard to provide for her children and never gave up, but something was missing.
Birtcel didn't just give Allen a new outlook and job; she helped her become a homeowner. Through the Habitat for Humanity program, Allen put in the sweat equity and financial training and moved her family from a one-bedroom apartment to a brand-new home.
What Birtcel stirred in Allen overflows. It's as if she's so full that she'll burst if she doesn't share or pass on the good inside her. Each person that walks through her door is important to her. She knows it's her calling to really see them, listen to them, and give them a hug if they need it. Whether it's the store's customers and employees or those that come to fulfill community service, they are all on her radar.
"If you come in here, I'm giving you love. I want you to leave and give love. That's what we need. That's the only thing I want people to get from me, and I want them to give it away." GN