Did you know that right in our backyard is one of the most biologically diverse rivers in North America? Over 50 species of freshwater mussels, and 151 fish species reside in this precious water source that also provides drinking water to over 300,000 residents, according to the website, tn.gov.
The Duck River is the longest river in the state, flowing 284 miles from east to west across Middle Tennessee, and the only river in the state that is fully contained. Locals, and visitors from across the world come to immerse themselves in its diversity with swimming, fishing, kayaking, and more. Unfortunately, as treasured as the river is to many, it is also used as a dumping ground for old tires, boats, trash, and more. This pollution puts a heavy strain on the river's ecosystem and its future.
There are, however, those out there who have been working diligently for over 20 years to combat the man-made pollution on the Duck River. The annual Duck River Clean-Up has been taking place since 2000, with the hope of not only cleaning up the river but to spread awareness about the importance of this essential and treasured natural resource.
According to Doug Murphy, executive director of the Duck River Agency, the clean-up all started with a dedicated Sunday school group.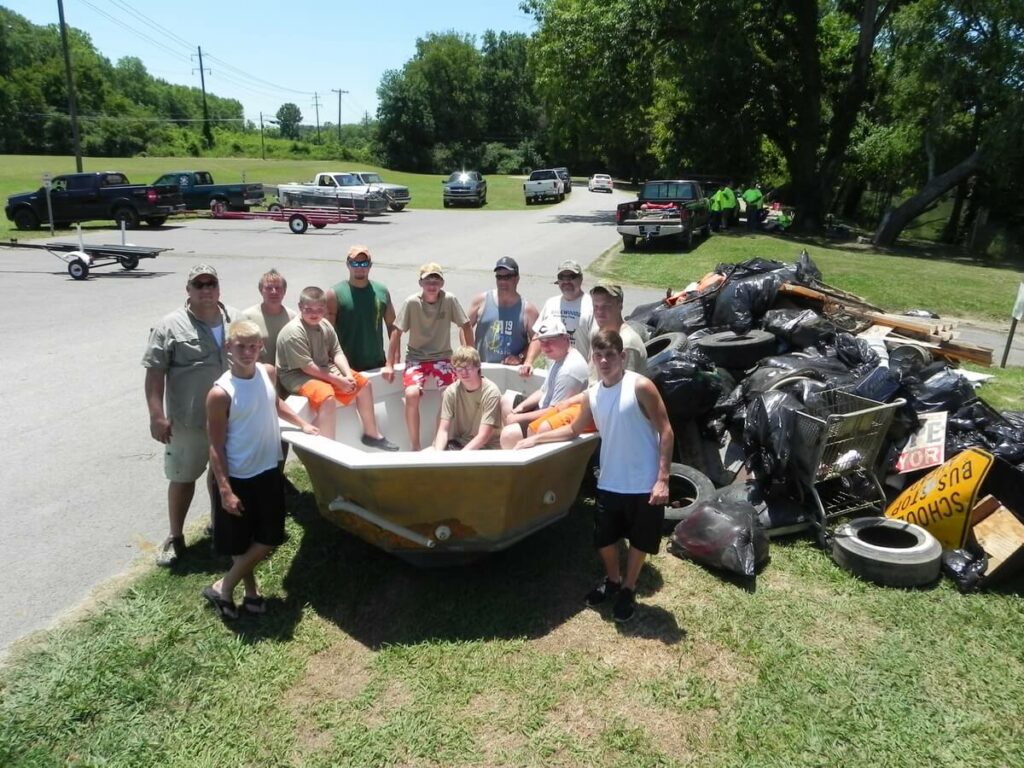 "It started with a Sunday school group at the Presbyterian Church, led by Wayne Bomar," explained Murphy. "He was teaching a lesson about Christians' responsibility as good stewards of our natural resources. In 1997, he took the group out to pick up litter at Fisherman's Park. They did that for a few years."
In 1999, Bomar and Murphy met and struck up a friendship. That friendship would lead them to work together to formally organize what would become known as the Duck River Clean-Up. `
"We met at a fly-fishing club," said Murphy. "I was conducting large litter clean-ups all over the Tennessee Valley. Wayne asked me for help in cleaning up the river. I advised him to get the community involved." They would recruit several local organizations that included Keep Bedford County Beautiful (KBCB) and the Shelbyville Chamber of Commerce. Murphy gives credit to Helen Garner, with KBCB, who was instrumental in laying the groundwork for sponsorships for the clean-up.
The event would kick off officially in 2000, with a momentum that would continue to grow over the next 20 years.
"We had anywhere from 200 to 400 volunteers along with a very impressive list of sponsors who participated in one way or another, from supplying food, equipment, and more," said Murphy.
In 2010, they reached out to neighboring counties that were located along the Duck River.
"We started reaching out to other counties on the Duck River. We invited county executives and mayors to help with the clean-up and coordinated a joint clean-up date," said Murphy.
Typically held on the fourth Saturday in June, Murphy stated that prior to the pandemic in 2020, the clean-up had anywhere from five to six hundred volunteers participating.
"It made a huge impact," he explained. "It was unbelievable what was being cleaned up and hauled out of the Duck River. We started to see our pounds and tonnage [of trash] go down. It was having a positive effect."
Unfortunately, COVID did slow the momentum of the clean-up. However, with the determination and diligence of local agencies such as the Duck River Agency and the Duck River Watershed Education Committee, a comeback is on the rise.
"[The] Duck River Watershed Education Committee [is] looking to take on the organizing," explained Dawn Hobbs, with the Duck River Watershed Education Committee. "We'll take a role in taking the responsibility in getting it going again. Wayne's vision was to really have an organization that would make sure to continue it forward with those local partnerships. We're seeing the momentum dwindle and just trying to get back up and going."
While the annual clean-up was postponed, a make-up date has been set for Saturday, Sept. 17. Those interested in volunteering are asked to follow the Duck River Clean-Up Facebook page for the most up-to-date details. Cleaning supplies, food, and water will be provided at the event. Prizes and recognition for most trash collected will also be awarded during the event.
"The Community Middle School football team has been one of the biggest contributors to clean-up. We find it beneficial for those groups to participate in the day and find out why this is important," said Hobbs.
Murphy added that without the hard work of its founders and volunteers, this event wouldn't be possible.
"This whole thing would not be possible without the help from the local community. So much credit should go to Wayne Bomar and Helen Garner. Those were the folks that pulled it together. This is a very important river that runs through our backyard that a lot of folks take for granted and don't think about how important this resource is." GN