IMAGINE A life with no hope for your child – no hope for education, to learn to read or write; no hope for growing into their dreams; no hope for what we would call a normal life. Imagine that society believed your child's future work could only be cleaning toilets and sewers because of their last name. Imagine your child's death is the best you or anyone else could hope for them. Let that sink in for just a second. You've just scratched the surface of India's caste system, a system steeped in karma and reincarnation. Look closely into the dark eyes of a precious little person born in the poorest villages of Nepal. These are the children that have captured Bryan Nerren's heart.
Nerren shares what an Indian resident told him, "We believe in the caste system. Poor kids are supposed to stay poor until they die. The sooner they die, the better. We don't want anyone helping our kids because it's false religious hope. Hinduism believes you've got to be born into poverty. You've got to live that life, and then you reincarnate, and reincarnate, and reincarnate until finally, you get to where I am. So the best thing you could give our poor children is to stop giving them false hope that they can learn to read and write and have a real life."
Nerren's passion for offering hope to the children of Nepal is a story filled with supernatural, spirit-led encounters. His introduction to Nepal missions began with an invitation from Glenn Sheppard during a Shelbyville revival, after which he heard God's audible confirmation of the call to go. God and the people of Nepal captured his heart during his first trip with Sheppard in October 2002. More captivity would follow.
Nerren and his team worked nearly 20 years to place these children in schools. He said, "There are empty public schools in Hindu and Christian villages, but no kids in the schools. These schools, built by Edmund Hillary, all over Nepal are empty because children can only attend if they can afford their uniforms, shoes, and books. For $20, I could buy one kid's uniform and books for a school year. We'd go into some of the poorest villages in the mountains, away from the main government, and put 300 to 400 kids in school in one year. We'd fill the school full, and then we'd go to another village and another part of the country, several villages a year."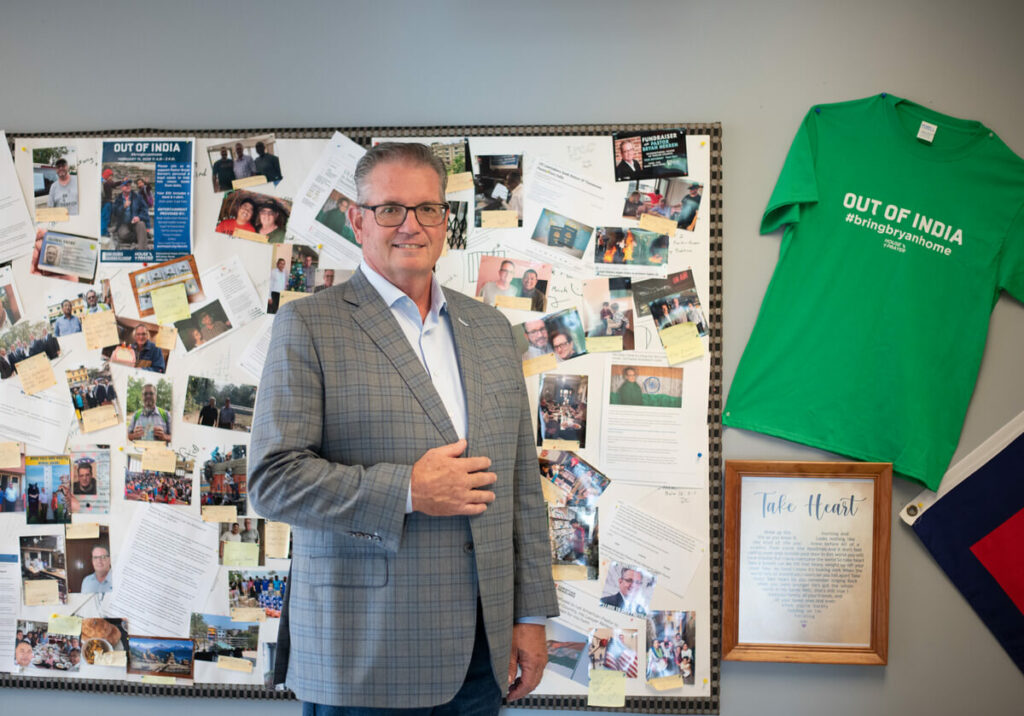 He continued, "The more I went and saw what our staff was doing there, the more I was committed, the more I fell in love with it, and the more I was willing to risk my life there. I've nearly died there many times. In the beginning it just drove my wife, Rhonda, nuts. By the time I got arrested she was comfortable with it," Nerren said.
Nerren and his organization, Asian Children's Education Fellowship, also trains teachers. "We do Sunday school teacher training. We train the young adults in every denomination of every type of church in Nepal. This training includes teaching kids to read and write because not all of them can even make it to public schools."
Nerren tirelessly raised money and contributed from his personal finances to send the children to school, fund the training programs, and finance the overall ministry to the Nepali people. It was not uncommon or illegal for Nerren to carry large sums of cash into other countries, provided he declared the funds in each country and paid any taxes due, which he always had. And Nerren had experienced no problems doing so until October 5, 2019.
On that trip, after being questioned about the cash they were carrying and released at New Delhi airport, Nerren and his friends, Drew Hayes and Jim Gore, were detained at Bagdogra airport and asked about it again. They were always asked, "Are you a Christian? Will you meet with Christians in India? Will any Christians in India receive any of this money?" Nerren and his friends always answered the same (yes, yes, and yes). Bagdogra officials claimed they failed to complete the necessary paperwork in New Delhi, although no paperwork had been presented or requested at that time. After being detained for more than eight hours, officials charged Nerren and released his friends. Officials detained all $40,000 of the mission funds and never returned them.
More than seven months of volleying between the courts and legal officials of India followed. Imprisoned for six days and required to stay in Siliguri the remainder of the time, the officials refused to release his passport. For seven months and 17 days, life was in limbo for the Nerren family. Newsweek's story chronicles the impossible legal processes that held Nerren more than 8,500 miles from his family.1 Life without him and the uncertainty of his return weighed heavily on them all.
Thankfully he was released, as detailed in the Newsweek story. And still, this is a family committed to the children and people of Nepal.
Nerren said, "I've spent 20 years going twice a year to help the most underprivileged children have an opportunity to get out of their dead-end lives. I wasn't unaware of its risk. I wasn't unaware of the hardship I placed on my family. I knew it was what God asked me to do, to be a living sacrifice, to quit owning the things of the world and give myself away to other human beings. It started with my family. My priorities aren't complicated. It's God first, my family, our church, the church, Nepal, India, and then the rest. I've always asked, 'Is it good for God? Is it good for my family?' I want my three grandsons to know I came from an impossible place and lived life to help other people. I want them to grow up compassionate and caring about other people." GN