AN OLD ledger-turned-scrapbook testifies to the tenacious and adventurous spirit of a woman ahead of her time. Glued to the aged pages is a series of encouraging quotes, more roadmap than sentiment for the one that cut and pasted keepsakes from her travels. While many of us dream of all we'll do "one day," Laura Trescott Ledbetter charged head-on into life. 
"Remember, nothing can put you down but yourself, and nothing can keep you there but yourself."
Ledbetter was not one to be put down or slowed down. Her grandparents raised her after her mother, who was married to a Native American man, died 11 days after giving birth to her. Her grandfather died when she was 12, and her grandmother died two years later. Only two and a half months after her grandmother's death, her father was killed by Indians in Arizona. By her 15th birthday, Ledbetter was without immediate family. 
She obtained her early education in Bedford County's schools, then attended a preparatory college in Cincinnati, Ohio. Education became one of Ledbetter's champion causes. In Laura Ledbetter Ingram's book, "My Grandmother," Ingram recalls her grandmother's desire for her children and grandchildren to be cultured, seeing they received music and elocution lessons. 
"Grandmother had a business college in her home. Because of her interest in education, my mother and father met and married," wrote Ingram. Her mother taught shorthand and typing at the school and met Ledbetter's son, John Trescott Ledbetter, who lived in Texas at the time when he visited his mother in Shelbyville.
Ingram recalled her grandmother getting her started in stamp collecting and gifting her a ten-volume set of Journeys Through Bookland, which is still among Ingram's most treasured possessions. Ledbetter was always actively investing in her grandchildren's lives,
"There is a sure path to success, and it is up to you to find it."
A path to success for a woman twice widowed by the time she was 47 would seem like a winding, mountainous road. With two sons born from each marriage, Ledbetter wasn't one to wring her hands and woe-is-me wallow. In addition to her school of business, Ledbetter owned numerous rental properties, an investment for her financial security and an investment in the lives of her tenants.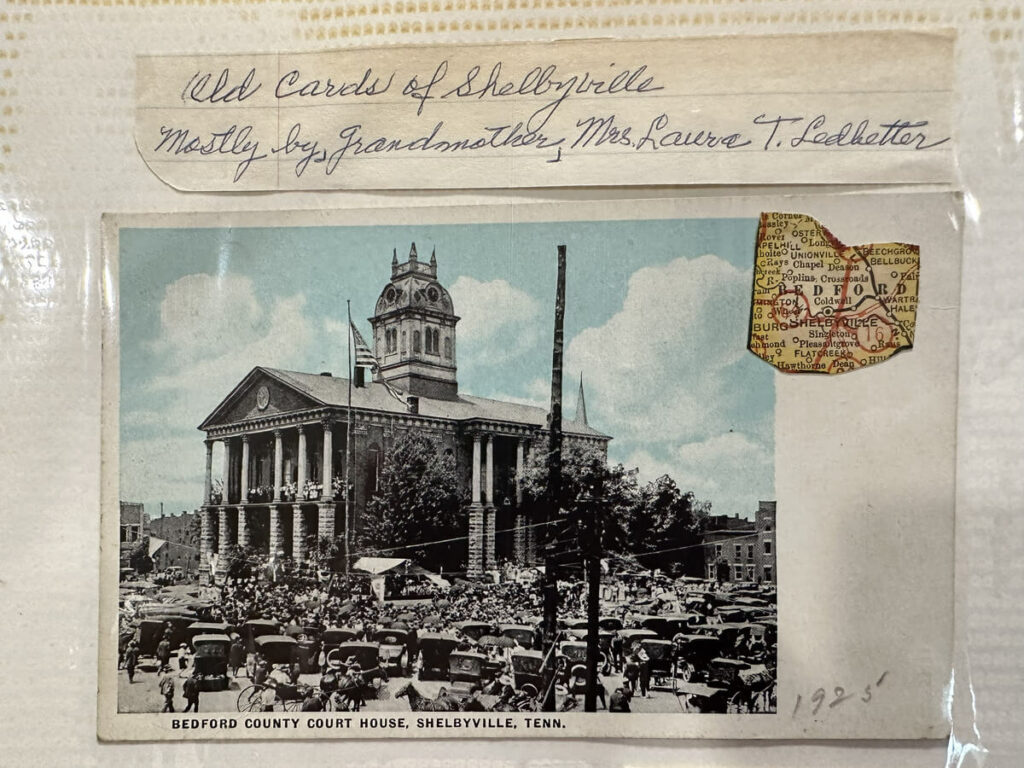 Ingram's book shared a May 26, 1940, birthday tribute from the Shelbyville paper. "'Miss Laura,' as Mrs. Ledbetter is affectionately known by hundreds of admirers, is a large property owner and personally attends to all the details of repairing, remodeling, and building houses. It is said that no one in Shelbyville is better informed on the cost and selection of building materials or more active, regardless of years."
Ledbetter took to heart the needs of her tenants, especially at Christmas. Recalling holiday celebrations, Ingram wrote, "It was an annual custom to have a tree for the benefit of a large number of people who would otherwise not be remembered — mostly her tenants, as she had many houses for rent. One year 149 attended and were served turkey sandwiches, cranberries, and hot coffee. Heads of families received gifts of practical value, and candy, fruit, and nuts were given to all."
"Whether you have success or failure, you have to pay for it. Then why not pay for success?"
Ledbetter was not all work and no play. The tribute in the paper noted, "When she desires to relax and forget business worries, she takes a trip, sometimes to distant points, always driving the car herself and alone. 'May she never grow old' is the sincere wish of the hundreds of friends at home and acquired in her travels over the country. Mrs. Ledbetter, whose appearance and indomitable energy do not indicate it, was 73 years of age Sunday."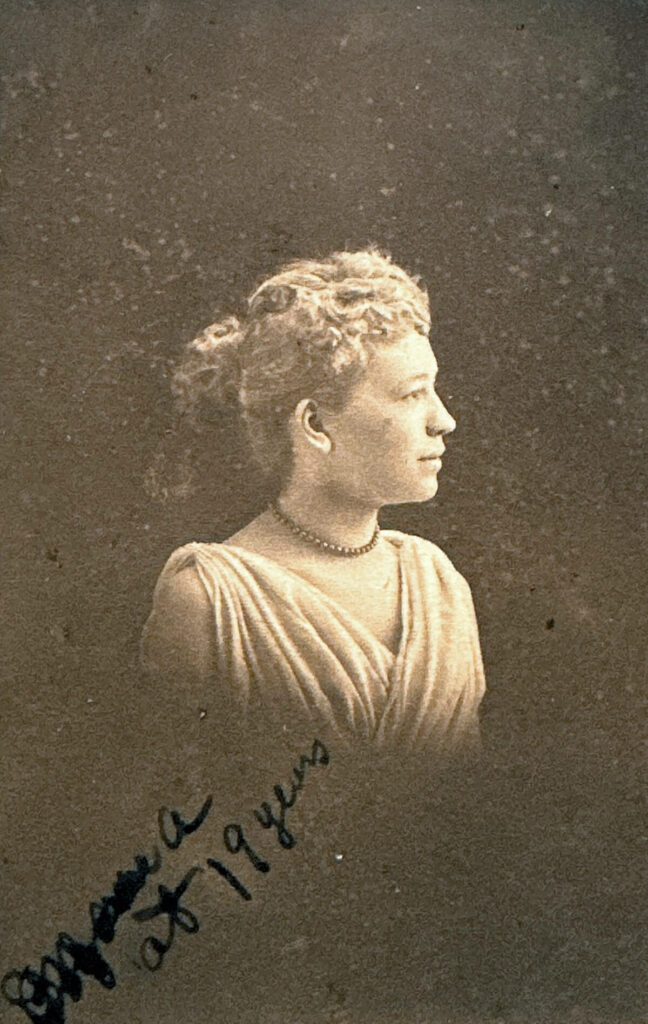 The old scrapbook begins with a newspaper clipping that reads: "Mrs. Laura Ledbetter left last Sunday for Nashville, where she joined a party for an extensive Western trip and expects to be away for a month or so. She will visit California and many other points of interest." During the 1926 trip, she collected memorabilia from Kansas City. She clipped the header of the free coach schedule at Unity Inn and collected information on an Indian detour, Grand Canyon outings, Santa Fe highlights, and California not-to-be-missed lakes, mountains, and cottages. Even a Hollywood brochure is fully intact.
"Have you a vision? Put it to work."
Ledbetter put her vision to work in more ways than one. "Postcard Memories of Bedford County, Tennessee" features Ledbetter as Shelbyville's Pioneer Postcard Photographer. Despite being widely traveled, all of Ledbetter's postcard photography captured scenes exclusive to Bedford County. Sylvan Mills (The Cotton Factory), the old First Baptist Church on Depot Street, Shelbyville's public square, and other local landmarks and images of everyday life are frozen in time. The future is now. 
Ledbetter's great-granddaughters, Becky Nichols and Camille Bell, reflected on Ledbetter's colorful life and her influence still today. Education is threaded through Nichols' life as a home economics teacher, and Bell is a local real estate agent. Their father, John T. Ledbetter Jr., regularly invested in real estate and rental properties.
Nichols said, "I think that was passed down. Our dad said, 'Education is the most important thing. People can take your inheritance away from you, but they can't take education away.' And that seems to be something that was passed down from her."
Today, Ledbetter might have documented her travels on Facebook, tweeted her thoughts on kindness, and shared her local photography in an Instagram feed. She would have much to add to conversations about homelessness, zoning, and land development. But most of all, she would be proud to see that her influence is alive and well in the family that follows in her footsteps.
Ledbetter is a Bedford County legend. GN