"Bedford County 911, what is the address of your emergency?" are the first words that mean help is coming. The calm voice stays with you until someone arrives on the scene. But the work of the 911 dispatcher doesn't end when you click off.
Call between 8 p.m. and 8 a.m., and there's a good chance you'll reach the team of Greg Belter and Renee Sanders, two of the first responders' first responders. They each sit in front of six large screens at their respective positions in the command center, enabling them to dispatch the appropriate emergency assets while monitoring and coordinating the location of everyone involved. But even with today's satellite mapping technologies, they need your help to find your exact location.
Belter said, "It might not pinpoint us to the exact location, so try, at least, to say where you are first because if the cell phone drops the call or anything like that happens, we know where to send somebody to help.
Prioritizing help based on the type of emergency has to be handled quickly and correctly when every second counts. The strength of teamwork is priceless, and Sanders and Belter work seamlessly together.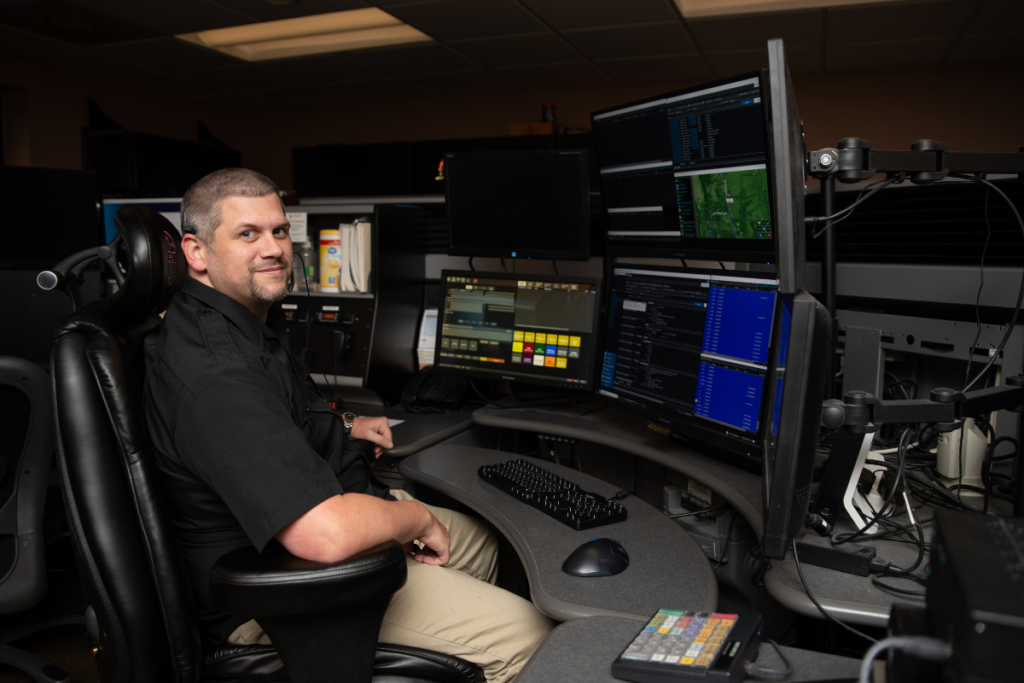 "We've got to prioritize a lot of times because we will handle [many] different calls ranging from CPR to regular car accidents," Belter said. "We've got to make sure in our head, we sort everything out and prioritize what needs to be dispatched first and second. And since there's [often] only two of us in the building, communication is key with both of us."
"Renee and I have worked together for so long we've got it almost down to a science at this point," said Belter.
They were first paired up in 2015, and, like any new situation, only time would reveal how compatible they were.
Belter said, "When we were first partnered up, Renee was very, very new. We were all, including our director, a little bit nervous because we were still learning on the go, but we immediately found out that we had instant chemistry. We call ourselves yin and yang. She'll start the sentence, and I'll finish it. It was just natural chemistry built between us to the point where we're now best friends. [We're] basically family."
And you want family nearby when a hard call comes in — a fatal auto accident, a sudden infant death, or even a murder.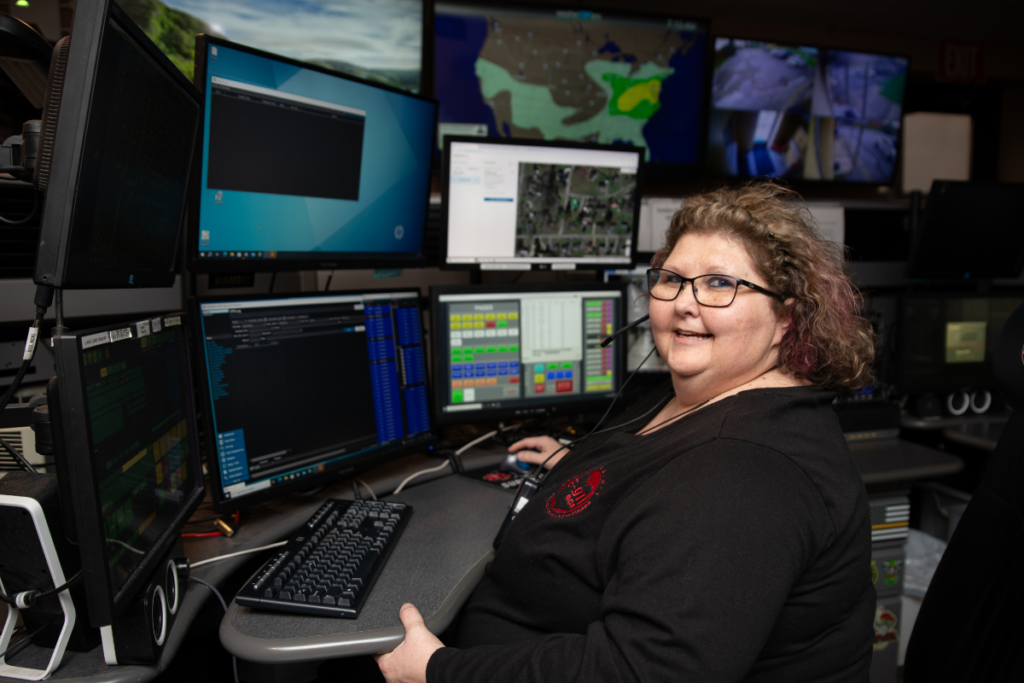 "Whatever happens inside the building, I need to leave [in the building]. When I hit that door and walk to my car, I try to leave everything here and not bring it home at all. And when I have a lot going on personally, I try not to bring that to work," said Sanders. "But I've driven my truck home many mornings in silence because I don't want to hear anything. You just need your quiet time after a bad night. The agency also offers resources for destressing after really bad calls." 
Belter said, "I think that's where it makes Renee and me so much like family because we're in the same world. We're dealing with the same things, and we know each other so well that I immediately know if she's upset by a call and likewise."
Their priority is keeping everyone on the scene safe by providing detailed, accurate information to the first responders. You contribute to their success when you stay on the line, answer questions that may not seem relevant in your panic, and offer as many details as possible about what's happened and is happening around you. 
"We dispatch everything in this county: fire, medical, city officers, and county deputies. We're responsible for getting every helicopter here. We're responsible for Duck River Electric, Shelbyville Power for any structure fires, Tennessee Department of Transportation, and the Bedford County Highway Department for downed trees," said Sanders.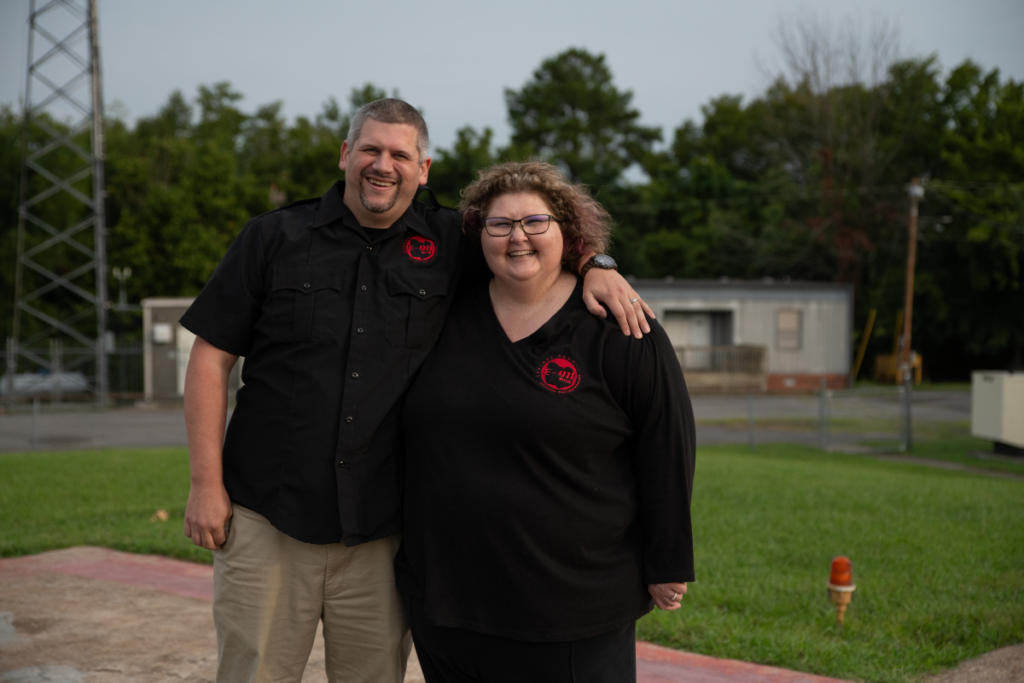 "Our job doesn't end as soon as that call ends," said Belter. "We've still got many more things to do, making sure everybody is in place. We may have to direct them in there. We have to keep track of them on the way to the hospital or wherever they may be going. The whole second part of the job, besides the call, is the tracking, making sure you've got all the correct personnel where they need to be," said Belter.
Sometimes, they even have to listen to what you don't say.
Sanders said, "This job is very tricky because you have to listen, sometimes very, very quickly, because the person may only get a chance to say their address once. You may not have a ping from your map, and you better hope they got the location correct. So a lot of it is listening to your caller, listening for even what they're not saying because sometimes they can't speak freely."
Remember when to call 911 so they can focus on our calls involving genuine emergencies.
Belter said, "Utilize 911 for life-threatening emergencies. We have a non-emergency line for the wild music complaint or a barking dog. That way, we can keep our 911 lines open for somebody needing CPR."
"Our administration and co-workers are some of the best in the business, and our center supplies us with the latest technology and makes our job as easy as possible," Sanders said.
911 dispatchers are the backbone of our community's safety network, providing essential support to first responders and ensuring every emergency call receives the utmost care and attention. Seamless partnerships and the ability to handle the most critical situations gracefully and precisely make Sanders, Belter, and other dispatchers the unsung heroes we can count on when we need help the most. The next time you dial 911, remember the dedicated voices on the other end working tirelessly to protect us. GN