COFFEE SHOPS are a growing industry worldwide. Sitting down at a coffee shop is the most efficient way to catch up with friends and family, enjoy a nice cup of tea or coffee, get some work done outside of the office, or simply relax and enjoy the calming vibes it brings.
Koffee Beanz Kitchen & Catering is an urban chic establishment with a cafe, comfortable seating, and a lovely patio. The shop doubles as a coffee shop and restaurant, serving breakfast, lunch, and a variety of hot and iced coffees, lattes, frappes, and house brews. Their menu consists of tasty lunch specials and home-cooked meals as well.
They offer a variety of meals, such as salads, sandwiches, burgers, meat and two, country-fried steak, house-smothered chicken, hamburger steaks, and other good hearty foods.
Owner Katelyn Norris said her favorite dish is the smothered chicken, which she said is "super delicious."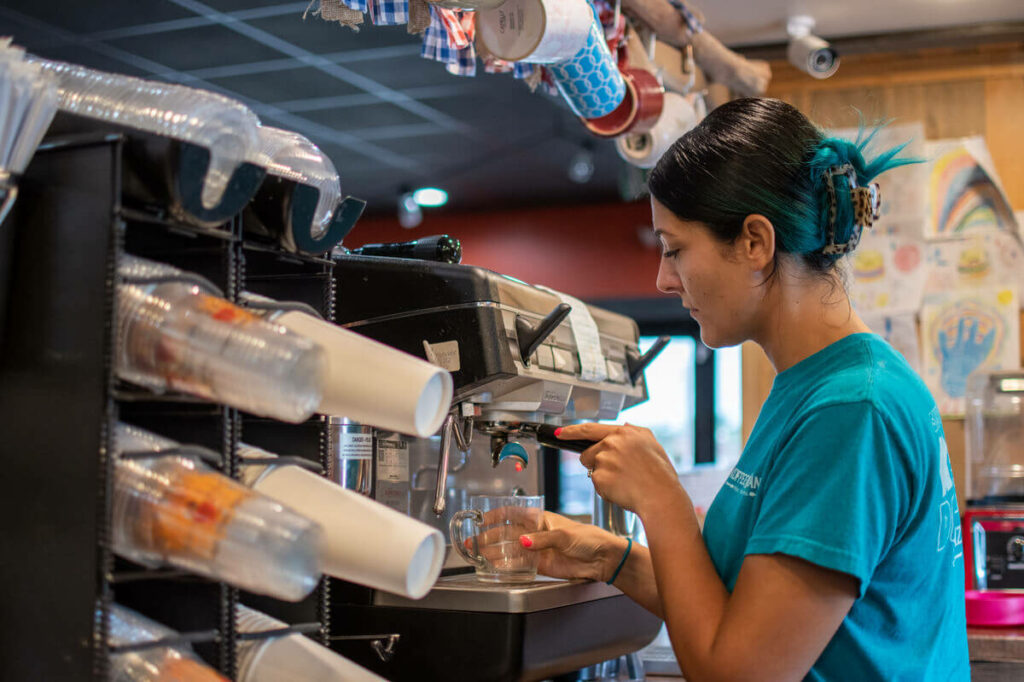 Aside from the variety of delicious meals, Norris said a few things that make their location unique is that their decor is cozy and rustic; it's a nice place to relax, study, or eat, and they have all the amenities people would like in a coffee shop.
Norris said that time management is the most challenging part of running a business. Since it is a family business, she is constantly balancing family life: her marriage, a child, and a growing business.
Norris and her husband Wylder obtained ownership of the restaurant in July 2021. The couple grew up in Unionville where she had worked for Robert Martin in the 'Sweet Aroma Cafe' since she was 15. Martin knew that Katelyn dreamed of owning a restaurant, so when he received word that former owner Kasey Parsons was looking to sell the Koffee Beanz shop, he knew just the right couple to carry on Parson's legacy. Katelyn said when she walked into the cafe it felt like home, and having a restaurant that doubled as a coffee shop was an added blessing.
Koffee Beanz continues to grow, but it would not be as big of a success without its staff. Katelyn said, "Our staff makes everything one hundred times better, I believe."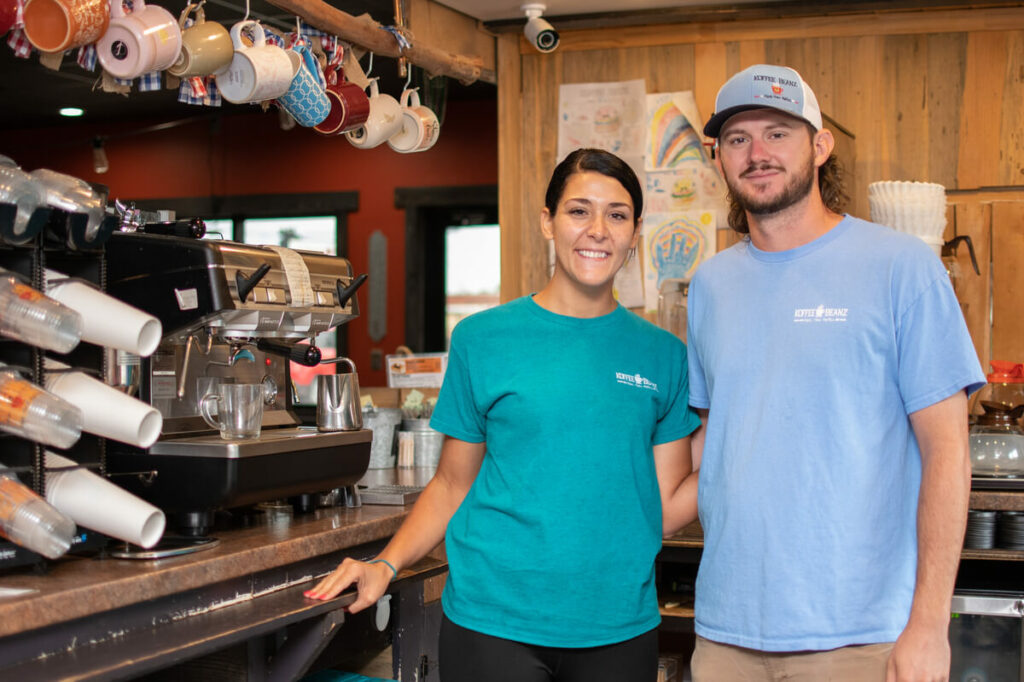 She also said that one of the most important lessons she's learned from owning a business is that "good things take work." There's never a day off, and you must work hard and treat staff like your family. Amidst the success that the Norris family has experienced, being a business owner does not come without its challenges. Running a successful business of any kind is not always a "walk in the park." Katelyn said their biggest challenge has been staffing. She said that her outstanding staff members keep the business running, but it is hard to find people who are willing to invest their time in building something if they don't feel appreciated.
Through all of the ups and downs that business ownership brings, Katelyn said she has no regrets about coming to Shelbyville and running her business.
She admires the city of Shelbyville and the community because of the unity it brings. "Shelbyville comes together as a community."
She said that they constantly receive positive feedback on the cafe, and the change in ownership did not change the overall positive response to Koffee Beanz.
Katelyn said that she would like Good News readers to know that when they come into the shop they will be treated with respect and get a good meal, and the staff will greet everyone that enters with a warm smile. If you're looking for a nice, warm, inviting place to study, catch a vibe, or chat with your friends, stop by Koffee Beanz and enjoy their tasty treats and drinks, and of course the staff members' warm smiles. GN