Staring into the storefront windows; you're a child again. Whether transported to your earliest Christmas mornings or into make-believe stories of days gone by, Phillips General Store in Bell Buckle carries you away each year when their showcase windows are revealed.
Step into the doll maker's winter wonderland and look closely at the feather Christmas tree clothed in delicate white dresses handmade with love, lace, and linen, and nestled among silver orbs and tatted snowflakes. See the dress's smallest details: buttons, ribbons, tiny pleats, and antique trims.
Nearby, the chair is pushed back from the old sewing machine work table and it looks like she's just stepped away in search of more thread. The ivory scene is quiet under clear twinkle lights. You hate to look away, afraid of missing a single detail.
Glancing left, you enter a vintage red and green corner warmed by the antique quilt wall behind it. An old rocking horse proudly carries a classic teddy bear to his new home, and another feather tree and nearby shelves hold tiny treasures and ornaments. You know the old stocking will soon bulge with fresh fruit and nuts, but who will get the one filled with coal? The doll maker's influence is here, too. Is that her blue velvet housecoat hanging nearby? Red-wrapped gifts on the Windsor armchair will delight the doll maker on Christmas morning, and they are joined by the old top hat of the one that holds her heart. Within this setting, Billy Phillips' parents performed a special play written for them by Carla Webb; a version of "The Gift of the Magi."
Albert, whose character was a train collector, and Nancy (known to everyone as Mama Phillips), a cameo collector as she truly is, sold prized pieces of their collections to purchase a gift for the other. It was a tribute to the couple's love.
Billy said, "I didn't want to do a play that year. I had another idea, but Carla said, 'Billy, you really need to do this because you just never know.' And little did we know then, but this was our last window with Daddy."
Many residents and countless visitors return to Bell Buckle each Christmas, drawn to the timeless nostalgia surrounding its storefronts and streets. And while the atmosphere whispers to all generations, younger ones are still among them.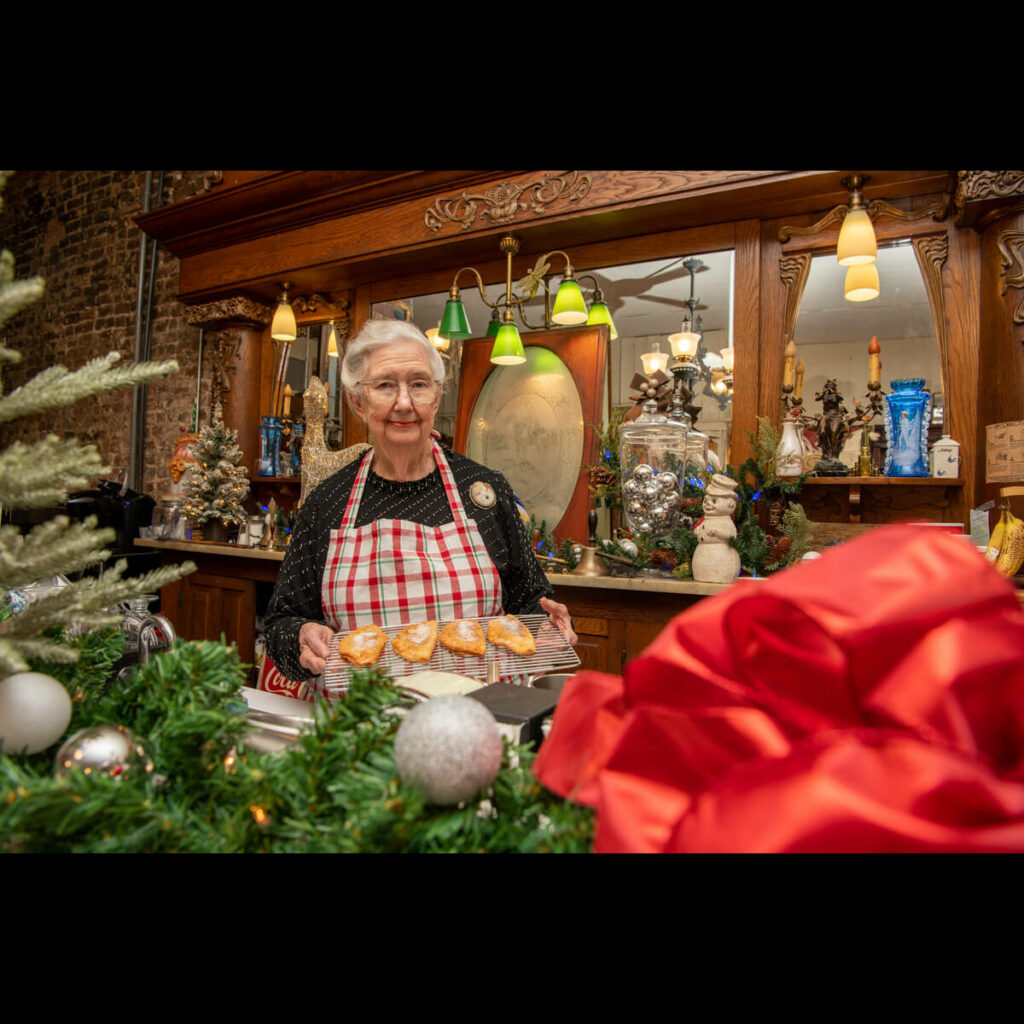 Billy said, "These younger generations, when they see the windows, say, 'Man, I've never seen anything like it.'"
"The nostalgia that Bell Buckle brings is amazing to so many people. They see toys in the store that their parents or grandparents had. We have to sell things to stay in business, but we don't care if you purchase or not. We love that our things brought back a special memory that connects you to the past and the people you remember through those things."
The windows are a Bell Buckle icon and Christmas tradition, like Mama Phillips and her home cooking at the Bluebird Antiques and Ice Cream Parlor around the corner from the store.
"Besides her famous fried pies, one of the things she's best known for is Dad's pumpkin roll recipe. We sell tons of pumpkin rolls. And there are eggnog milkshakes with homemade whipped cream and a dash of nutmeg. These are exceptional," said Billy.
Mama Phillips knows why. "As a child, we made divinity candy and the old-fashioned things I got from my family, my mama, and my daddy. Many of the recipes I use came from them."
"Albert was such an intricate part of both of these stores. He was the fudge maker. He did the pumpkin rolls or helped me do it. Anything that we did, we worked together on, except the fudge. He never wanted me to do the fudge. He always said I had my thing, and he needed his thing. I understand that now."
Mama Phillips' presence tops off Bell Buckle's spirit and is even sweeter than her homemade whipped cream. Her conversation is gentle, quiet, and humble.
"What's in our heart comes out. If it's bad, bad's going to come out. If it's good, good's going to come out," she said.
Billy's childhood Christmas memories perhaps explain the spirit of Bell Buckle, even today.
"The memories I have of Bell Buckle Christmases is that it was a magical place. It was one of those times that you didn't realize how good it was until you got older." It's the magic of Christmas and the pull of nostalgia. GN