LYNNA MILLER'S students are a part of her life forever, each becoming one of her kiddos. But some put the "special" in education — a field Miller has been actively involved in for more than 30 years. 
An early classwork finisher in grade school, Miller was allowed to assist with Southside Elementary School special education students, igniting her passion for special education. Added to that early bonding was the time she spent babysitting a child who has special needs. The two combined to seal her future as a teacher committed to meeting their educational needs with compassion and forward-thinking.
Working with verbal and nonverbal students, Miller has seen the rewards of teacher, student, and parent investments. Whether building skills that may enable a student to lead a more independent life in the future or hearing a student speak for the first time, there's nothing like it.
"It's super exciting. I've had several kids who were nonverbal, and their moms had never heard them speak. They've never said anything. And after we've worked and worked and worked, they finally started talking, said Mom for the first time, said I love you, said something — you just can't duplicate that feeling of knowing that you not only helped that child grow but helped that mom realize something she'd been waiting for all their lives to that point. It's very, very rewarding," she said.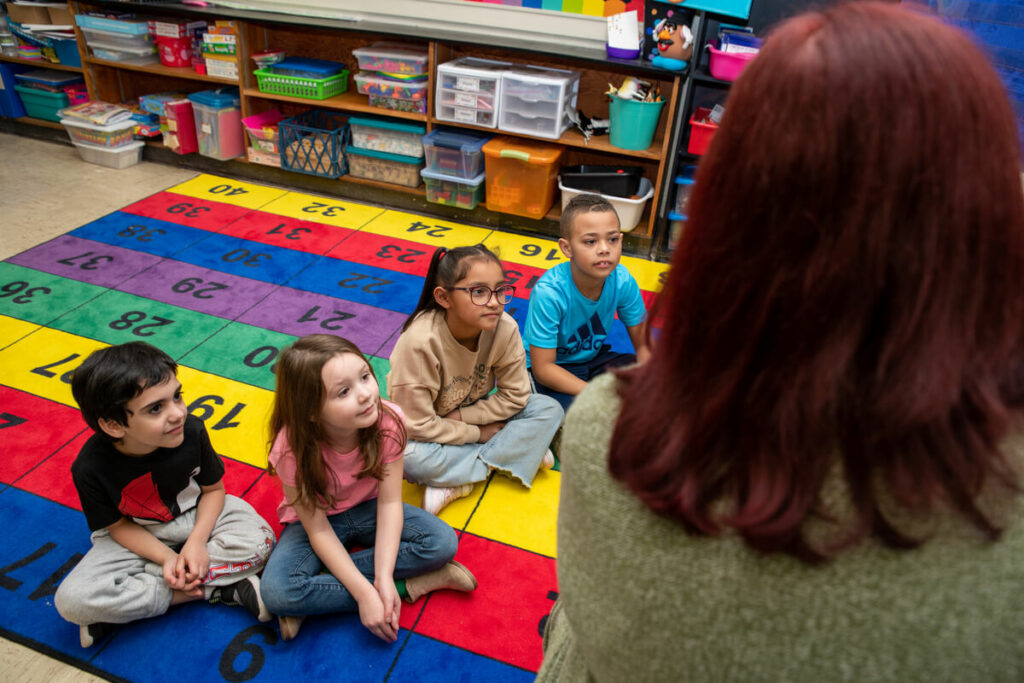 Miller's sister, Shontá Lamb, who passed away in 2014, was also a special education teacher and worked at Skills Development before teaching in the comprehensive developmental classroom (CDC) at Thomas School and Southside Elementary. Lamb's experience working with special needs adults gave Miller a new perspective on her students' future and the importance of their early education. Upon her sister's passing, Miller took over her sister's CDC class and continues to honor her vision and passion for their best life.
She said, "Shontá saw these grown women and men who, if their parents passed away — and they would eventually because they were older — would not be able to live an independent life. They would have to go into a group home or a state institution because they didn't have enough skills to stay in a more independent setting. So when she talked about teaching those adults skills, she really helped me see that it's so important for them to start getting those skills independently when they're little. And so it kind of changed the focus of what I was doing. Special education has changed its focus, just like regular education. Some of it's for the better; some of it's not, but years ago, all they worried about was life skills, and now they're more concerned about academics. But the reality is, they need a nice balance of useful academics and life skills."
Miller, who's taught at Southside her entire career, has been connected to the school her whole life.
"The kids think it's crazy when I say I was in this room in first grade. Now, here we are in this room, and I'm teaching. I've been here a long time," she said.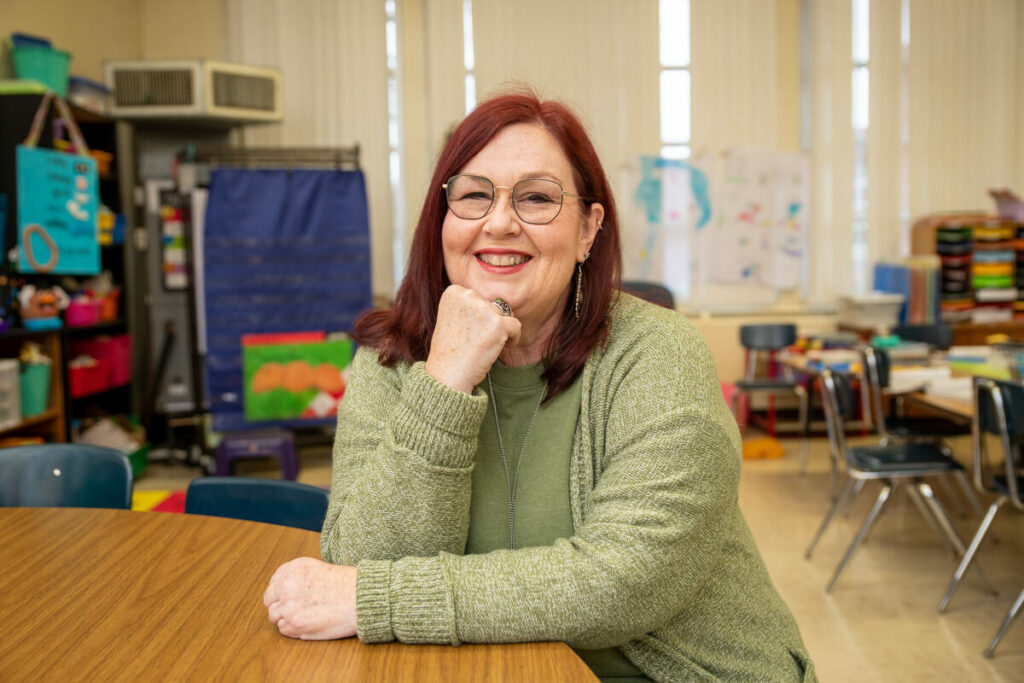 Although Miller is not presently teaching special education, her first grade class is an inclusion classroom, allocating time for special education students to experience the class with the general education students. Having taught both groups, combining the two is still challenging.
She said, "It's harder because you want to do so much with every student, but there are so many demands to be met that it's difficult to spend the time that you want to spend, to do the things that you want to do to meet every child's needs."
But regardless of which group she's teaching, a sign in her classroom affirms her teaching philosophy: "All children are gifted; some just open their package sooner than others."
Miller said, "I truly believe that every child can learn, and every child deserves to have an education that is tailored to them. Sometimes it's more challenging than others, but it's never not an option."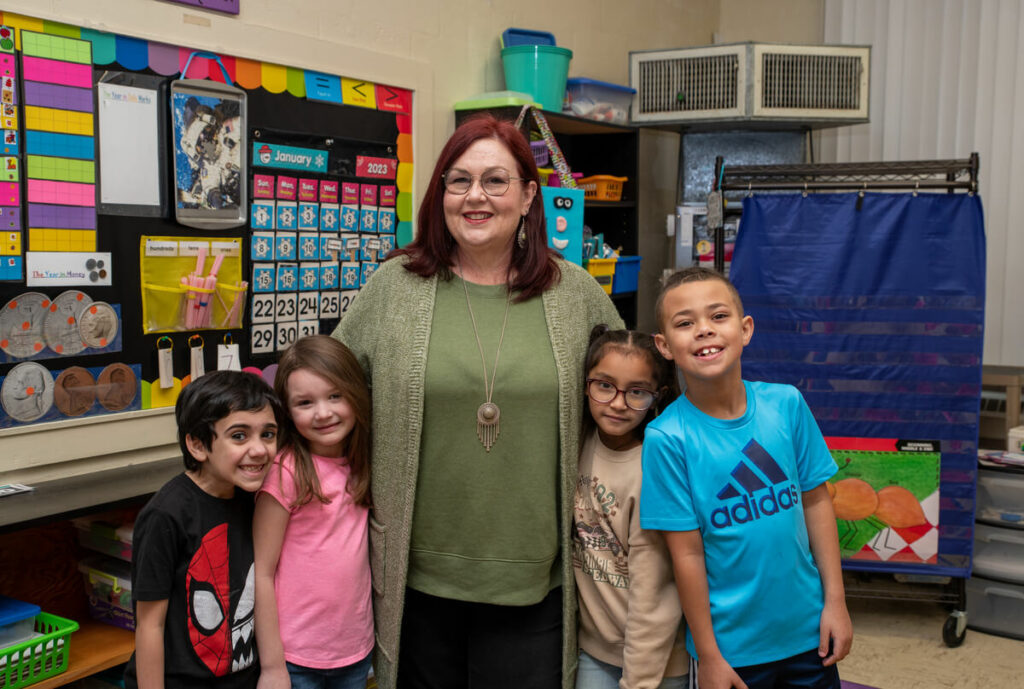 Seeing that these students experience education the same as general education students is her passion.
"I believe they should experience everything their general education counterparts experience. They should get to do fun things, go on field trips, do science experiments, and have hands-on fun. It's been my mission to make sure that happens," she said.
Each group is special to Miller and brings joy to her days.
She said of her general education first graders, "I love the little kiddos. They love on you, and they want to bring you presents and draw you a picture. They're still at that age where it's exciting to come to school, and they're happy. And you still get to see the light bulb come on when they learn, and they're so proud when they master a skill we've been working on."
And she's proud of them, too, not just while they're in her classroom, but for the rest of their lives, she's watching and cheering for them.
"I tell my kids, 'you're mine, and you'll be mine for the rest of your life. I'll be watching your future always,' and I do. I'm friends with so many of my grownup students who are teachers now. Some students bring their babies back to show me, and now I'm teaching their children. I've got children of children in my classroom, and I love it. I enjoy keeping up with them, seeing how they do, and then seeing their lives progress. I'm so proud of them when they choose their life path, succeed, and then have kids and bring those kids back to see me. It's super rewarding," she said.
Teaching truly is Miller's calling, and the best for her students' future is her mission.
Miller said, "I love my students, and I'm in their lives for as long as they want me to be. l love them all. Every child deserves the chance to learn and have fun while they're learning. If they're not learning and having fun while they're learning, then I'm not doing my job." GN