FRIDAY NIGHT football is composed of many layers. It's a quilt of school colors, students, players, coaches, band members, and more. But cheerleaders are the thread binding it all and creating moments of a lifetime. The cheer squad carries more on their shoulders than their teammates in the next stunt – they carry school spirit and leadership with them everywhere they go. It's a spirit of encouragement wrapped in cheer and dance that Ashlie Wells carries forward.
Cheerleaders bring to mind images of homecoming games and bonfires, halftime shows and pep rallies, or hallway huddles and sideways glances. But whatever it is, the image always includes the uniform, the skirt. Movies cast them as mean girls in shapes and sizes tailor-made for the big screen. We use them as our own mirrors and measuring sticks. In Wells' sophomore year at Franklin County High School, she wore her school spirit better than her uniform. Her mirror told another story; a story school spirit couldn't hide. Wells was suffering from an eating disorder.
"I felt like I had to reach a certain number or size to be perfect or happy. I was obsessed with the idea of perfection. This way of thinking ultimately resulted in an eating disorder, anorexia nervosa, that pretty much ended my freshman year and part of my sophomore year. I didn't get to cheer at all my sophomore year because I was in the hospital again, this time at the Renfrew Center, an eating disorder facility in Florida, working on my relationship with food and body image. At the time, my weight was between 69-72 pounds," Wells said.
She returned, her junior year, with a new outlook and the support of her coach and mentor, Heather Wortman.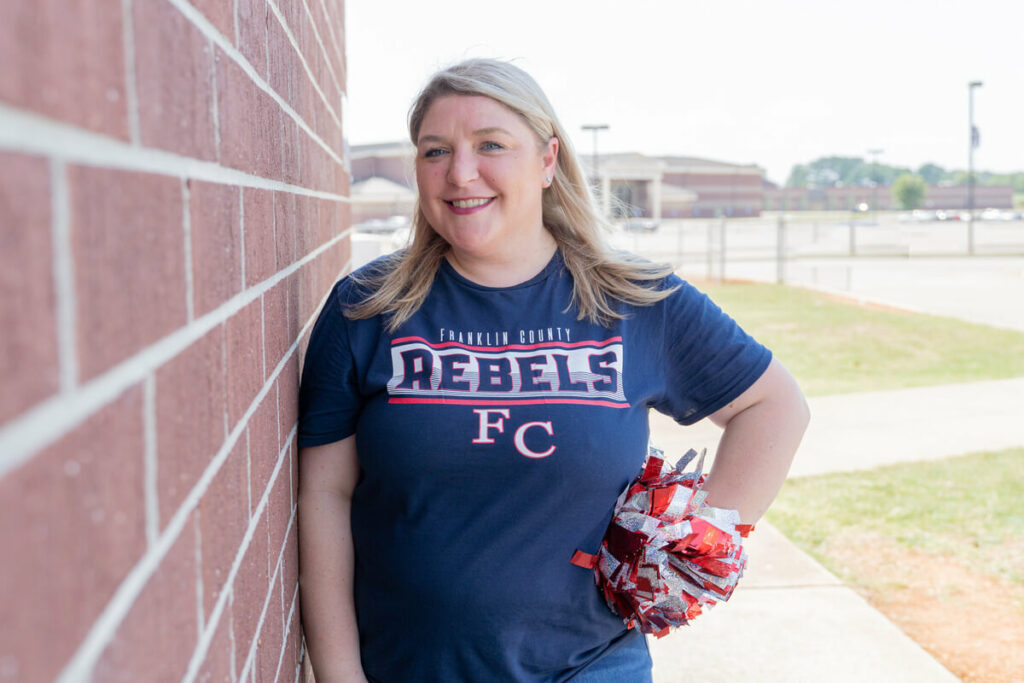 Wells said, "Heather was a big part of my recovery. She encouraged me to get better so I could cheer. Watching my friends from the sidelines that year was hard, but it was a goal I could work toward. I made the team when I finally got to try out the next year. I wasn't at the weight my parents or doctors wanted, but I was on a healthier path and made the team. We had girls of all different sizes on our team, and Heather didn't care about that. She wanted us all healthy and strong. She helped me see [that] strong girls were awesome. She required us to work out, and I fell in love with it. Heather would often work out with me and encouraged me to stay on a healthy path. I really looked up to her, and we still keep in touch. She made you work, and she taught us discipline."
Wells fought her way back to cheer, but dance was the road home.
She said, "Dance has always been my favorite. I did body movement therapy/ dance therapy at Renfrew. It's what helped pull me out. I've never been really good at talking about my feelings. At Renfrew, I didn't want to talk about anything. But they put me in body movement therapy where they have you move across the floor and do these exercises. After watching for a while, I started to participate and found it was a way to get it all out without having to speak. It was what my soul needed. Now I get to choreograph dances for our studio and other people. I like being able to tell a story. Through dance, you can express how you feel, and you can tell a story, and that really helped pull me out. The prospect of being able to cheer/perform again got me on the path to recovery, and dance gave me a different way to express myself. It was a private way of dealing for a long time; now I get to share that with my dancers."
Today, Wells is the assistant cheer coach at North Middle School and has also coached high school cheer. At her Winchester dance studio, Center Stage Dance Company, she is positioned to help reshape the self-image of the students on her dance teams.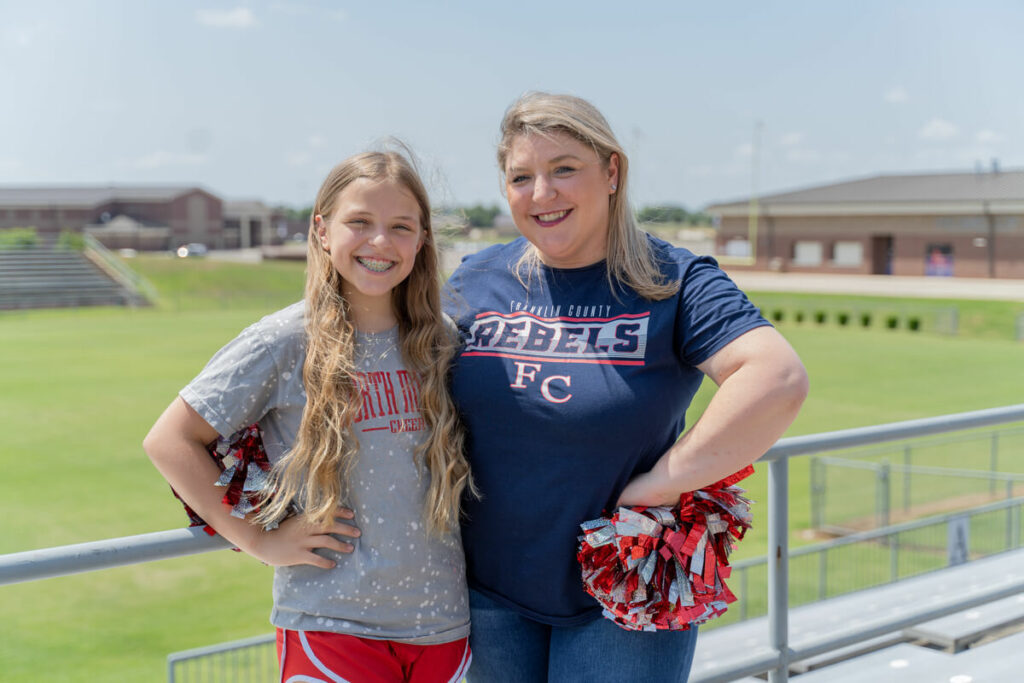 "I feel the reason I went through what I did was so I could be there to help other girls, to use what I went through as a platform to help other people. So through cheerleading and dance, I've had the opportunity to mentor girls and tell them, 'Your size doesn't matter. You can do anything that anybody else can do, and you're beautiful the way you are.' God has put me in the studio and involved me in mentoring cheerleading so that I can be that voice. I feel like He uses me through that," said Wells.
It's a winning combination. Wells' competitive dance teams have gone to National Finals the last two years and brought home national championship titles both years. Her cheer team came home as Camp Champs this summer.
While championship titles are nice, Wells dials the team into the bigger picture. She is forever coaching, whether at home, in the gym, or studio. She and her husband, Corey, have three children together. Their son, Brock, is 17; their older daughter, Summer-Grace, is a 13-year-old North Middle cheerleader; and their newest addition, Waverly, is almost a year old.
Wells said, "My daughter is a twotime All-American in cheer, who loves being involved with the school and is all about school spirit. Summer-Grace loves dress-up weeks, pep rallies, and game days, but I've also tried to teach her the importance of being a leader in the school. I've told her, 'You're not a skirt. You are here to be an example and a role model for your school.' She works hard, and that's what I expect from my kids and students. You're here to be the embodiment of school spirit, but you're also here to be a leader. That's what Heather taught all of her cheerleaders, and I have carried that into the way I coach."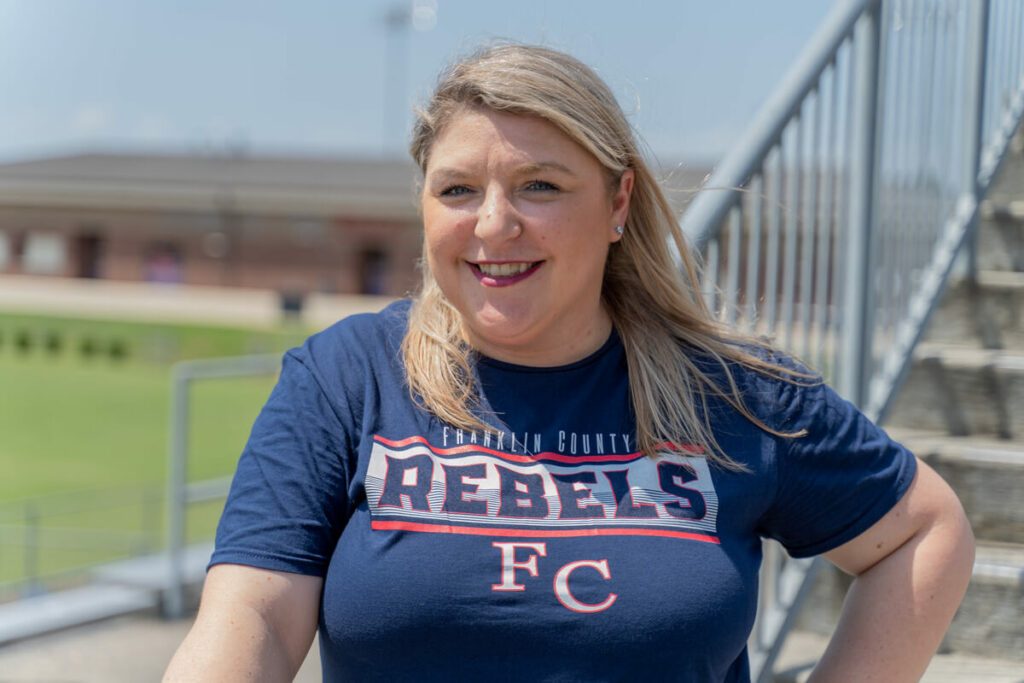 Good leadership changes the reflection in the mirror.
"We're not made like carbon copies. I pray that with God's help, I can encourage the girls to embrace their uniqueness and empower each other. Unfortunately, kids (and some adults) have a tendency to break each other down, but I hope to encourage them enough to break the cycle," she said. "At dance and cheer, we try to replace jealousy with recognition of each other's gifts. I pray they learn to appreciate and admire each other's gifts as well as their own. I want them to know they each have their gifts from God. I needed that reminder when I was their age," Wells said.
Bonds are still formed, and memories of a lifetime are still made with hard work and a healthy, positive self-image. Wells is at home holding the mirror and cheering on the students in her life. GN