THEY SAY honesty is the best policy. For Franklin County Sheriff Tim Fuller, it is the bottom line and at the core of his beliefs as a lawman, father, and human. Fuller was recently elected for his fifth term, making him the longest-serving sheriff in the county's history.
Fuller's career in law began at the age of 19 with the Moore County Sheriff 's Department. Fuller said a career in law was not something he saw himself doing.
"I had two older brothers in law enforcement," he said. "As odd as it may sound, I made fun of them. I said that they never really did anything. I had ridden with my older brother, a deputy sheriff at the time. I saw all the positive things and a degree of excitement in law enforcement. No two days are alike, ever. I also saw where he could help people, giving me a different viewpoint."
Moore County Sheriff Herb Glassmeyer gave Fuller a job as a deputy, and with that, his career in law enforcement began. Fuller stated that Glassmeyer had a significant influence on his career.
"Some of the things he instilled in me hold true today," he said. "He taught me how serious the job is. You deal with people when they are going through the worst tragedy of their life. When you go to deal with them, how you handle them will be a part of your legacy throughout your career. He was very hard on me, but in a good way."
Honesty is an essential quality that Fuller has acquired during his years as a lawman and now as sheriff. It is at the core of all that he does.
"Tell the truth no matter what," he said. "Be honest and be upfront. Don't hide anything. Being honest started from day one."
His two children, Ryan Fuller and Katelyn Isbell, follow in his footsteps of serving the community through the law.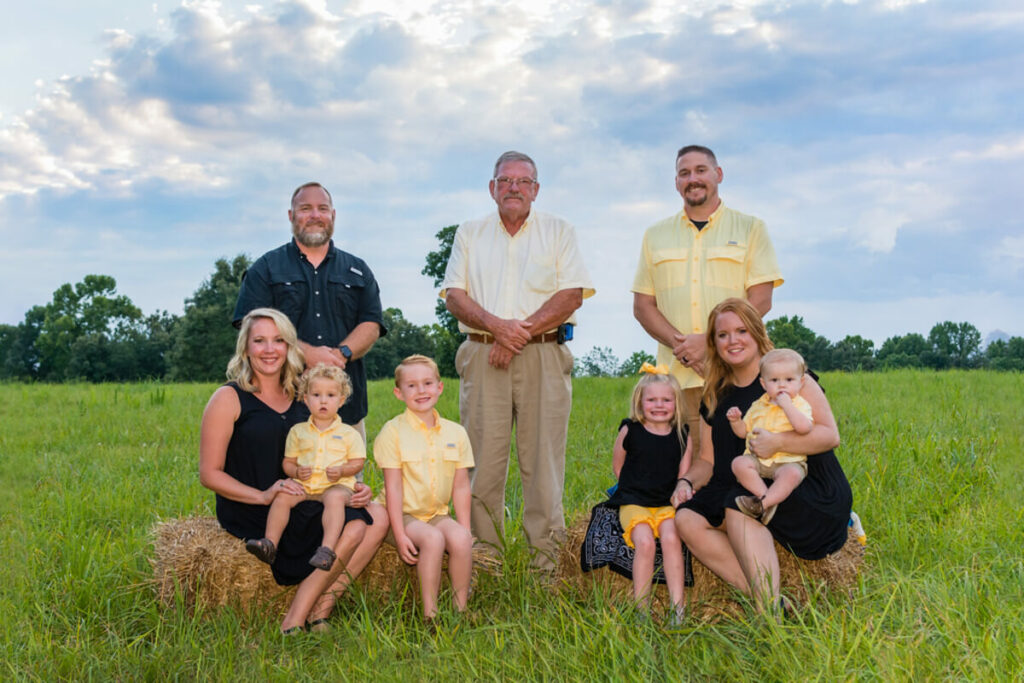 As a detective for the Winchester Police Department, Ryan said his father had instilled a strong work ethic in him and his sister. He said his father also goes out of his way to help, whether he knows the person or not.
"Throughout my personal and professional life, dad has instilled a hard work ethic in my sister and me," he explained. "We have learned there's no substitute for a strong work ethic and genuine care for our job. Dad's legacy in law enforcement will be an unequaled line of communication with coworkers and the community. His open-door policy has evolved into an open-phone policy. He's always taking time out of his work or personal day to answer calls and help anyone who calls him. I cannot count the number of times I've stood beside dad after he got off the phone with someone and asked, 'who was that?' and he just looked at me and said, 'I don't know.'"
Isbell is a deputy clerk in the Franklin County Circuit Court Clerk's Office. She echoed her brother's sentiments on their dad's lesson about work ethic, but she shared that his perseverance is something she is proud to have.
"In addition to so many lessons and values that I have learned, Dad's perseverance is something I am proud of," said Isbell. "I have seen many struggles throughout dad's life that include career and personal losses of his parents, brothers, and his wife and our mother (Bobbie Fuller) to job stresses and day-to-day issues that arise. His perseverance has been evident and kept him moving forward. He truly drowns out all the negative noise of others and focuses on what is important. I admire that no matter how tough the situation, he doesn't run; he stands tall and leads."
She added that she hopes people can see him as the sheriff and as a father, grandfather, and human.
"I hope others see him as I do," said Isbell. "He is honest, even when it might not be what you want to hear. His actions and very few words show his love. To the grandkids, he is the keeper of the candy and their chauffeur on the tractor and ranger. As for me, I could never repay him for all the lessons and tough love he has shown me. I am always so proud of him and every one of his accomplishments. It's a true honor to meet others across the state of Tennessee who know him, appreciate him, and share stories about how wonderful he is. I wouldn't be where I am without my parents' example and their love and dedication."
Now at 60 and starting another term as sheriff, Fuller said he hopes to continue making progress for the county. And he plans to keep doing it the way he always has—with dedication and honesty.
When asked what he hopes his legacy will be, he leans on what has gotten him through his 60 years of life: honesty.
"I hope they say I was honest and did the best job possible with what I was dealt. Fifty years from now, I hope they say I was honest with people and that I left something that positively affected someone." GN