CONFETTI, APPLAUSE, and the cheers of hundreds of students were heard when Megan Geer was named principal for Decherd Elementary.
The unveiling of her new position took place the morning before the school's end of the year talent showcase. While Geer did not expect the news to take place with such fanfare, she was overwhelmed with gratitude and excitement at the unique announcement.
"It was so special. I wish all teachers could be celebrated this way," she said.
While becoming principal of a school is no small accomplishment in itself, it has a tremendous meaning for Geer.
Not only does Geer love to teach, she is also an alum of Decherd Elementary, herself.
"It has just come full circle, from a kindergartner now to the principal," she explained. "Growing up, my mom worked at the school. This school raised me. There are ladies that worked here when I was in school that are still working here today. I call them my second mothers. While the school is a second home, they are my family."
Geer's beginning in education began with her brother. "I got into teaching because my brother was labeled as dyslexic, and I wanted to learn more and work with kids who had dyslexia," she said.
Once she got into the profession, Geer said she developed a love for math.
"Most of my career has been spent in fourth-grade math," she said."[Math] is my love language. Going through school, I, myself, struggled. As a teacher, I love how you can go so deep into it and really make the brain work, and also take it to the next level for the students. They might not understand when you get started, but when you've gone through the process and see that moment when they understand, it is kind of magical."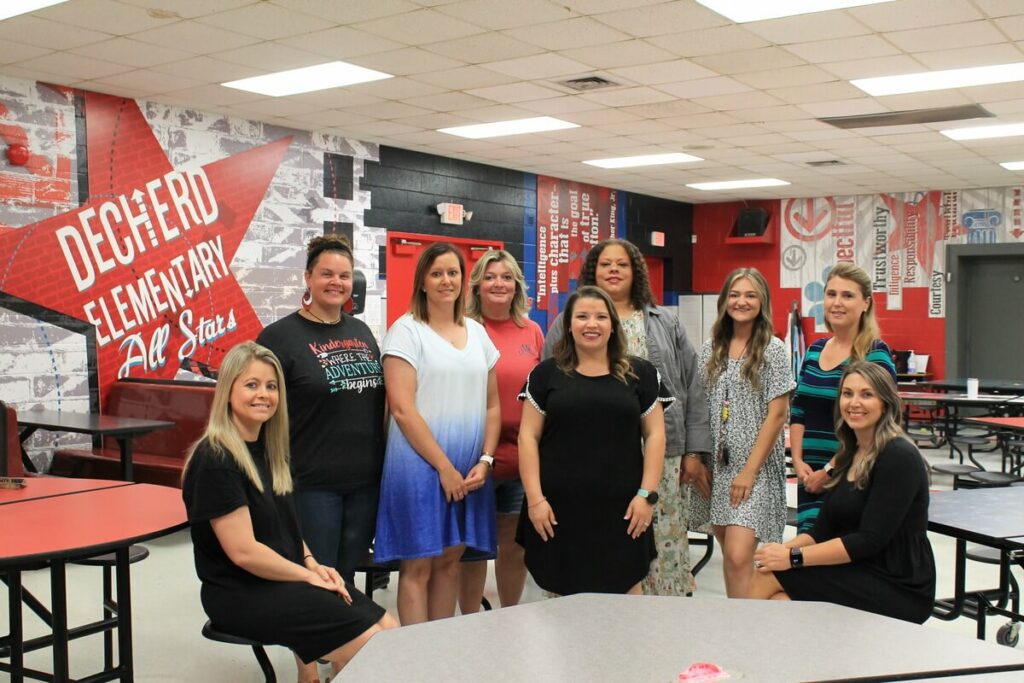 Geer said that becoming principal was something that she had never given any thought to until it was mentioned to her by former Decherd principal, Chris Hawkersmith. She knew she both needed and wanted to go back to school, but she wanted to seek a concentration in behavioral education.
"I wanted to work with students who had different behaviors, to help them in the classroom," said Geer.
Hawkersmith advised her that she could work with behavioral needs students while also pursuing a career as principal.
In 2020, Geer was set to graduate Western Governors University with a master's in educational leadership when she learned that assistant principal, Allison Dietz, was leaving to take another position.
"At that time, I stepped up to an assistant principal role," she explained. "For that year, I served as an assistant principal and RTI interventionist. The following fall, the county adjusted the role to be a learning loss coordinator, and I was able to retain my assistant principal duties."
Hawkersmith consulted with Geer when he announced that he would be leaving the school to take another position.
"When he decided to take the position of coordinator of school health, I asked him what that meant for me," she said. "He replied by asking, ''What did I want it to mean for me? Did I want to pursue something different or did I want to pursue becoming the principal of Decherd?"
You can guess what her answer was.
"It's kind of unreal and hasn't really set in yet," she said."I think it's been God's plan all along. I've tried to follow where He's shown me to go, and the path He has taken me on has led to here."
Geer said she is excited about the future and is ready to make Decherd the best it can be.
"One thing that I want to do is to build leaders," she explained. "Build leaders in both the teachers and the students. It's not going to be a one-day thing or one-year thing. Rather, it's going to be an ongoing adventure that we continue to build on year after year." GN