VROOM, VROOM. He raced forward without thinking of his surroundings, not into oncoming traffic but into the view of the Tennessee/LSU game. A quick swat on his young behind sent him driving away from the small black and white TV they'd gathered around. The noise of the fans took over the room. Suddenly he was transported from the racetrack of his imagination to the stadium as everyone in the room jumped to their feet, shouting as Tennessee rallied. It was no longer a television set; it was the portal to his future. Tracy Hayworth wanted to be in the center of that enthusiasm.
"It was like I was standing in a coliseum somewhere. I want to do what makes people do that, I thought. I wanted that attention. I've never said anything different. My mom and dad were both great mentors in my life. They always told me I could be whomever I wanted to be. I always wanted to be two things: a professional football player, and a child of God. I'm still a work in progress with God," said Hayworth.
The pursuit of a career in the NFL began on the fields of Franklin County High School (FCHS) in a culture still merging, following desegregation. While things were awkward and unnatural at times in the classrooms and workplaces, football transformed the community under the Friday night lights.
Hayworth said, "Going to school in the '70s, everything wasn't the same for everybody at that time. Everyone had different struggles and may have seen things differently, but one of the things that brought us together, if you played that game, once you walked between those chalked lines we were each other's brothers and all of that didn't matter. During our time, it was a big factor in creating the love amongst our cultures that allowed us all to come to a common ground with each other enough to understand each other. When we stepped back off the field, that helped to pull our community together because the community saw how well we were together on the field."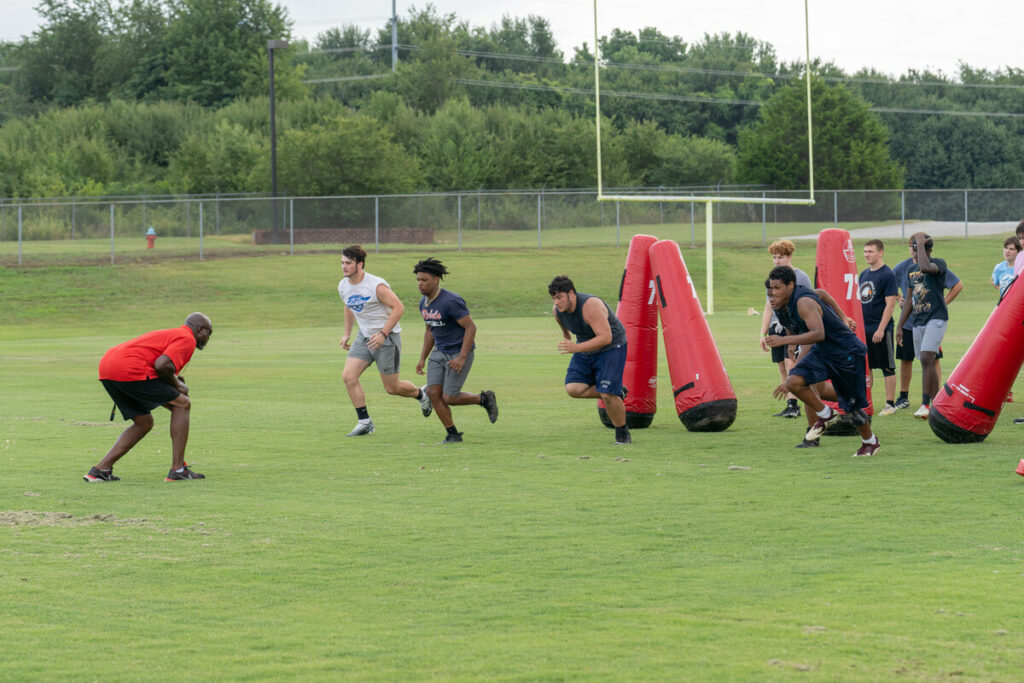 At FCHS, Hayworth was, in his own words, "a bit all over the field," but things came into focus his senior year when he was the starting tailback in an undefeated season. He made the all-district team and was recruited by coaches Phillip Fulmer and Ken Donahue for the University of Tennessee. At Tennessee, Hayworth played for four years (was not redshirted), was team captain, and made second team ALLSEC. Coach Johnny Majors and his staff taught more than football; they taught the game of life.
"I think football and life go together. Coach Majors told us, 'I'm not only going to teach you about the game of football, because every one of you in this room is going to be a professional in the game of life. I'm going to teach you how to persevere and be the best athlete you can be in this football game. I'm going to teach you to be the best player and athlete you can be in the game of life.'" Hayworth added. "I've been mentored on the relationship between football and the game of life ever since I've been in the game."
In the 1990 NFL draft, Hayworth was a seventh-round pick by the Detroit Lions, where he played six seasons as a left linebacker on the team considered the best in Lions' history. The Lions were four-time NFL central division champions during this time, and Hayworth played in three playoff games, and the NFC championship game in 1991.
Following his NFL career, Hayworth played three years in arena league football. Like most professional football players, the desire to continue to play never dies – it just changes its field position. Hayworth went on to the University of the South as an assistant coach for six seasons and six seasons as an assistant coach at Southwest Baptist University in Bolivar, Missouri. He came closer to home as head coach at Grundy County High School in 2018. Finally, in 2021, Hayworth came full circle, back as an assistant coach and defensive coach of FCHS.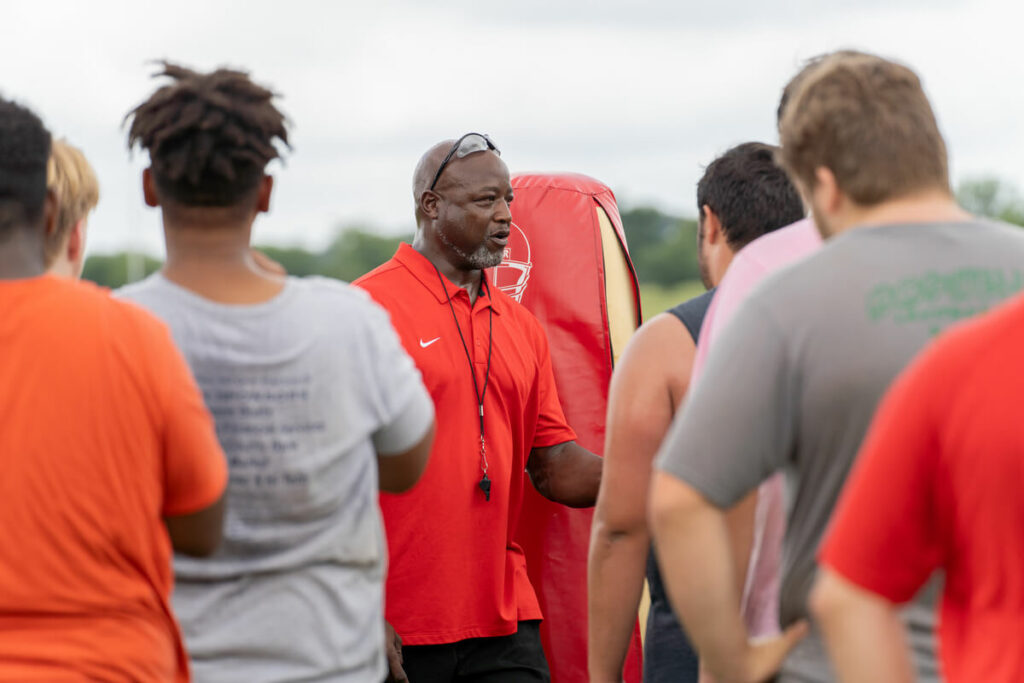 "I still feel like I'm in a fairy tale. It feels great because I've been trying to get back to have a chance to give back. It's something I've wanted to do since the very first day I walked out of the pro program."
Walking out of the pro program was the hardest season of the game of football for Hayworth, but the game of life goes on.
"I've noticed, in the hardest times of my life, when things got rough for me, if it wasn't for the training we were put through with Johnny and his supporting staff, I don't know if I'd have made it. The training, love, and mentorship they showed made you want to try to exemplify them and be like them, so you get back into the game and give that back. Even if it's to those who may not be fortunate enough to attend college and possibly professional football, because everyone will be part of the game of life."
FCHS gives him plenty of opportunities to give back, both on and off the field.
"I'm extremely proud to be able to be a part of a team that is so talented. And it's not only the football team but getting to be with all the kids. Hopefully I can mentor just one of them in the game of life because all of them will play that game. If I can help coach that whole student body, if I can reach one of them on how to be successful, how to get up when life knocks you down, how to deal with the peaks and the mountains – if I can just reach one of them. To feel like I've had that opportunity to do that and come back again, I've had a blessed life. I just thank the Lord for the opportunity to be where I'm at."
And to every student walking the FCHS halls, Hayworth's game of life heart for them is the same. "Follow your dreams, because I have lived and followed my dream. I have been very, very, very blessed. I believed I could reach my dreams with God's blessing and a lot of hard work. And whatever you do in life – how you love, how you work, how you play, how you hug someone, how you love your family, whatever it is you do – do it every day to the fullest, like it's your last time, 'cause one day you're gonna be right.'" GN