SEWING, CRAFTING, learning to play a musical instrument, voice lessons, art, painting… whatever your passion — you can find it at Let's Make a Note Music, Art, and Enrichment Center in Winchester. Owner Jenifer Howland has assembled a team of gifted artists and teachers who have made it their mission to pass on their talents to others.
Howland has taught music for 27 years at several schools including, most recently, St. Paul Catholic School, and she earned a Bachelor of Science degree from the University of West Florida. Howland would not be complete without her trained service dog, Phoebe, who helps provide emotional support for those on the autism spectrum, or those with PTSD. "I love to see my students' faces when they have succeeded in meeting their goals," says Howland. "Their joy is priceless."
Brian Fleck encourages his students to be creative and to find their unique inner voice. He specializes in classic era, ragtime, blues, and classic rock, to name a few, and gives private instructions for playing guitar, ukulele, banjo, and bass. He has developed lessons that keep his students engaged and motivated to play guitar. Beginners to advanced, he can spark the imagination of musical understanding. Fleck graduated from San Diego State University with a bachelor's in performing arts. Instructor Hi Newman also specializes in teaching guitar, bass, and ukulele, and also offers private lessons at the enrichment center.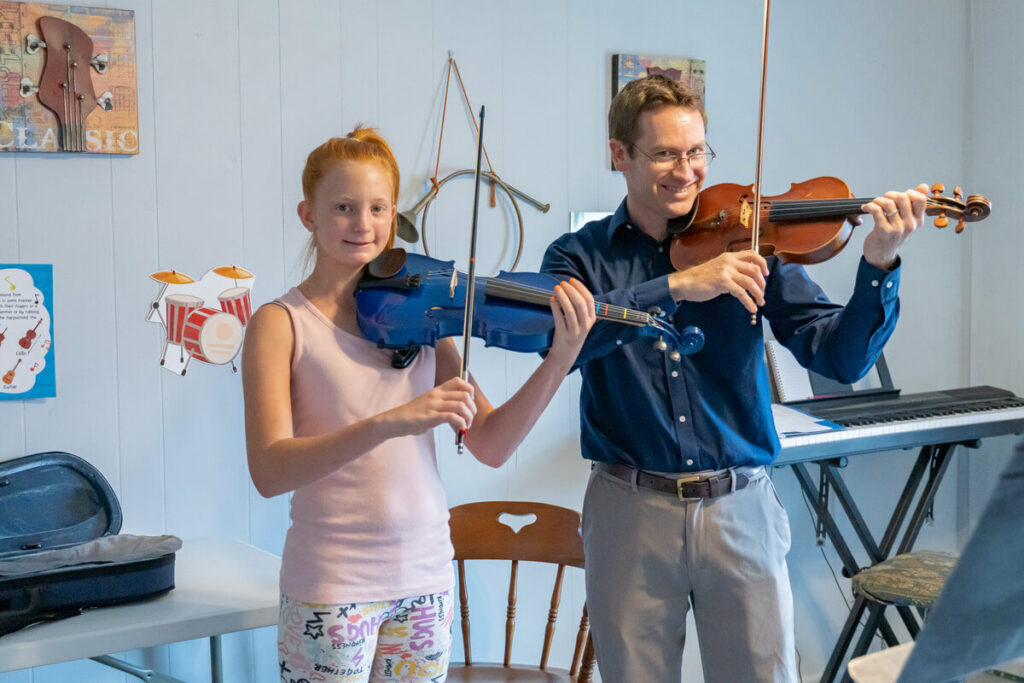 John Harris, adjunct professor at the Moore County campus of Motlow State Community College, is a violinist and conductor. Harris has earned two. bachelor's degrees from Florida State University; one in music education and the other in violin performance. He earned a master's in conducting, from Florida Atlantic University. He has performed in many types of ensembles but prefers the symphony. Harris previously taught as a high school band and orchestra director before relocating to Tullahoma. "My passion is to teach and to one day build and conduct an orchestra program in this area. I am looking forward to working with all of you," says Harris.
Teachers Beth Thomas, Sunday Perkins, and Tamara Russell specialize in enhancing their students' artistic flair in the Let's Make a Note classroom. Thomas studied at the Appalachian Center for Crafts and specializes in ceramics, glass, and art with metal. Perkins holds a Bachelor of Fine Arts degree from Kent State University in Ohio and is a retired art teacher from Franklin County. She teaches classes in the basics of acrylics, oils, watercolor, and dry sculpting. Russell combined her love for children and her passion for education into an art program geared toward children.
"The community has been very supportive of our Enrichment Center," says owner, Jenifer Howland. "I love Winchester with all my heart. My prayer is to be a productive member of the community, serving with a glad heart and positive outlook. The talents of our teachers and our students will be showcased at the Merry Downtown Christmas on December 10." GN