Right in our own backyard, we have access to one of the most di- verse ecosystems in the world. Henry Horton State Park (HHSP) neighbors the peaceful Duck River and is waiting to be explored. The park, built in the 1960s, has a variety of activities for visitors to enjoy. So pack your day bag and lace up your hiking boots; it's time to get outside!
Fishing: There is no thrill like the one you experi- ence when a fish bites down and takes hold of your bait! Then begins the battle of reel- ing the fish in before it can maneuver itself free. Whether you are an angler who enjoys fishing from the shore, wading through the water, or sitting in a small boat, HHSP has plenty of access points for anglers of all styles. Visitors often brag about catching largemouth and smallmouth bass, red-eye bass, catfish, and many other fish species.
Camping: Warmer weather is upon us, so we can finally pull out the camping gear. Spend these beautiful, sunshiny days exploring the outdoors. Then, as the day turns into a chilling night, cozy up by a crackling fire. Whether you are an outdoor en- thusiast looking for the next challenge or simply wanting to take a family trip with your children to enjoy nature, HHSP has you covered. The park offers RV, tent, hammock, and backcountry campsites. Other than the backcountry campsites, every site is equipped with a grill, picnic table, and fire pit. Two bathhouses are available on location as well. Still too primitive for your taste? HHSP has cabins available for rent for those who want to enjoy the outdoors but have a bit more of the comforts of home. Book a campsite or cabin at HHSP today!
Golfing: Whether you are an experienced golfer looking at expanding your skill set or an amateur needing some practice, the heavily treed course at HHSP is the perfect place to spend your Saturday afternoon. The Bu- ford Ellington championship 18-hole golf course has 37 bunkers, making it a pretty difficult course to navigate. So ditch your regular tee time at the country club and take a swing through these luscious trees! The younger crowd might be more prone to visit the 18-hole disc golf course. The best part about it is that it is free to the public!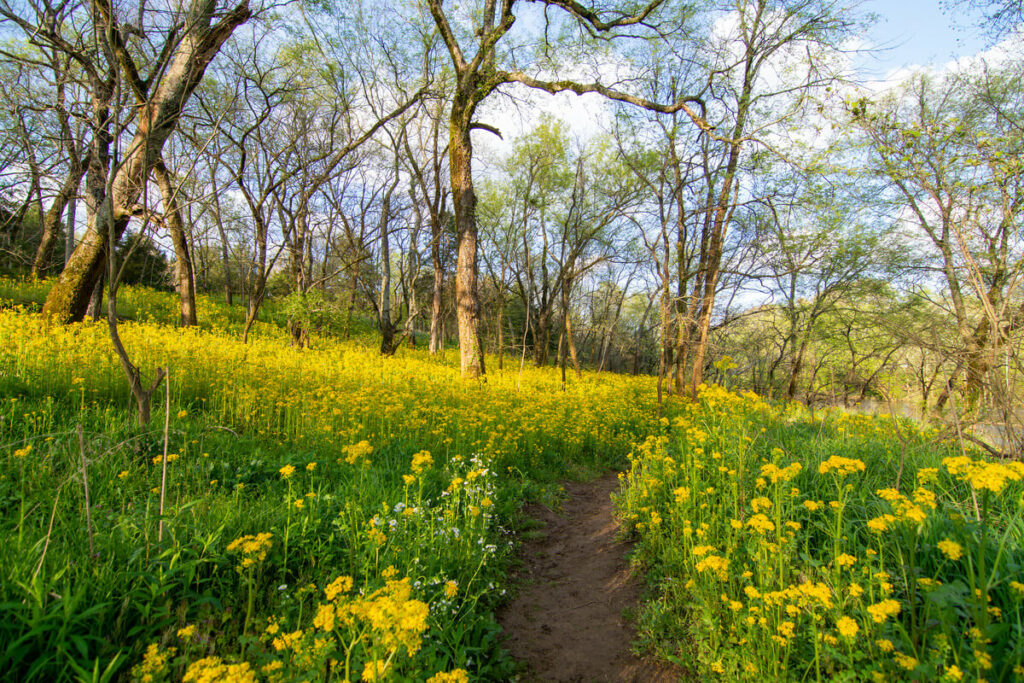 Bird Watching: Hey! Don't knock it until you try it. While wildlife observa- tion might be a laughing matter to some, those who have tried it have found themselves in awe. With over 1,500 acres, HHSP offers various landscapes for bird species of many types to inhabit and make their home. Over 70 species have been spotted and identified on park property. Will you be a first-time bird watcher? Here's a tip: be as quiet as pos- sible. Silence is crucial. Once you get settled and still enough, you'll be able to hear and see ac- tivity. If you have never watched a massive heron hunt for fish in shallow waters, seen a wild tur- key, or listened to an owl hoot right overhead, you are in for a real treat!
Hiking: The fun thing about taking off down a trail is the discovery. What is going to be around the next bend? What about over the next hill? With over 10 miles of hiking trails, HHSP is a perfect place to get outside, get some fresh air, exercise, and explore. There is always something unique, from deep sinkholes to desert-like cedar glades. As the Duck River neighbors the park, visitors can enjoy observ- ing riverbank ecosystems or investigating remnants of an old mill and bridge. Just show up at HHSP, pick a trail, and follow the blaze!
Trap and Skeet Shooting: If you hear, "PULL!" you might want to hit the ground and take cover. The Henry Horton Trap and Skeet Range is one of the finest in the state. The range offers five skeet fields, two trap fields, and a lodge-style building with concessions. While you must be 18 years of age or a youth sportsman to participate in this activity, the good news is that you do not have to be a gun owner! Gun and ammo rentals are available on-site at the park. A fun-filled and safety ensured afternoon of shooting is just a short drive away!