STORES' OPEN doors and pop- up canopies dotting the square welcomed visitors and hometown residents back to their festival. The hum of food truck generators was sweeter than the Daytona 500 lineup awaiting the green flag. It was homecoming time. Fayetteville Main Street board member
Tony Knott's prayer offered blessings and thanksgiving for the day's festivities. The Pledge of Allegiance followed, presented by Miss Middle Tennessee Karissa Wheeler. Bong. Bong. Bong. Eleven tolls from high atop the courthouse kicked off Fayetteville's 7th Annual Slawburger Festival. The Lincoln Theater's marquee regally proclaimed the special day. Even the weather was gracious. The rain had the decency to end in the early morning hours, and none of Tennessee's spring winters made an appearance.
What's a festival without music? The Dance Academy had all the right moves under the gazebo, and the LCHS band hit the highs and lows that perfectly paced the party in the streets. DJ Jackman ( Jackie Hall) curated the perfect tracks for the day's lineup of activities.
On one corner, children bounced and flipped weightlessly. Beside them, inflated wheels skimmed the water's surface, propelled by little people inside, hoping their time would never end. Face painting eased their disappointment when it did.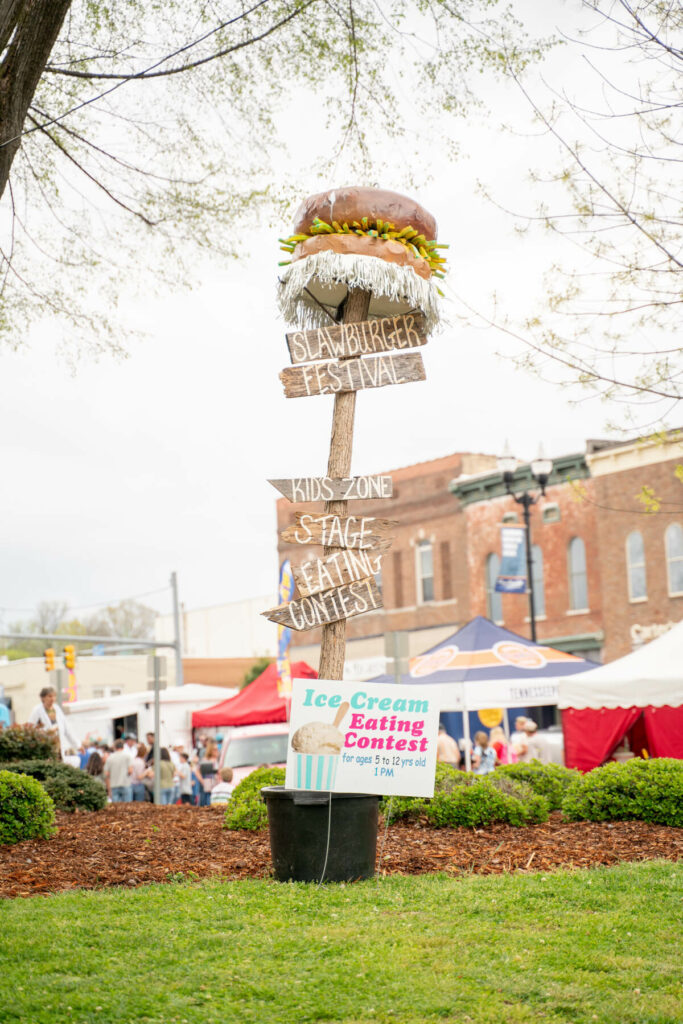 Moving with the crowd, the family ahead stopped abruptly, but with good cause. Even the Easter Bunny put the festival on his list this year, squeezing it in just ahead of a night filled with basket deliveries. He was almost distracted from his true mission by his memories of the festival's honoree. Special hugs and paparazzi flashes disrupted his thoughts of sweet mustard slaw and dill pickle, crowning the perfect-sized burger. By the time he hopped over to Honey's, he couldn't reach the door, for the crowd in line waiting to grab the next available table.
But there was no excuse for going hungry. If you couldn't get close to a slawburger, barbecue or a grilled cheese sandwich were options. Sweet selections of fresh doughnuts, shaved ice, kettle corn, and bundt cake made picking a dessert a challenge.
Did someone say sweets? Five minutes of ice cream eating might freeze an adult brain, but children are better conditioned. 5-year-old Lincoln ate 41⁄2 cups, and 10-year-old Haylee ate 61⁄2 cups in the timed contest and proved it.
A row of bibbed adults tackled plates of slawburgers. In 10 minutes, the winners emerged. The out-of-town winner, Daniel Harding, put away eight slawburgers. Jonathan Wilkerson downed 10 to win the local category, and Debby Keith claimed the victory in the female category by eating 51⁄4 burgers.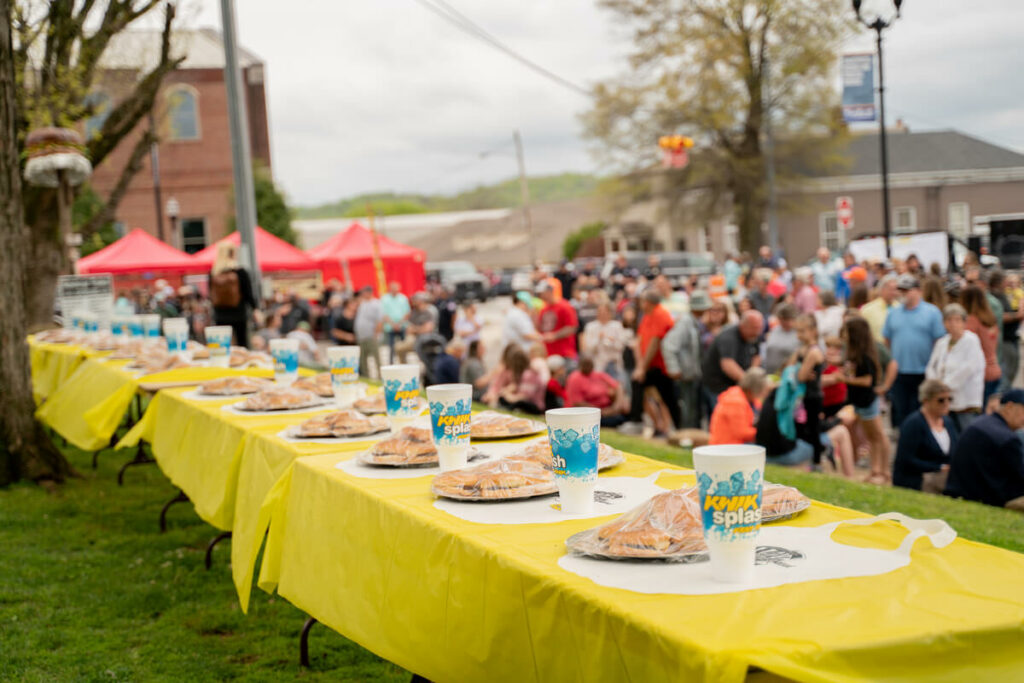 Everyone found something to sing along with as Midnight Jane wrapped up the day and put a bow on it.
Fayetteville Main Street President Sunny Nix said, "The day was a huge success! Such a great turnout, and the weather ended up being perfect. I love our small town!"
Aimee Byrd, the executive director, added, "This is exactly what our downtown needed for the health of our economy and morale since the beginning of the pandemic. We can't wait to make next year's festival even better. Save the date for April 15, 2023!"
For updates and more information on upcoming events, follow Fayetteville Main Street on Instagram and Facebook, or visit their website at fayettevillemainstreet.com. –GN