WHILE HIS jeweler grandfather took care of his customers in his store in Iran, a young David Sabghi looked over his shoulder and was soon captivated by what he learned. Sabghi's interest in beautiful stones and their settings followed him to the States as he attended college in Huntsville.
While there, a yard sale hunt for tools to change his car's oil was derailed by a box of costume jewelry. Three pieces called out to him, and his earlier training cued him to their possible value. Still uncertain, he took them to an area jewelry store to be appraised. The final verdict? They were valued at more than 850 times what he'd paid. He sought out the sellers to offer additional payment but sadly found their home vacant and could not locate them.
After selling the jewelry to the store that appraised them, Sabghi reinvested the funds in the wholesale inventory of colored stones and diamonds, which he sold to area retailers from the trunk of his car while still attending college. His path to Fayetteville was then set in motion.
He opened his first jewelry store, D&D Wholesale Jewelers, in 1981 in Park City against the advice of a small group of Fayetteville friends. They highly discouraged him for two reasons: he was not originally from the area, and the conflict surrounding the Iranian hostage crisis was still fresh in Americans' minds. The combination would make for a dangerous situation, in their opinion. But Sabghi believed otherwise.
His father taught him to value others and himself as equals, encouraging him to treat others the way he wanted to be treated. In Sabghi's eyes, everyone was and is his friend.
"If you have a million friends, it's not enough, and one enemy is too many. So try to be friends with everybody, no matter who they are. The more friends you have, the better you are in life," Sabghi said.
Sabghi quickly moved from Park City to the old Winn Dixie building, where he stayed until the purchase of his present location in 1985, changing the name to Sabghi Jewelers. From here, he has served generations of friends and family just as he always believed he would.
He said, "My best asset is my wife, Nasrin, who started helping me in my business in 2001. If it weren't for her, I wouldn't be in my current shape. She's the smartest person I've ever seen in my life. She is the best wife, my best friend, and the best advisor that I have in my life."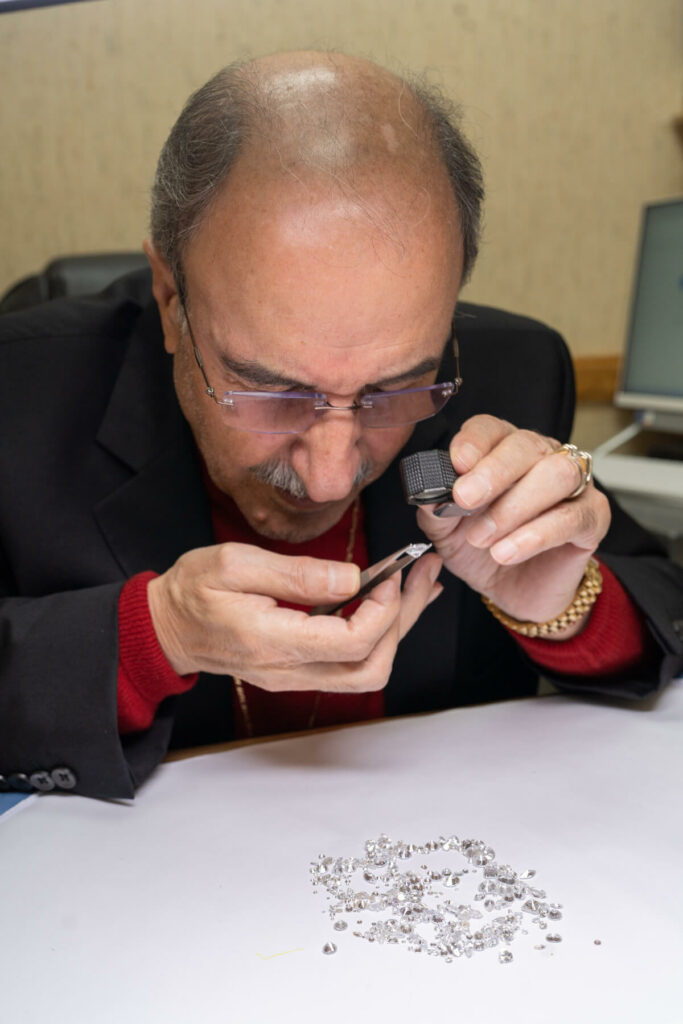 David and Nasrin married in 1988, and their family grew to three with the birth of their daughter, Roxanna, in 1989. In 1993, their second daughter, Nina, was born, completing their family.
Nasrin, who holds Bachelor of Science degrees in electrical engineering and business management, joined David in the company in 2001. "I couldn't do what I'm doing now without her. She's awesome in advertising and management," David told the Elk Valley Times.
Roxanna is a medical doctor (M.D.) and married to Alex Denton, also an M.D. The couple is parents to twin sons, Sam and Eli.
Nina, a Doctor of Physical Therapy, is married to Frank Priola, a realtor broker/owner, and the couple is expecting their first child, a boy, giving the Sabghis their third grandson.
Life in a small town where everyone knows your name drew Sabghi to Lincoln County and has kept him here. He and his family have been a part of area celebrations for over 40 years. The familiarity of a close-knit community enables Sabghi to capture customers' vision, for the unique pieces he designs for them.
"When I talk to customers, and they tell me what they're looking for, I know exactly what they want nine times out of ten," said Sabghi.
Friendship does that. And it's that friendship that will keep him here far into the future.
"People say, 'How long do you want to do this?' I tell them, as long as I can stay on my feet, I want to stay in business."
Here's to a future of healthy feet. GN